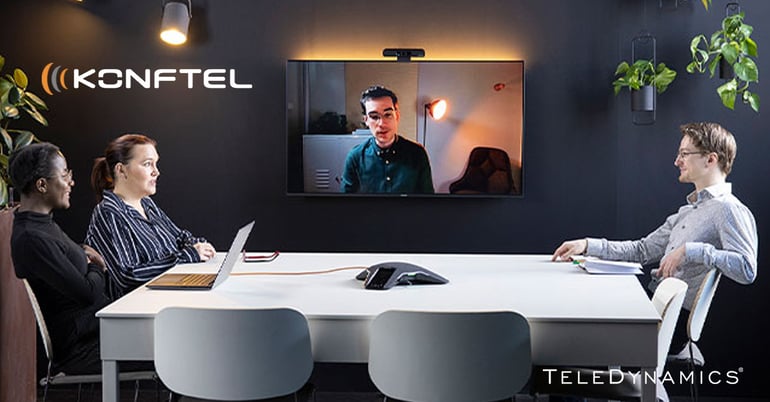 The Konftel 800 SIP conference phone has been officially certified to work with the fast-growing cloud phone solution from Zoom Video Communications, Inc. The flagship Konftel 800 audio device, fully tested to work on Zoom Phone, features an award-winning design and high-quality OmniSound with beamforming microphones and audio expansion capabilities. In this article, we highlight some of the key features of this conference phone.
Collaboration trends
The use of collaboration platforms has skyrocketed over the past couple of years as new workplace trends have emerged. Working from home and hybrid office environments have helped streamline the operation of businesses within the restrictive conditions brought about by recent world events.
Zoom is one of the powerhouses that is fulfilling this need in the market and has already become a household name when it comes to collaboration and video communication. Zoom's certification of Konftel's 800 conference phone adds immeasurable value to the collaboration platform, as it adds the quality and innovation of Konftel's device to its arsenal of services.
What the Konftel 800 brings to the table
Previously, we showcased the Konftel 800 and the myriad of features it offers. Among its other achievements was its Reddot Design Award for 2019, which has become an internationally established and recognizable seal of quality for exceptional design. The award not only evaluates how a product looks, but also its ease of use, its innovation, and the quality and feel of interacting with the device.
Beyond the accolades, this conference phone is suitable for a variety of conference rooms ranging from small to very large, delivering features such as:
High-quality smart microphones with OmniSound® capabilities
Extendable pickup range using additional smart expansion microphones
Ethernet, USB, and Bluetooth connectivity
High-quality speakers with a frequency range of up to 14000Hz, making it suitable for voice and music
3-inch 480x800 color touch screen
Daisy-chain capabilities of up to three devices for extra-large rooms
The Konftel 800 also comes as a kit combined with Konftel's Cam50 conference camera and the One Cable Connection (OCC) Hub that connects it all together.
Zoom Phone certification
Zoom Phone certification means that the device has been certified as completely compatible with Zoom's Phone service as a SIP endpoint. It indicates that Zoom has put the device through rigorous tests and evaluations, ensuring that it will function at peak performance and deliver the full quality of the Zoom Phone service.
What is Zoom Phone?
According to Konftel's press release, the 800 conference phone "has been certified to connect to Zoom Phone as a SIP device." Zoom Phone is Zoom's cloud telephony solution that delivers enhanced telephone service in a cloud-based PBX format. Beyond the 800, there are many Zoom-compatible Konftel products that can complete your Zoom portfolio for your enterprise.
Demo unit offer
Take advantage of Konftel's demo unit offer whereby resellers can buy demo units of audio devices at a 60% discount, and demo video kits at a 50% discount from TeleDynamics. Test them out, see how well they integrate with Zoom and your other platforms, and ensure that the product you choose is right for you.
Conclusion
The Konftel 800 conference phone has joined the ranks of Konftel's Zoom-campatible devices. As collaboration services and video communications systems become more advanced, and as great companies such as Konftel and Zoom continue to collaborate and integrate their systems, we can only expect an increase in the innovation these services deliver.
---
You may also like:
Konftel's C20800 Hybrid video collaboration kit
Konftel Cam10 webcam: Compact design, big performance
Six steps to enabling a work-from-home environment