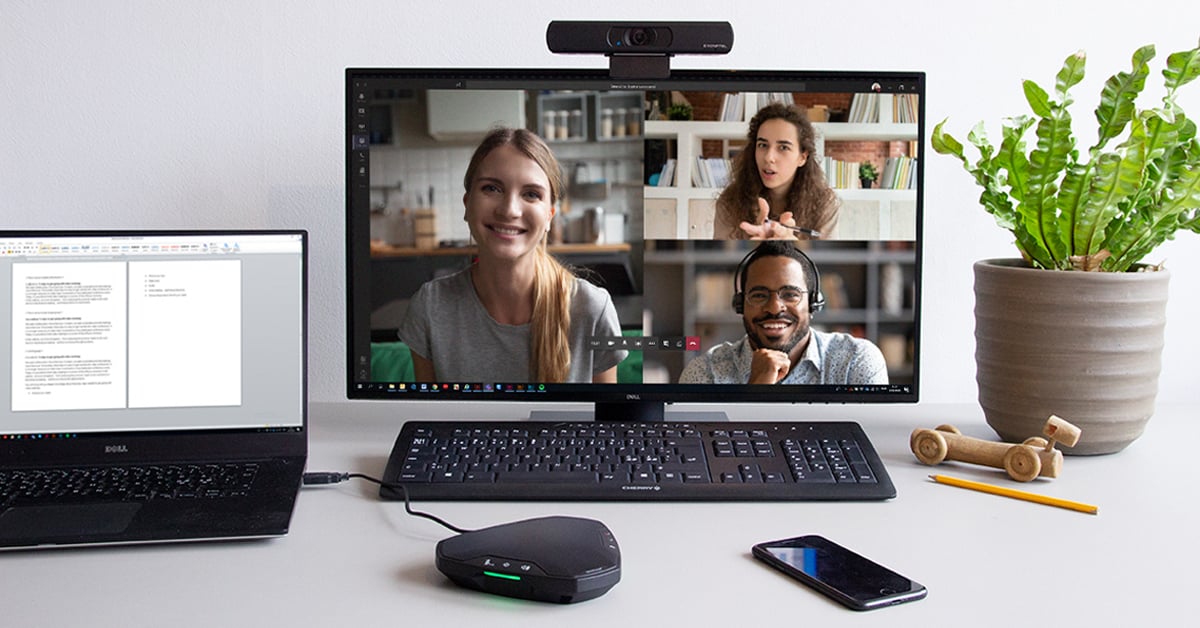 The COVID-19 pandemic is impacting businesses around the world. Organizations are being forced to maneuver in a new world of security and privacy issues related to a remote workforce involving hardware and software needs, as well as employee access policies. While working from home may be a new and foreign concept to some companies, the cloud-based tools they use everyday have made it infinitely easier to continue operations and serving their customers with the same level of quality of service, support and communications that their brick and mortar operations have sought to provide.
So, as resellers and service providers of VoIP and uCast services, one of the most critical components in enabling a successful work-from-home experience for your customers (and their customers) is to keep the phone services operating as normally as possible. In this article, we suggest six steps to enabling an effective work-from-home (WFH) environment.


Six steps to enabling a WFH environment:
Make sure the home network is ready. The quality and speed of most home internet networks is more than enough to support a couple of VoIP calls, internet browsing, email sending, etc., but there is not one specific setting or feature that can and will likely cause problems. While SIP ALG normally causes a bulk of the problems, double NAT and lack of QoS settings will cause some issues, as well. Check out our Think Tank articles for more information on various issues that can occur.


Go remote with mobile device options. While it's technically easy and possible to just take your IP desk phone home, there can be issues because most people don't have PoE injectors or power supplies at home. Plus, with the increased need for network security and network segmentation, many of these devices may have VLAN settings that won't work from the employee's house. That means you may need to reconfigure devices at a time when resources might be slim. Instead, you could consider using remote-friendly VoIP devices like mobile apps, web phones and softphones. And with the recent demand for USB headsets and resulting lack of availability in the supply chain, consider using personal conferencing devices such as a Konftel Ego, a device that allows USB connectivity, Bluetooth, and also a 3.5mm jack that allows you to connect to a headset should you choose to take the call off the speaker for a private conversation.


Don't neglect quality. One of the greatest challenges when working from home is sound quality. Colleagues need to speak with each other, both individually and in groups, and a computer's built-in microphone and speakers are rarely up to the task. A laptop can't handle disturbing echo or perform other audio optimization processes needed for a smooth-flowing dialog. That's why it's a good idea to invest in a speakerphone that can easily be connected to both a computer and a mobile phone, or buy a good headset.

Again, we like the Konftel Ego speakerphone

because it delivers professional-grade OmniSound® technology supporting HD audio, echo suppression, background noise cancellation, and acoustic feedback control. It connects to a smartphone via Bluetooth, as well as to a laptop with the enclosed USB cable.

The Konftel Ego can be purchased separately or part of an all-in-one C20Ego videoconferencing kit

that includes the Konftel Ego speakerphone, the

CAM 20 conference camera

and the

OCC (one-cable connection) hub, which allows you to set everything up and get it all connected with a single USB cable. The benefit of this kit is not only its affordability and its small size, which allows setup virtually anywhere, but it allows professional-grade videoconferences and is compatible with any collaboration cloud service or app. For more information, refer to our previous product review of Konftel's line of videoconferencing kits.


Activate find me/follow me functionality. If using a desktop or mobile device isn't an option, the next-best solution is using associates' cellular or land lines. Find me/follow me settings in the user's answering rules on most IP PBXs will give them all sorts of options as to how and when a call should be forwarded to their external line. You could consider deploying a 2nd IP PBX into a hosted environment for WFH users, then bridge it back to the on-premise IP PBX system via a peer trunk for minimal exposure to the company's network. When rapid deployment of remote staff is required, this method is arguably one of the fastest, most cost-effective and feature-rich when direct VPN and support just isn't an option.


Apply needed E911 changes. Once you've helped your customers start working from home, it's important that they understand the limitations of E911 and that they make any changes needed. If each user has a dedicated DID (direct inward dialing number), then ensure that it has an effective E911 registration and that it's assigned as their specific E911 caller ID. If you anticipate any issues or delays in making the necessary changes, then it's important that you notify the affected users to ensure they have other means of dialing 911.


Use reports to ensure productivity. Keeping an eye on call activity and comparing it to the past is a great way to confirm if your phone operations are looking normal. In addition, customers can schedule exports of the call history reports to be delivered to them via email.


---
You may also like
VoIP security solutions for remote users
13 remote collaborations solutions for a dispersed workforce
Equipping employees to use their enterprise IP phones at home
Are you ready for a mobile workforce?