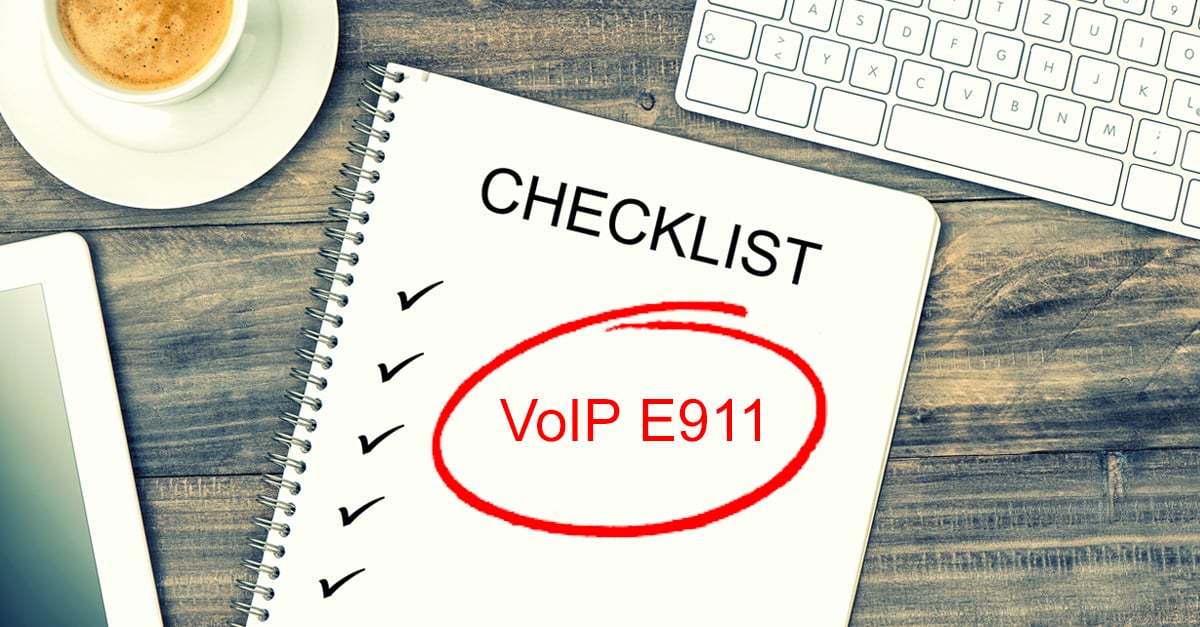 Enhanced 911 (E911) works differently for VoIP than for PSTN landlines. With a few simple steps, you can make sure that 911 operators and first responders receive accurate location information from calls made from your network, so you can protect your workers and stay compliant with the prevailing regulations. To cover your bases, use our handy checklist below.

How E911 traditionally works
All telephony communications in the United States must comply with Enhanced 911 (E911). In traditional telephony, there is a direct relationship between a telephone number and a physical address, because each landline terminates at a specific physical location, and cannot be moved without the cooperation of the telephone company. As a result, PSTN telephony providers can maintain accurate databases that link landline numbers to physical addresses, which are made available to emergency responders. When an emergency call is received, the location is automatically retrieved from these databases and displayed on the operator's console, allowing responders to immediately direct emergency services to the physical address of the caller.


Limitations of E911 for VoIP
VoIP is a technology that introduces flexibility as far as the physical location of a particular telephone number. For example, in multisite environments, ranges of numbers can be provided to a business that has numerous premises within a city or even across multiple states. Each number can be assigned to a device in any of those locations by leveraging an existing enterprise WAN infrastructure. Numbers can also be allocated to mobile devices and used anywhere an internet connection is available.
So, with VoIP there is no link between phone numbers and physical addresses like there is for traditional landline telephony. In response to this, the E911 framework has been updated to include what are known as the VoIP E911 regulations.


VoIP E911
VoIP E911 is an attempt to implement regulations that ensure 911 dispatchers can receive accurate location information about emergency callers using VoIP.
In their most basic application, the VoIP E911 regulations require that all subscribers inform their ITSP or SIP trunk provider of the physical location that corresponds with the numbers they are assigned. As a result, VoIP E911 information is accurate only if subscribers, who have a legal responsibility to do so, keep their emergency address information current.
In February 2018, Kari's Law Act of 2017 went into effect. An amendment of the Communications Act of 1934, Kari's Law requires owners and operators of multi-line telephone systems to program these systems to allow users to call 911 just by dialing 9-1-1, without having to navigate confusing dialing rules like dialing "9" to reach an outside line.
Kari's Law also requires that phone systems be configured to send a notification alert to a third party within the organization who can check on the person or room from where the 911 call originated. Congress has given a two-year window (so, until February 2020) for owners and operators of multi-line telephone systems to become compliant.
For subscribers that have a hard time keeping their records updated with their telephony provider, several important developments that help businesses fulfill their VoIP E911 obligations have come onto the scene. Some of these solutions even aid in locating the caller down to the specific office or particular floor of a building, which can prove to be lifesaving in large enterprises. Some of these include:
On-site applications that automate and simplify VoIP E911 management for enterprise IP PBX systems
An Automated Location Information (ALI) database included in IP PBXs and IP phones that automatically assigns locations to end devices within a building or campus
Support for remote VoIP devices that allows off-site workers to update their locations in real time using GPS and other location-determining mechanisms
Support for phone mobility, using presence information, to ensure that employees that move from IP phone to IP phone and who share lines between multiple devices can be located
Support for additional DHCP options for supplying IP telephony end devices with network addresses and other parameters that include specific location information
All of the location-based information that can be gleaned from these and other technologies makes its way to the emergency dispatcher through these systems to achieve compliance with VoIP E911 services.


Unregulated VoIP services
The E911 obligations we have discussed here have been imposed only on what the FCC terms as "Interconnected VoIP Services," which are defined as VoIP services enabling users to place calls to and receive calls from the PSTN using the North American Numbering Plan (NANP). Even though unregulated VoIP services like Skype can connect you to the PSTN, they are not considered Interconnected VoIP Services because they function in a peer-to-peer arrangement and do not provide subscribers with a private NANP number.
Even if in some countries Skype and other unregulated services may allow limited emergency calling, it is still best practice to avoid using such services for emergency calling altogether.


VoIP E911 compliance checklist
As you can see, VoIP E911 compliance requires more subscriber involvement than traditional PSTN E911 does. Many of the solutions described here have been established to help enterprises and service providers work together to reduce liability concerns and adhere to VoIP E911 regulations.
When considering VoIP E911 for your enterprise, keep the following in mind:
✔ Confirm that the VoIP service you are being provided does indeed fall within the Interconnected VoIP Services category, which is obligated to adhere to VoIP E911 regulations.
✔ Request verification information from your ITSP or SIP trunk provider concerning their compliance with VoIP E911 regulations.
✔ Verify that you as a customer have supplied your ITSP or SIP trunk provider with appropriate location information for VoIP E911 compliance, and make certain that the provider is informed of any future device location and number changes.
✔ Determine if your internal network requires additional features, such as ALI or location-providing DHCP options, that will aid in making your enterprise fully VoIP E911 compliant.
✔ If you are using any unregulated VoIP services, be aware that they are not obligated to route emergency calls, although some do. Make sure you inform all relevant staff of the limitations of emergency calling on such services.
The FCC has published a short consumer guide that includes vital information and advice for companies concerning VoIP and 911 services.
Click here to download E911 programming instructions for equipment from different manufacturers.

Conclusion
VoIP has presented technological challenges to the proper and safe implementation of E911 services. However, solutions have been developed that can help enterprises fulfill their VoIP E911 obligations. It is important for both VoIP providers and businesses to clearly understand what their obligations are, and to fulfill them in the best and safest way possible.


Click here to download emergency dialing instructions for different manufacturers.
---
You may also like:
VoIP and the law: Your rights and obligations
E911: Emergency calls using a VoIP phone system
VoIP security solutions for remote users