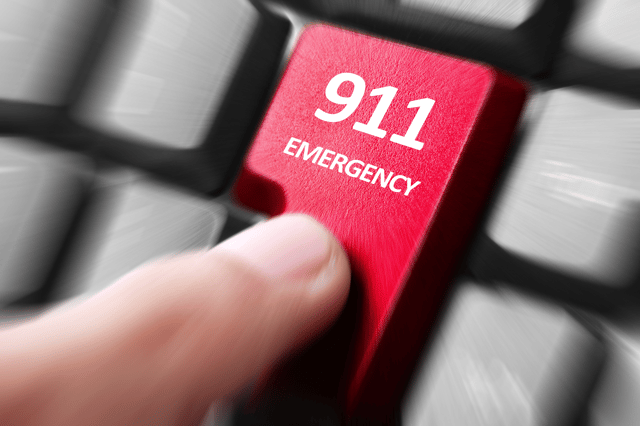 One hesitation some companies have in moving over to a full IP business telephone system revolves around concerns over using the 911 emergency call service. Do companies really need a back-up PSTN line to make emergency calls? How reliable is emergency dialing over the Internet?
---
With wireline telephone networks, each telephone number is associated with a fixed location in a database that is automatically accessed by the public safety answering point. This is known as Enhanced 911 or E911 – it means that the call-back number and, in most cases, the caller's location, is automatically provided to emergency services personnel through the telephone network.
With calls placed over the Internet or over the cellular network, however, the phone number of the caller is not associated with a fixed location. The good news is, technology has come a long way in this area and even with an all-IP enterprise telephone system, you do not have to sacrifice emergency calling capabilities. Keep in mind that the FCC (Federal Communications Commission) estimates that 70% of calls to 911 are made from cell phones, which do not have a fixed location. So, mobile and VOIP (voice over Internet protocol) E911 services are already in wide use.
The bulk of the responsibility for E911 resides with the VOIP or SIP trunk service providers, rather than with the telephone equipment manufacturers or installers. The FCC requires fully interconnected VOIP service providers (i.e., those providers that use both wireless networks and the public switched telephone network (PSTN) to originate and terminate calls) to provide E911 service to their subscribers. Enterprises with an on-premise IP PBX can get E911 service from their SIP trunk providers.
The main responsibility of the subscribing company is to keep its location information updated with its service provider. If the company is using an on-premise IP PBX, it needs a sensible dialplan for 911 calls.
Keep in mind that E911 services may not automatically be included in your service package and may incur additional fees, so be sure to ask the service provider about E911 specifically to make sure you are benefitting from the service you need.
On the enterprise side, if using an IP PBX you will want to create a dialplan that only routes 911 calls from internal users. This will mitigate the risk of an employee dialing 911 from his laptop's soft phone linked to your enterprise phone network while he is in a hotel room on the other side of the country. That employee should instead dial 911 from the hotel phone or his mobile phone. Asterisk: The Definitive Guide offers simple guidelines for a 911 dialplan.
If your company has several different locations, you can group the DIDs (direct inward dialing numbers) and assign a different physical location for each group, which would then be registered with your SIP trunk provider. The SIP trunk provider will then route the 911 call to the appropriate public safety answering point, as well as provide the corresponding physical location, according to the associated phone number that is dialing out (the reporting of this number is known as CID – caller ID).
If a physical location is a big building with several floors, you can get even more granular with the location of the caller, providing your IP PBX has advanced dialplan settings that allow it. All IP PBXs can report the physical addresses of the originating call in the CID information, and if you have multiple sites, you can have a different CID number associated with each location. However, to report more detailed location information like floor number, room number, office number or desk location, your IP PBX will need this advanced reporting feature. If your company fits this situation, verify this functionality with your manufacturer's rep, or with your ITSP (Internet telephony service provider) if you are using a hosted service.
CONCLUSION
With today's technology and legislative environment, companies can use an all-IP telephone system without compromising their ability to access 911 emergency response. In any case, be sure you understand the exact E911 services you are receiving from your Internet telephony service or SIP trunk provider.
---