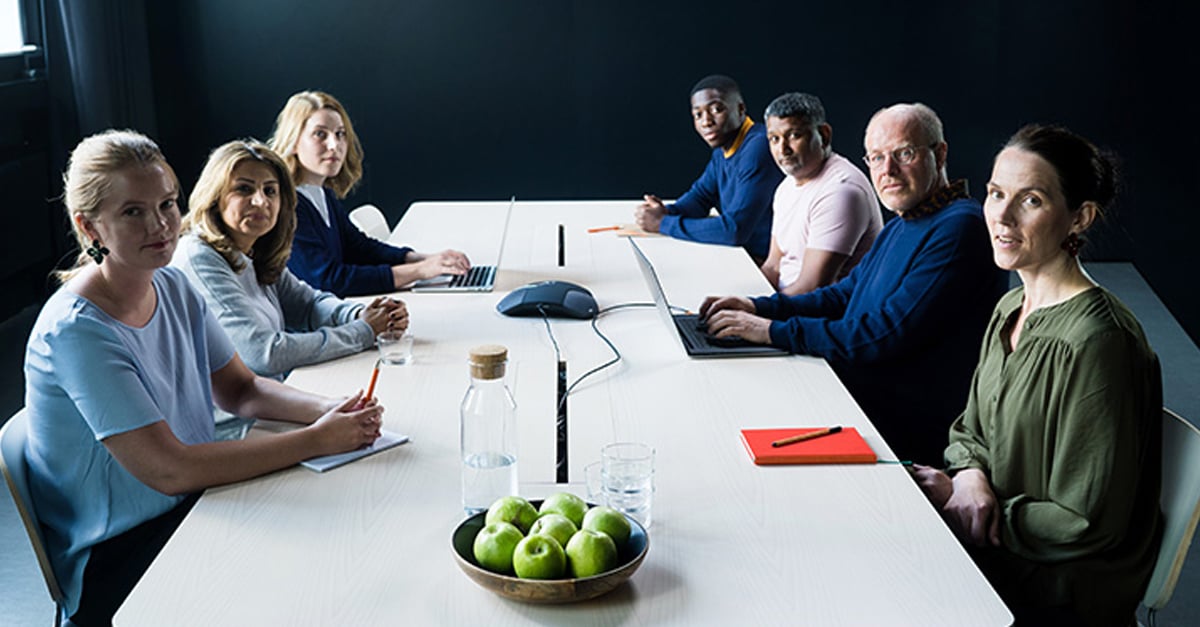 Have you ever chosen to use a telephone to communicate even when a videoconferencing system was available? If so, it's probably because videoconferencing systems have traditionally been difficult to configure and relatively cumbersome to use. This is no longer the case, thanks to Konftel's simple video solutions.
Konftel has launched a series of videoconferencing kits with a unique and extremely attractive One Cable Connection capability. We take a look at these solutions in this article.
Anyone can use it
You don't need specialized technical knowledge to communicate using a telephone, so why shouldn't it be the same for videoconferencing? For this reason, the focus of Konftel's design team was to create high-quality videoconferencing systems that are simple enough for anyone to use. And by Jove, they've done it!
Konftel OCC
One of the primary design characteristics that defines these video conferencing systems is Konftel's unique One Cable Connection (OCC) capability. The core of this design is the OCC Hub, which is the heart of the system.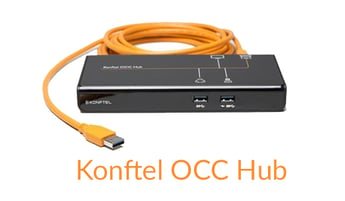 Each OCC hub is equipped with an HDMI port for a display device, such as a TV or a data projector; two USB 2.0 ports: one for a camera, one for a conference phone; and one USB 3.0 port for the connection to a laptop. Connectivity is simple and intuitive.
BYOM
You've heard about the Bring Your Own Device (BYOD) model. Now Konftel extends that concept into the video conferencing world with the Bring Your Own Meeting (BYOM) model. This is where the user brings the videoconference to the meeting room of choice. This way, you don't need to have a potentially expensive, specially-designed room for initiating your video meetings, but rather you can turn any room into a venue for videoconferencing. Not only is this convenient, but refreshingly cost effective, as well.
Watch the video

A variety of kits for a wide range of use cases
Using this simple OCC concept along with the BYOM philosophy, Konftel has come up with a range of collaboration packages that will fit any type of meeting room. Throughout the whole range, the OCC Hub is at the heart of each kit, while the conferencing speakerphones and IP cameras are adapted to different use cases. These kits are listed in more detail below.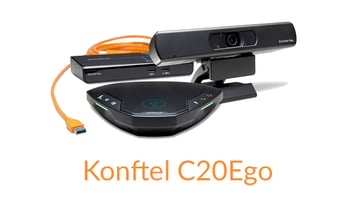 Konftel C20EGO – This entry-level kit for small meeting rooms comes with a 4K camera with a 105° image angle, as well as Konftel's Ego pocket-sized speakerphone for small meeting spaces with up to four local participants.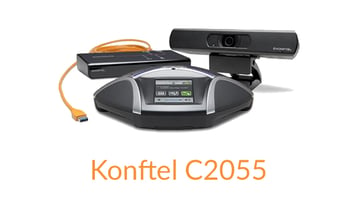 Konftel C2055 – For small to medium-sized meeting rooms, this is the same as the C20EGO, but replaces the speakerphone with a Konftel 55 for conference rooms with up to 15 people.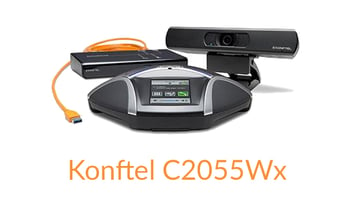 Konftel C2055Wx – For medium-sized rooms, this is the same as the previous two but replaces the speakerphone with the Konftel 55Wx, which can accommodate up to 20 people with the expansion microphones (sold separately).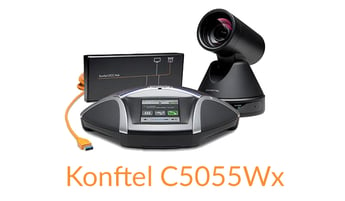 Konftel C5055Wx – For medium to large meeting rooms, this improves on the previous kit by replacing the fixed camera with a state-of-the-art PTZ camera.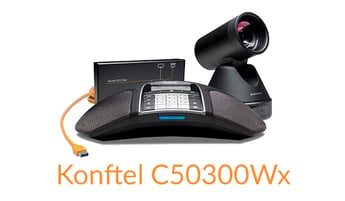 Konftel C50300Wx Hybrid – For medium to large meeting rooms, this kit uses the Konftel 300Wx wireless DECT phone as the conference phone, but keeps the same high-quality PTZ camera.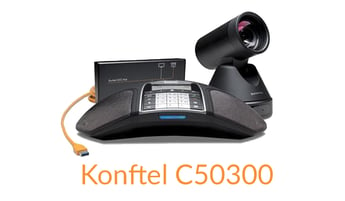 Konftel C50300 Analog Hybrid – For medium to large meeting rooms, this kit uses a Konftel 300 analog speakerphone, but keeps the same state-of-the-art PTZ camera.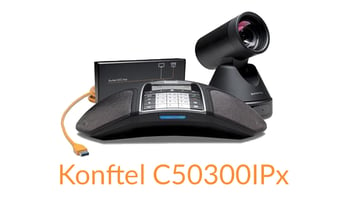 Konftel C50300IPx Hybrid – For medium to large meeting rooms, this kit uses a Konftel 300IPx SIP speakerphone with one-touch conferencing via the Konftel Unite mobile app, but keeps the same high-quality PTZ camera.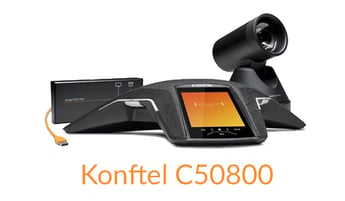 Konftel C50800 Hybrid – For medium to very large meeting rooms, this kit uses the same outstanding PTZ camera, and replaces the phone with Konftel's flagship 800 SIP conference phone, which can be daisy-chained with other Konftel 800 units (up to three) for more than 20 local participants and which also integrates with the Konftel Unite mobile app.
Each speakerphone used in these kits has particular strengths. Many support services such as Skype, Microsoft Teams, Zoom, and Webex. They also support accessories such as extension microphones, Bluetooth connectivity for synchronization and conference control from a mobile device, as well as specialized features such as daisy-chaining speakerphones for even larger coverage. For a side-by-side comparison of specifications, refer to Konftel's Product Guide to Video Solutions to help you choose the conference kit that's right for you.
Kit modularity
Because these kits come with interchangeable components, if you already have a Konftel phone that's USB capable, you can easily upgrade your videoconferencing experience by adding a hub and a camera, without having to purchase the whole kit. And if you've outgrown your current collaboration package, you can always upgrade particular components, such as the speakerphone or the IP camera.
Conclusion
Remote collaboration is an effective way to save time, money, and contribute to a more sustainable world. Konftel's videoconferencing kits offer companies an array of state-of-the-art videoconferencing capabilities with a portable and easy-to-use setup.
---
You may also like:
What we love about the Konftel 800 SIP conference phone
Make video conferencing easy with Konftel C50xx plug-and-play kits
More efficient meetings across the USA thanks to Konftel (case study)