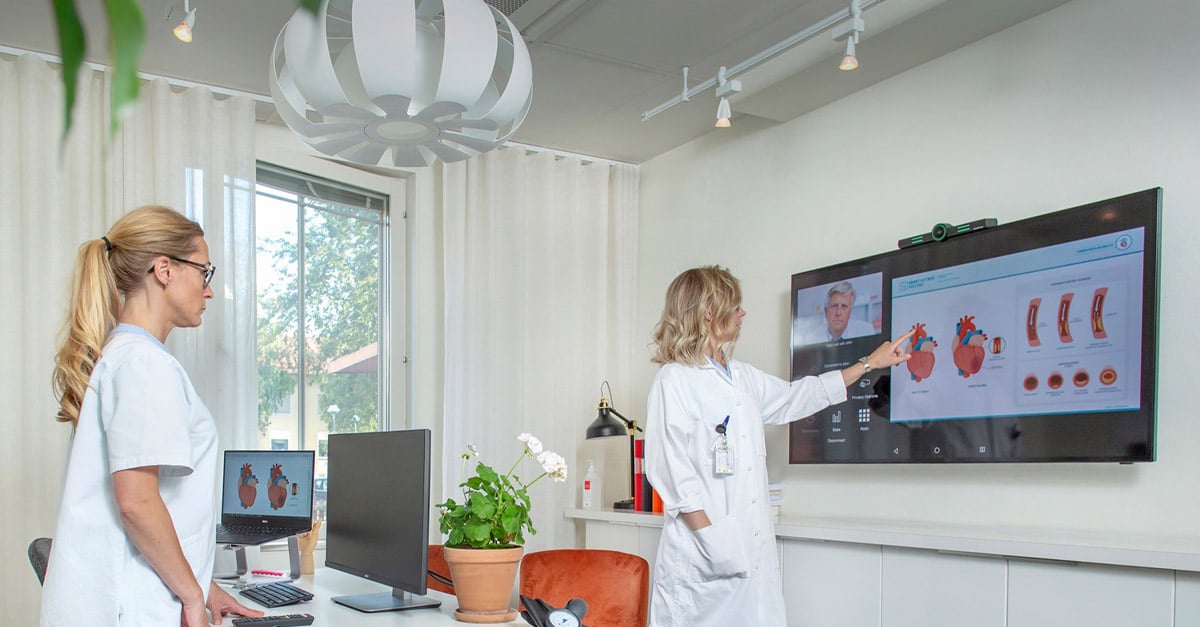 Within the context of a global pandemic and the uncertainty that comes with it, even the most basic necessity of receiving medical attention when you need it is not that straightforward anymore. New and innovative technologies are needed to ensure that everyone has access to medical services.
Konftel, with its exemplary video solutions for telehealth and healthcare services, is doing just that, for both patient-centered and healthcare professional-centered collaboration needs. In this article, we take a closer look at Konftel's telehealth solutions.


The emphasis on telehealth
To deal with the COVID-19 pandemic, healthcare systems around the world are adopting a remote diagnosis policy, requiring patients to be remotely screened before being admitted onto the healthcare institution's premises.
Even when patients are admitted into the hospital, restrictions do not always allow doctors to be physically present. Travel constraints can hinder specialists from moving to a hospital that may need their expertise. Collaboration between doctors must often occur without physical presence.


Requirements for telehealth
Speech and video must be crystal clear for any effective communication. However, healthcare services are a specialized industry where speech and video alone are insufficient for the required level of interaction. Additional elements that must be effectively transmitted include:
Exceptionally high-resolution imaging such as that used for MRI and CAT scans must be capable of being transmitted
Vital signs, test results, and other patient data
A clear image and view of the patient during the consultation, especially for cases where symptoms can be examined with the naked eye

Konftel's solutions
Konftel's exceptional series of video consultation terminals have many features that are ideal for telehealth needs.
Desktop kits
The C20Ego and the C2055Wx packages are ideal for both patient consultation and medical professional deliberations. Both systems include an ultra-high-resolution 4K camera, perfect for detailed remote diagnosis. Both also have a speakerphone with OmniSound® audio technology for crystal clear communication. While the C20Ego is designed for use by one or two people at a single workstation, for larger rooms with multiple participants, the C2055Wx's speakerphone can cover an area of up to 320 square feet and even more with additional expansion microphones.
Medical consultation room kit
For even greater versatility, the C5055Wx kit has the same speakerphone, but includes Konftel's Cam50. This is a fully functional PTZ camera that can be remotely controlled to focus and zoom on the speaker or on a particular area within the room, such as a patient, or even on medical devices or displays.
Medical professional collaboration kit
Finally, for the most sophisticated requirements of telehealth, the CC200 all-in-one collaboration camera turns any large video display into a state-of-the-art collaboration station. It has built in microphones and provides Full HD video. Its support of industry standard SIP and H.323 protocols means it can reliably and securely interact with any other collaboration endpoint utilizing these protocols. The device can be managed using either remote control, touchscreen, or a Bluetooth keyboard and mouse. The camera has an Android-based operating system, so no additional devices, such as a laptop, are needed to operate it. The CC200 is ideal for medical meetings between healthcare professionals who cannot be physically present.


Watch our short video review of Konftel's videoconferencing kits

Ease of use
Medical professionals are not IT experts, nor should they have to be. For this reason, all of Konftel's systems are straightforward to use and require no specialized knowledge beyond that needed to operate a computer, laptop, or smartphone.
The C20Ego, C2055Wx and the C5055Wx all make use of a simple-to-connect, platform-independent USB hub that interconnects the camera, the speakerphone, and the desktop or laptop computer for the kits to operate. Once connected, it's simply a matter of running the collaboration software of your choice (Zoom, Skype for business, Webex, or any other option) on the connected computer, and you're good to go.
For the CC200, all that has to be done is connect the device to the network, using either a wired or wireless connection, and to a display via an HDMI cable. The rest is as uncomplicated as operating your smartphone.

Conclusion
Medical requirements for telehealth are unique and require highly specialized videoconferencing equipment. Konftel's series of conferencing and collaboration kits achieve the right mix of quality and ease-of-use for both patient consultation and medical professional collaboration.


---
You may also like:
Konftel's solutions for distance learning
Konftel's CC200 computerless collaboration camera
13 remote collaboration solutions for a dispersed workforce