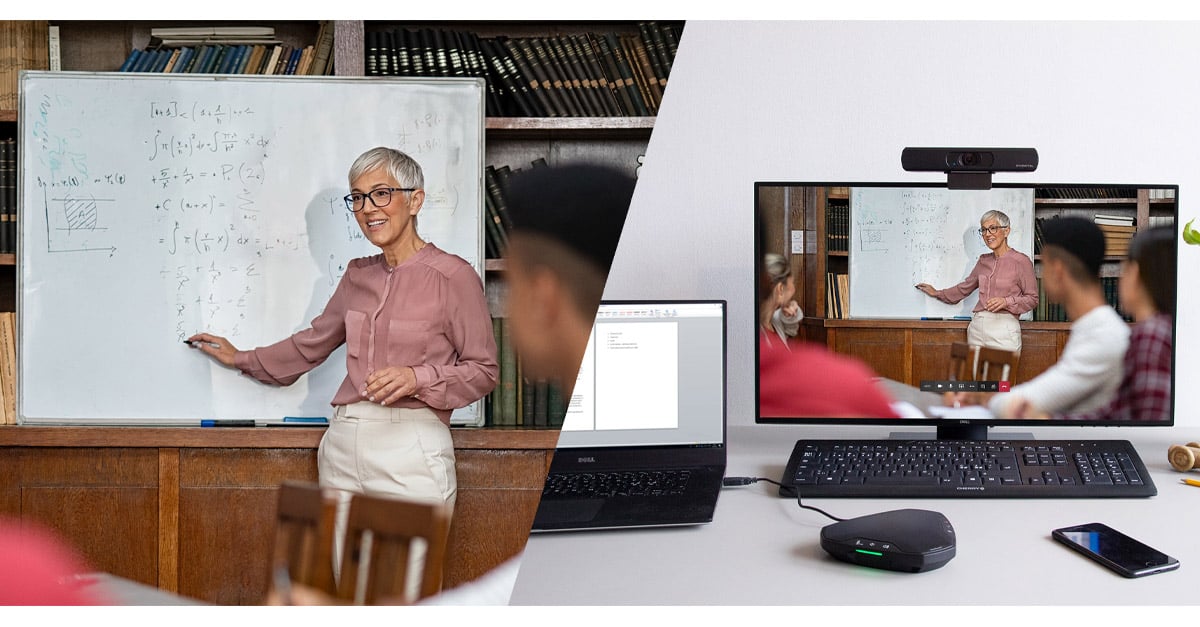 Much experience has been gained over the past year when it comes to distance education and learning. The systems required to enable it have quickly developed and have been extensively streamlined. One of the most successful vendors in this process has been Konftel with its award-winning video-capable conference phones.


Special requirements of distance education
Distance education and training allows students and trainees to fully participate in the education experience of a classroom without having to be in the same physical location as the teacher. This is made possible through communications technologies such as voice, video, messaging, and other features such as shared virtual workspaces and collaboration tools.
Simply using a laptop and freely available software may be enough to successfully, albeit unprofessionally, teach online. But in order to recreate the benefits of teaching in a physical classroom, many of the elements of that classroom must also be preserved. The classroom environment, the posture and positioning of the teacher, and the use of any physical teaching materials must be maintained. This means that any remote teaching system should include:
A clear view of the teacher's/trainer's face and upper body, since much communication is expressed through the body language of the face, arms, and hands. Any tangible teaching materials should also be clearly visible.
The ability to pan, tilt, and zoom (PTZ), to focus on the important aspects of a particular lecture or lesson.
Excellent sound, which, needless to say, is vital so that everything being taught can be clearly heard.
The capability to exploit multiple channels of communication that allow for the use of shared workspaces and collaboration tools, including shared whiteboards, presentations, screen sharing, secondary video feeds, and file sharing facilities, to name a few.
A sense of the surrounding classroom environment. Although this may seem redundant, it has been proven that a peripheral view of the classroom environment helps put remote participants in a mindset for learning.
All of the above features must be implemented at a high quality for remote education to be successful. Many have had the bad experience of attempting to use a low-quality set of tools or services to achieve this, only to experience frustration with a poor learning environment.


The benefits of a remote classroom
When most people think about modern distance learning, they imagine a teacher in some classroom, or even in their office, broadcasting their lesson over the internet. They also imagine students participating individually from their own homes. However, such a setup, although common, is not the only remote learning format available, nor is it necessarily the best.
Many learning institutions conduct their regular lessons in a classroom with students physically present, but equip these classrooms with the appropriate teleconferencing gear so multiple remote classrooms can connect and participate. These remote classrooms are similarly equipped physical rooms that can be anywhere in the world, to which multiple students can attend. This arrangement enables the interaction between all parties involved, providing a richer remote learning experience. It also has more of a classroom feel for the students attending at remote classrooms.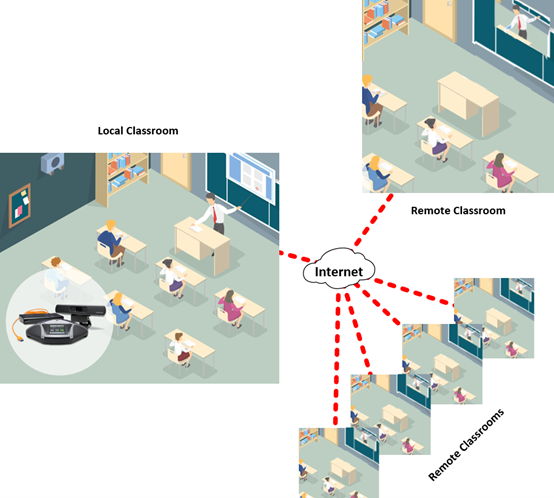 Konftel's solutions
Konftel has been a leader in manufacturing equipment that enables effective communications between large groups of people, and as such, they are a perfect fit for education and remote training scenarios.
The audio:
We start off with the Konftel 800, a conference phone that is much more than the sum of its parts. A winner of the Red Dot Design award for 2019, it can be controlled from your smartphone with the use of the Konftel Unite app, equipping you to remotely initiate a conference call literally with the touch of a button. It can be used with any number of modern communications and collaboration services, since it supports SIP, USB, and Bluetooth. Up to three of these devices can be daisy-chained to function as a single conference phone for extensively large classrooms, and additional microphones can be used to further extend the voice pick-up range.
The video:
For education purposes, a cutting-edge conference phone is not enough. For this reason, Konftel has bundled it as part of the C50800 Hybrid videoconferencing kit. This kit combines the 800's OmniSound® HD audio technology, which brings a natural sense of presence to the dialog, with the Konftel Cam50 conference camera, a full HD camera which has remote PTZ capabilities. These devices seamlessly link via the simple-to-use Konftel OCC Hub, which brings together, audio, video, and display components for a complete remote learning package.
The flexibility:
This kit brings an abundance of flexibility and simplicity, as it can be used at both the classroom where the teacher is present, as well as at multiple remote classrooms. It can be configured for classroom sizes of two to well over two dozen, enabling students and teachers to effortlessly communicate and interact.
In addition, this kit can leverage virtually all collaboration platforms including Microsoft Teams, Webex, Hangouts, Zoom, and Skype, to name just a few. So you can enjoy the additional collaboration tools and features offered by these services along with an exceptionally high-quality audio and video experience at both the local and the remote classroom. Simply bring your meeting with you on any laptop, connect the USB port, and you're good to go!


Conclusion
The need for excellent remote learning equipment will only continue to increase. Online collaboration platforms are improving, delivering new and useful remote education services, but it seems that high-quality audio and video endpoints are lagging behind in this advancement. Luckily, Konftel has come to fill in this gap, offering exceptional, easy-to-use equipment that allows you to deploy superior services for training and education.
Browse Konftel's conferencing equipment on the TeleDynamics website.


---
You may also like:
Konftel's new CC200 computerless collaboration camera
Konftel ups the ante with its new line of videoconferencing kits
Make videoconferencing easy with Konftel C50xx plug-and-play kits