Product Review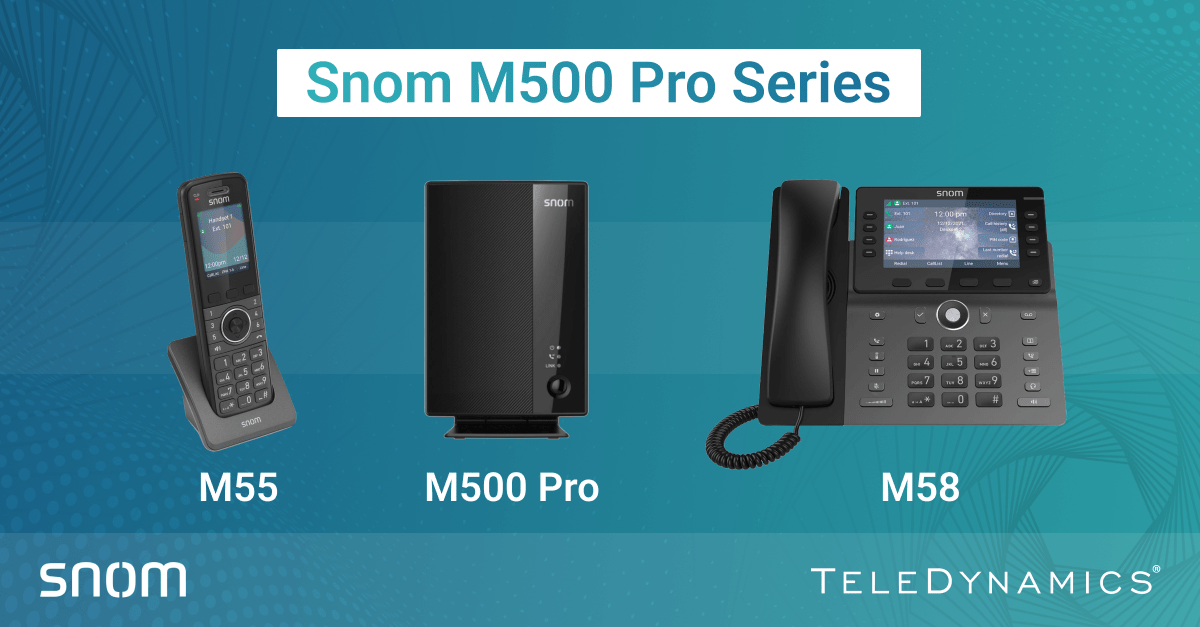 Snom continues to wow the market with novel devices tailored to specialized business needs. The M500 Pro series is another example, delivering capabilities perfectly suited to small and mid-sized businesses with mobile workforces. Snom's wireless solution includes a DECT base station and wireless end devices, and in this article, we show you all the benefits it can provide your organization.
The need for mobility
Many business sectors have highly mobile workforces: Hospitality, restaurants, healthcare, manufacturing and warehousing are just some areas where employees don't sit at a desk. Highly mobile employees require a reliable, secure and easy-to-deploy wireless communications solution to interact with each other effectively. This is where Snom's M500 Pro DECT multicell base station is ideal.
What does the Snom M500 Pro series offer?
By deploying the M500 DECT base station, you create your own private wireless communications infrastructure to converse with all your coworkers and employees.
The M500 base station offers an indoor range of up to 160 feet and an outdoor range of almost 1,000 feet; a single base station deployed indoors can effectively cover an area of up to 80,000 square feet! If that's not enough, you can easily expand your coverage by adding and pairing another base station.
The M500 can be provisioned directly with a SIP telephony provider or an on-site or cloud-based IP PBX. A single base station can support up to 48 SIP accounts on as many as 10 registered phones, with eight narrowband or four wideband calls simultaneously. Expanding to two base stations allows you to support 20 registered phones, 16 narrowband calls and eight wideband calls.
Features of a complete Snom M500 solution
The innovative M500 is supported by equally capable end-user wireless devices that complete the M500 Pro DECT wireless family of products, delivering a communications solution that is much more than just a set of wireless phones. Some of the built-in features of the complete solution include the following:
Paging system:

A unique paging system lets you page your entire team; anyone can respond via a page or direct call.

Call monitoring:

Anyone can pick up an incoming call from any handset. A green indicator lights up for the person who picks up the call, while everyone else sees a red indicator, so they know someone else picked up that call.

One-button call hold and call park:

You can put a call on hold, park it with a single button and have it picked up from any other handset. While the call is on hold, you can even page your colleagues and give them additional information, including who's on the line and who should pick up.
Beyond these native time-saving and productivity features, the handsets also support all features that the IP PBX or telephony provider delivers via the SIP protocol. This ensures consistency is maintained across all devices, especially if the M500 is part of a more extensive telephony system deployment.
Capabilities of compatible devices
The M500 base station supports two DECT wireless telephone models: the M55 handset and the M58 DECT desk phone. The M55 handset is a lightweight, highly portable, ergonomic, cordless telephone that is ideal for workers who are continuously on the move within and around a business's premises.
It sports a comfortable 2.4" 240×320-pixel color LCD screen, six backlit dual-color LED programmable keys, and an integrated belt clip. Here's a summary of these key features and some additional handset capabilities:
2.4" 240×320 pixel color LCD screen

Seamless handover and roaming between base stations

Six programmable keys

Up to 19 hours of talk time

Up to 240 hours of standby time

Integrated belt clip

3.5 mm jack for use with a wired headset
The M58 desk phone is a smart desk phone that looks somewhat ordinary, but looks can be deceiving: It, too, is wireless and uses the same DECT technology as the handset.
At first, a wireless desk phone may seem counterintuitive, but in truth, it is extremely freeing, delivering the ability to move your workspace to wherever you want it without losing the familiar feel of a desk phone at your fingertips. You only need a single cable to connect it to any power outlet; no Ethernet required.
Some capabilities that are unique to this wireless desk phone include the following:
5" 480×272-pixel color LCD display

24 self-labeling programmable keys (8 physical keys)

Sensor hook switch

RJ9 connector for a wired headset
These two phones share many additional powerful features, including:
Integrated Bluetooth for a wireless headset connection

Support for the latest DECT 6.0 standard

Support for high-definition audio

Support for over-the-air updates

A shared directory with up to 500 entries

Shared central directories supporting LDAP and remote XML

A private directory with up to 200 entries

Seamless handover and roaming

A multitude of telephony features, including barge in, auto-answer, three-way conferencing, call lists (missed, received, and dialed), busy phone monitoring, and paging zones

A three-year warranty
Conclusion
The M500 Pro solution is perfect for any small business looking to quickly get up and running with two or three desk phones and handsets. It's also a scalable solution that grows with your business, so it's just as good for medium-sized enterprises. The use of the standardized SIP protocol also gives you the flexibility to choose and change your provider whenever you like.
The M500 Pro solution's features and capabilities set your business up to thrive by letting you focus on the things that matter most… like running your business!
---
You may also like:
Snom's M900 multicell base station