Product Review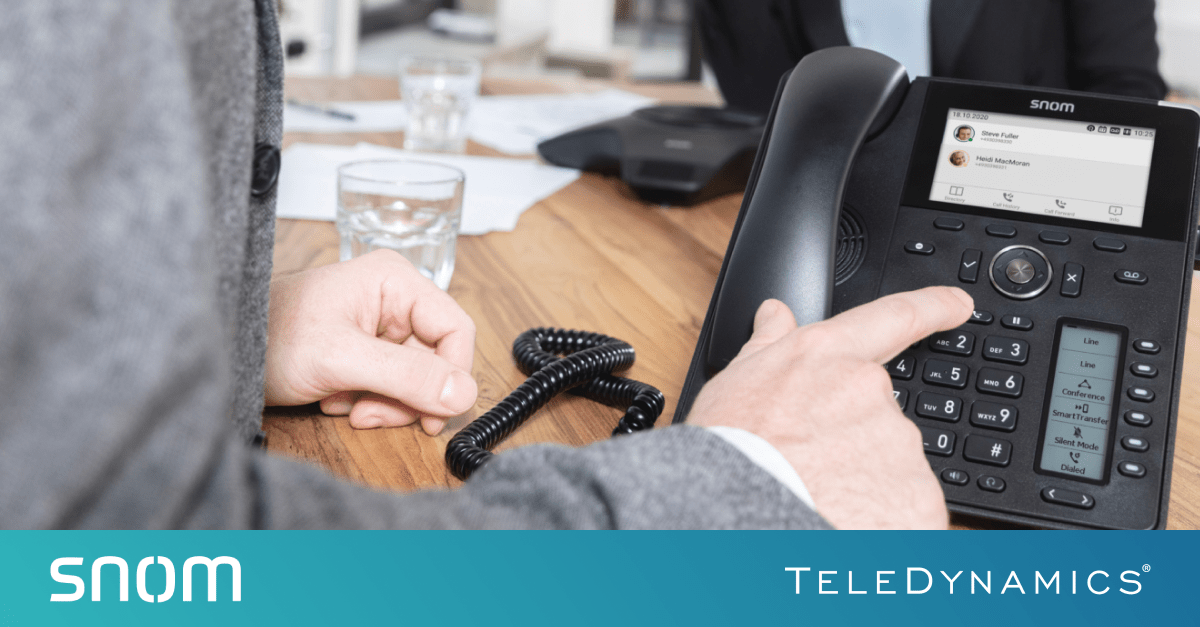 Snom's D7XX series of IP phones deliver an excellent balance of rich features and exceptional economy. The D7XX series is a befitting choice for large deployments with many endpoints and budget-sensitive small to medium-sized businesses.
In this article, we showcase some of the most popular models in the series, allowing you to determine which sets are ideal for your business.
Excellent quality-price ratio
Often the most significant cost contributor to the installation of a business telephone system is the large number of telephony endpoints that need to be installed, rather than the overall infrastructure. As such, it's essential to strike a balance between device capability and cost.
Snom's D7XX series of IP phones allows you to achieve a rich telephony feature set while maintaining costs at a manageable level.
D7XX series highlights
The D7XX series of IP phones is Snom's international bestseller. Their ergonomic design and popular "standing" orientation make them an attractive choice for many organizations. The entire series features high-resolution displays and customizable, self-labeling function keys.
These phones provide a Gigabit Ethernet switch port to connect a workstation and Power over Ethernet to eliminate the need for a separate power supply. All phones support exceptional HD-quality audio, replacing that typical tinny telephone voice with FM-radio-quality sound.
For remote workers, the device can become an OpenVPN endpoint, ensuring that all communication is encrypted over the internet to safeguard conversation confidentiality.
D7XX series phone models
Snom's D7XX series phones deliver a wide range of capabilities, allowing you to choose the model that provides the feature set you need. These phones range from respectable entry-level devices to top-of-the-line phones with a large screen and a second display for digitally labeling additional function keys.
D710: This entry-level phone is a financially smart option with a professional look and feel. This model features a four-line black and white graphical display. The four context-sensitive keys and an intuitive, user-friendly menu make using the D710 easy.

D713

:

With support for IPv4, IPv6, a headset and PoE, the D713 is an ideal choice for most of your organization's employees. Its high-resolution 2.8" color display, uncharacteristic of an phone at this price point, provides excellent visibility and clarity.

D717

:

Taking a big step up, the D717 offers everything the D713 does but adds a USB port that can be used for several purposes. You can connect an expansion module, a headset, or the innovative

Snom A230

, a DECT dongle to wirelessly connect the phone to a DECT base station such as the

Snom M100

. The

Snom A210

Wi-Fi dongle can connect to the IP SIP server via a Wi-Fi network, delivering even more deployment flexibility. In addition, you can even connect a

C52 Extension Speakerphone

, allowing you to upgrade this desk phone into an intelligent conference solution inexpensively. An ambient light sensor measures the room's brightness and regulates the display's brightness, saving energy and increasing comfort.

D735

:

Enjoy all the capabilities of the previous two devices plus some innovative additions, like a sensor-based user interface. As the user's hand approaches the phone, a motion sensor detects it, and the h

igh-resolution 2.7" graphical TFT display

switches automatically to show more relevant information. The D735 also supports up to 12 SIP accounts.
Expansion modules
In addition to flexible feature-rich phones, Snom also delivers two novel expansion modules that extend the functionality of almost all D7XX phones. Compatible with all the models with USB ports (i.e., the D717 and D735), the Snom D7 and D7C expansion modules add many keys and functions to this already well-designed series of devices.
The D7 expansion module delivers an additional 18 programmable keys with colored LED buttons. It has a black-and-white digital display of the keys and is powered through the USB connection of the phone. A D7 can be daisy-chained with two more D7 expansion modules, providing users up to 54 additional programmable keys. The expansion module is "plug and play," which means you just need to plug it in, and the phone will recognize it immediately without any additional configuration.
The D7C goes even further, delivering a large 6.8" color screen with three digital pages of 16 programmable buttons for a total of 48 functional keys. Like the D7, it is plug-and-play and can also be daisy-chained with up to three modules for 144 additional configurable keys.
Key features of phones and expansion modules
Some of the key features of these particular Snom D7XX phones include the following:
D710:

Backlit 4-line graphical display
Wall mountable
Hands-free talking (speakerphone)
Electronic hook switch (EHS) support
4 SIP accounts

D713:

High-resolution 2.8" color display
Configurable LED function keys
Smart labels
Gigabit Ethernet with PoE
Support for IPv4 and IPv6
OpenVPN
HD audio
Headset compatible using headset port
6 SIP accounts

D717 has all of the features of the D713 plus:

USB port that can be used for a Wi-Fi dongle, DECT dongle, expansion module, extension speakerphone, or headset
Ambient light sensor
White or black options
4 SIP accounts

D735 has all of the features of the D717 plus:

Sensor-based user interface
12 SIP accounts

D7 expansion module:

18 programmable colored LED buttons
Black-and-white screen providing digital labels for buttons
Up to three expansion modules can be daisy-chained on one phone
Compatible with all phones in the series with a USB port
Plug-and-play USB
Multipage display
White or black options

D7C has all of the features of the D7 plus:

A large 6.8" TFT color screen

Three pages of 16 programmable buttons
Conclusion
The D7XX series of IP phones is a phenomenally flexible set of devices that deliver a lot of bang for your buck. Rarely will you find such quality and features in such an economical package. They are undoubtedly worth evaluating for your business' telecommunications needs.
---
You may also like:
Snom's M900 multicell base station
Break free from cords with the Snom C620 conference phone