Product review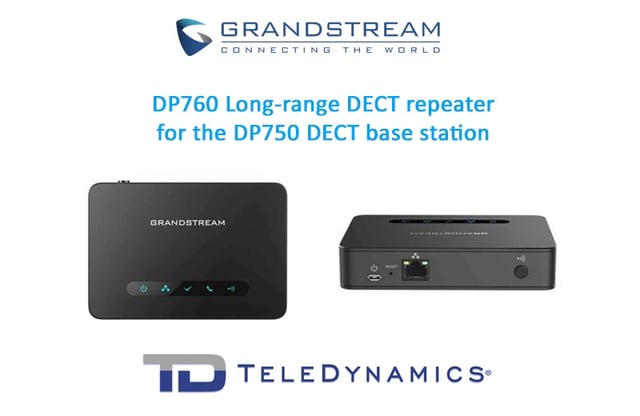 In many workspaces, internal mobility is vital. This is especially true of businesses that have extensive facilities such as warehouses, factories, hotels, schools, or even university campuses where employees are required to physically move from place to place to get their jobs done. In these kinds of enterprises, professionals must be reachable no matter where they are on campus.
Grandstream's DP750 DECT VoIP base station enables this type of mobile connectivity by combining two reliable technologies: DECT and VoIP. This base station delivers wireless coverage of up to 300 meters outdoors and 50 meters indoors for up to five DP720 DECT handsets, allowing five concurrent calls while supporting up to ten SIP accounts.
For organizations that need to cover an even greater surface area, Grandstream has launched the DP760 long-range wideband DECT repeater for extending the coverage area of the DP750 base station.

What does the DP760 do?
The DP760 DECT repeater doubles the coverage area and extends the services provided by the DP750 base station. It wirelessly connects to the already provisioned base station and increases the coverage area by supplying an additional range of 50 meters indoors and 300 meters outdoors. The only prerequisite is that the DP760 repeater be located close enough to the DP750 base station to have a solid wireless connection.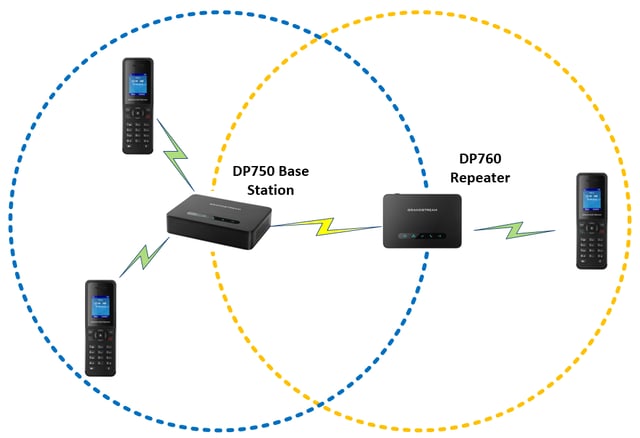 All the features of the DP750 base station are seamlessly relayed to the extended area so that wireless handsets seamlessly access the telephony network regardless of whether they connect to the base station or the repeater.
It is important to note that although the DP760 repeater can connect to the IP network, this is only used for provisioning, monitoring and management. All telephony communication occurs via the wireless connection with the DP750 base station.


Key Features
One of the most attractive features of the DP760 is the automatic association mechanism used to connect with the base station. The DP760 repeater can be configured to associate with any DP750 base station it detects within range. Once association is achieved, this feature can be deactivated to avoid any inadvertent or malicious attempts at connectivity.
Additional noteworthy features include:
Supports the latest DECT standards including CAT-iq

Up to two concurrent HD audio calls per DP760 repeater

Each DP750 base station can connect to up to five DP760 repeaters in a star formation

Seamless call handover between repeater and base station

Automated provisioning

Power over Ethernet as well as external power supply options

Ethernet network connectivity for provisioning, monitoring and upgrading

722 and G.726 wideband and narrowband audio codecs

Supports advanced telephony features

Frequency bands that comply with laws in Europe, the United States, and Brazil
Note that the DP760 is not a standalone device. All of the above features are provided by the DP760 repeater in conjunction with an associated DP750 base station.


How do DECT and VoIP work together?
What is so special about a series of devices providing wireless telephony using DECT and VoIP? For one thing, both of these technologies are well established and have matured to a point where their reliability is unquestioned.
DECT, or Digital Enhanced Cordless Telecommunications was originally developed by the European Telecommunications Standards Institute (ETSI) between 1988 and 1992 and has since become the undisputed standard of wireless telephony. The latest development in DECT is the implementation of Cordless Advanced Technology – internet and quality (CAT-iq) which contains features that expand the protocol with support for high-quality wideband voice, enhanced security, calling party identification, multiple lines, parallel calls, and similar functions to facilitate VoIP calls through SIP and H.323 infrastructures. It is based on the Next Generation DECT series of standards from ETSI, making the DP750 and DP760 devices exceptionally futureproof.
Voice over Internet Protocol (VoIP) similarly encompasses a reliable set of technologies that are quickly becoming the standard of telephony worldwide. Enterprises are embracing VoIP for their telephony needs since it provides network convergence, seamless provisioning, workforce mobility and cloud-based VoIP options, to name a few advantages. The DP750 and DP760 devices are poised to leverage an already existing VoIP infrastructure to deliver wireless telephony to any location where IP network connectivity can be established.
Below is a diagram explaining how these devices fit in with the use of both technologies.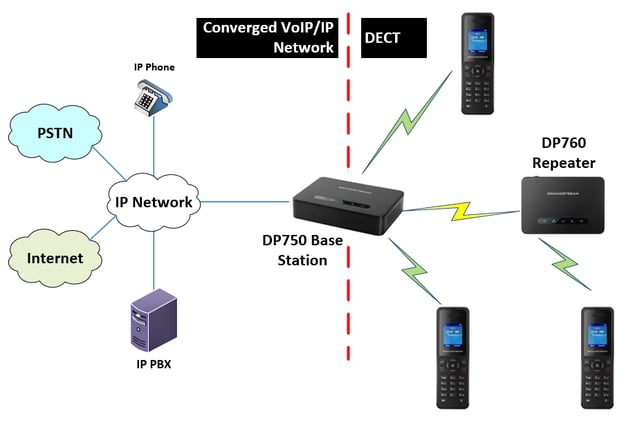 In a sense, the DP750 base station acts as the border between the VoIP and the DECT domains. It provides all of the VoIP-enabled features such as SIP accounts, routing over IP networks, and connectivity to IP PBXs and Internet Telephony Service Providers (ITSPs). It also supplies wireless DECT services to DECT-enabled handsets and to the DP760 repeater device. You could think of the DP750 base station as a gateway of sorts between the two technologies, allowing the advantages of DECT cordless telephony to be used with a VoIP-enabled IP infrastructure.


Why not use Wi-Fi instead of DECT for wireless telephony?
This is a logical question, since VoIP can be natively extended to any IP-based medium such as Wi-Fi, without the need for translation into other standards such as DECT. So, one could deploy a Wi-Fi network to cover the desired area from which Wi-Fi- and SIP-enabled handsets can register directly to an IP PBX, without the need for a VoIP/DECT device.
While Wi-Fi is perfect for transferring data between wireless devices, it is not inherently suitable for telephony and other real-time services. Moreover, deploying a Wi-Fi network to support VoIP can be a daunting task. Achieving the required quality of service (QoS) over a shared Wi-Fi network for handsets, not to mention providing for the coverage, encryption and security features necessary for such a deployment, demands a certain level of expertise, time, specialized equipment, and ultimately, a higher cost. Because DECT has been developed specifically for cordless telephony services, it is already optimized for voice and can deployed without any tweaking or fine-tuning to get it right. This makes it easier and faster to install, and in the vast majority of cases, more cost effective.


What is HD audio?
Another feature of the DP750 and DP760 devices is their support of the G.722 high-definition (HD) audio codec. This is also known as a wideband codec. This codec delivers improved speech quality through a higher sampling frequency. Both DECT and VoIP employ the digitization of voice into audio samples. How often these samples are taken determines the quality of the voice being transferred. Typical telephony-grade communication has a sampling rate of 8kHz, or 8000 times a second, while the G.722 codec doubles this value to 16kHz and transmits a more natural sounding voice. This is similar to the difference in sound quality one hears when radio presenters converse with listeners who call in from their telephones.
The DP750 base station and DP760 repeater devices support both the conventional telephony quality as well as the HD quality audio codecs.

CONCLUSION
The Grandstream DP series of DECT/VoIP devices are ideal for businesses with internal mobility requirements. Thanks to the flexibility and ease of deploying these devices wherever there is an IP network connection available, along with the possibility of procuring additional repeater stations and handsets to expand the coverage area, this system can easily grow with your business.
---
You may also like:
Cordless SIP phones in the workplace: DECT vs. VoWi-Fi
Free up your employees with Yealink's new W60B DECT IP phone system
DuraFon PRO rugged enough for horseplay