---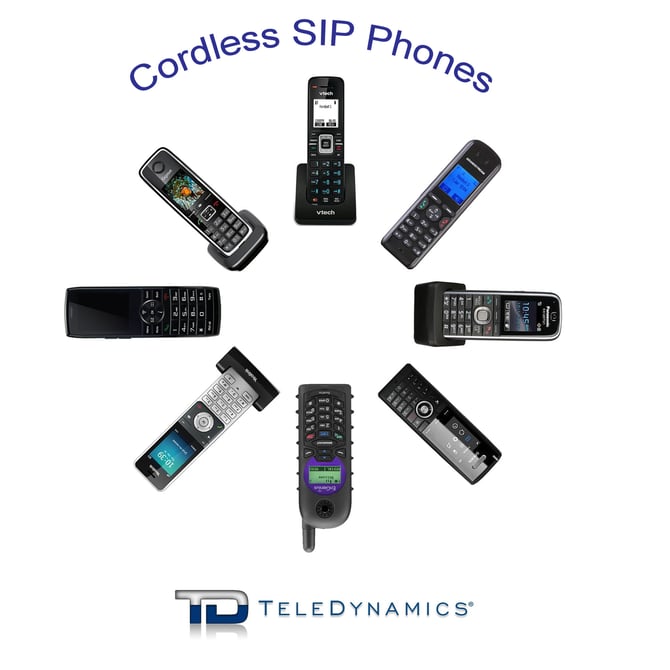 For many types of businesses, workforce mobility is indispensable. Wireless technology allows associates to communicate internally and externally without being bound to a desk or station. Traditionally, DECT (digital enhanced cordless telecommunications) has been the technology used for this purpose. More recently, as wireless local area networks (WLANs) have become more commonplace, voice over WLAN (VoWLAN or VoWi-Fi) has emerged as an increasingly utilized technology.
---
One of the reasons for the rise in popularity of VoWLAN is that it uses the same Wi-Fi network as data, which can require less hardware as well as lower long-term maintenance costs. Another benefit of VoWLAN is that since it transmits voice over the same network used for data, it can be integrated with Unified Communications (UC) applications. While DECT does offer some services like messaging and email, VoWiFi devices generally offer much broader interoperability in this regard.
At the same time, DECT has advantages of its own. One of them is range. WLAN is generally confined to areas where workstations are located and do not extend to halls, stairwells or outdoor spaces. DECT can travel through walls and penetrate ceilings to cover multiple floors, and has a typical range of 50 meters (160 feet) indoors or 300 meters (1000 feet) outdoors, which can be expanded through the use of repeaters.
Another consideration is competition between the voice and data packets. To carry voice, WLAN networks almost always require some extra engineering to minimize interference. The 802.11 protocol used for Wi-Fi networks was created for data and doesn't have established QoS (quality of service) standards that allow prioritization of voice packets. Delays that are tolerable for data can be anywhere from inconvenient to downright disruptive for voice. DECT, on the other hand, uses its own spectrum so it doesn't compete for bandwidth with the devices on the Wi-Fi network.
Moreover, since DECT uses its own frequency, it has a push-to-talk functionality that allows users to operate their handsets like walkie-talkies.
TeleDynamics carries both types of cordless phones to meet a wide variety of business needs. Below we highlight a few of them. Your TeleDynamics rep can help you choose the solution that's right for you.
DECT SIP PHONES

EnGenius DuraFon-SIP – This is a rugged, drop-proof phone designed for large areas or harsh environments. It can penetrate up to 12 floors inside a building and covers up to 250,000 sq. ft. of indoor facility or up to 3,000 acres of open land. It can handle 3 concurrent calls and 6 SIP accounts, and offers 14 hours of talk time or 320 hours of standby time.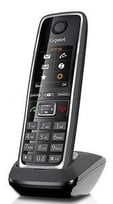 Siemens Business Communication Systems Gigaset C530IP – This DECT phone can handle 4 concurrent calls and 10 SIP accounts. Up to 6 handsets can be registered to each base station. The handsets also allow users to access email and some Internet applications.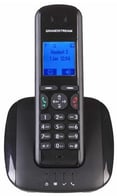 Grandstream DP715 – Up to 5 handsets per base station, 4 concurrent calls, customizable ring tones, 5 SIP accounts from up to 2 different service providers, failover SIP server.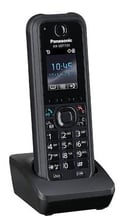 Panasonic KX-UDT series – Dust and water splash resistant, concave face to prevent pocket dialing, 4 concurrent calls and up to 255 handsets per base. The KX-UDT121 allows 13 hours (narrow band) or 10 hours (wide band) of talk time or 200 hours of standby while the KX-UDT111 allows 11 hours (narrow band) or 9 hours (wide band) of talk time.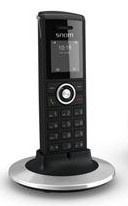 Snom M325 – 20 SIP accounts and 20 handsets per base, 5 concurrent calls, 7 hours of talk or 75 hours of standby. Can add up to 3 repeaters to increase range. The M65 handset has customizable ring tones, allows 2 concurrent calls and 17 hours of talk time or 250 hours of standby. The M25 handset allows 7 hours of talk or 75 hours of standby.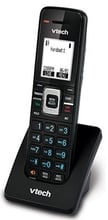 VTech VSP600 – Auto-provisioning, fail-over SIP server, 6 SIP lines and 6 handsets per base, customizable ring tones, 7 hours of talk or 7 days standby.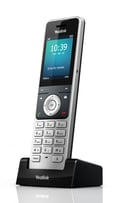 Yealink W52P, W56P – Integrated PoE (power over Ethernet), 4 concurrent calls, up to 5 handsets per base, 5 VOIP accounts, customizable ring tones, auto-provisioning. The W52P has 11 hours talk time or 120 hours standby while the W56P offers 30 hours of talk time or 400 hours of standby, and its range can be extended by up to 6 repeaters.
Wi-Fi SIP CORDLESS PHONE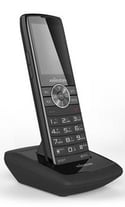 Moimstone MWP1100A – Unified communications (UC) service, SMS, MMS, dual wireless frequency bands (2.4 Ghz and 5 Ghz), 3 hour talk time or 60 hour standby.
SIP CORDED PHONES WITH INTEGRATED Wi-Fi
These corded phones have integrated Wi-Fi and can be used like cordless phones when connected to a wireless headset. The talk time and standby time will depend upon the wireless headset used. In this case, the handset would not need to be kept charged since the phone is plugged in. Instead, the only thing that needs to be charged is the wireless headset. A lifter can be used to answer and end calls away from the desk.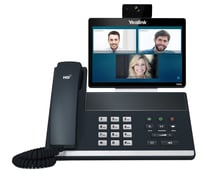 Yealink T49G video phone –Built-in dual band (2.4 Ghz and 5 Ghz) 802.11 a/b/g/n Wi-Fi connectivity. Bluetooth 4.0 with enhanced data rate (EDR) technology for coupling Bluetooth headsets and handheld devices. Up to 16 SIP accounts. For more information about the video phone features, refer to our previous blog post about video phones.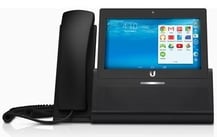 Ubiquiti UniFi VOIP phone (PRO and Executive models) – These phones have a high-definition color multi-touch display, integrated camera and run on Android, so they can be used as video phones and can run applications from Google Play Store. They have integrated 802.11 a/b/g/n Wi-Fi and Bluetooth 4.0, and feature power over Ethernet (PoE). The UVP PRO model has a 5" display. The Executive model has a 7" display and built-in stereo speakers. The base model (the UVP) does not have integrated Wi-Fi or Bluetooth, so be careful to order the PRO or Executive version if you want to use a wireless headset with the phone.

UPDATE (August 2018)
Since this article was first published, TeleDynamics has added a number of cordless phones to its offering, including Grandstream's WP800 Wi-Fi IP phone; Sangoma's DC201 DECT Base + Handset package; VTech's VDP650 series of base stations, repeaters, and cordless phones; and Yealink's W60B DECT IP Phone Base Station , to name a few. Check our website for the latest cordless offerings.

CONCLUSION
Mobility in the workplace has never been better with the plethora of cordless SIP phone options available today, whether you go with DECT or VoWi-Fi.
---

You may also like:
Should you get headsets for your office phones?
Video phones: Grandstream vs. Yealink
Beef up your SIP phone system with these productivity-enhancing accessories