Product Review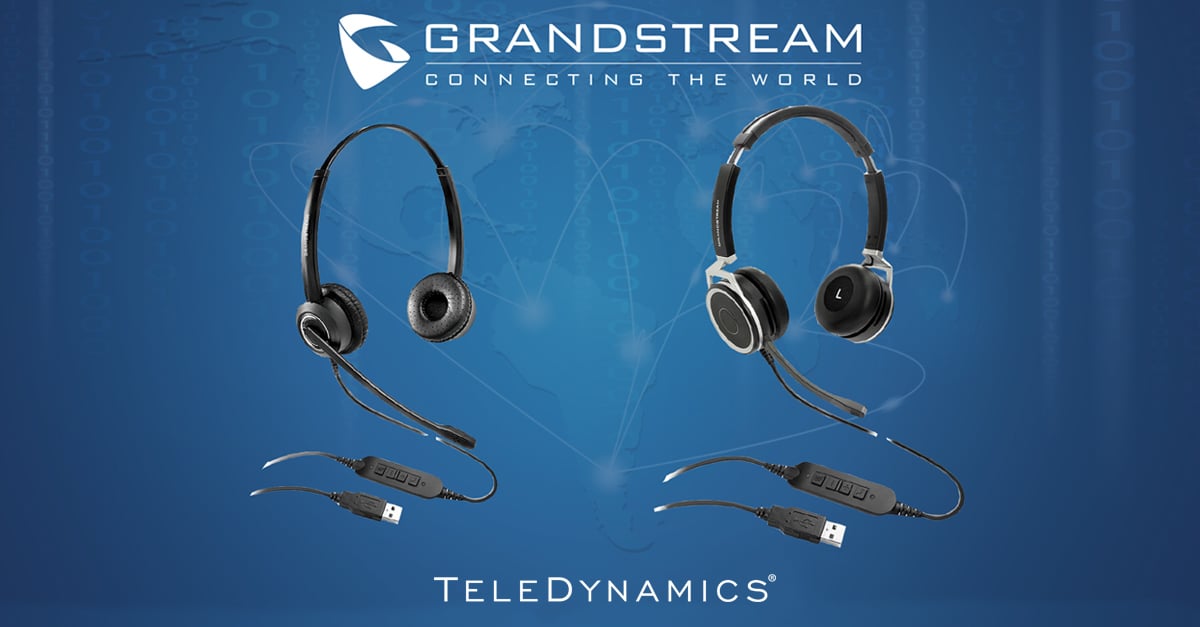 Whether you are in a busy office environment or working remotely, having the proper gear is important for ensuring that you do your job effectively and comfortably. That is why Grandstream's GUV series of USB headsets are a great addition to a worker's arsenal, especially for those spending a lot of time in voice communications with colleagues, partners or customers.
GUV series headsets
Designed for remote workers, contact centers and other busy environments, the GUV3000 and GUV3005 USB headsets pair with laptops, computers, IP phones, and other devices to convey an unsurpassed audio quality. These USB headsets feature a noise-canceling microphone while providing crisp HD audio and all-day comfort. The GUV series offers peace of mind by being compatible with all major third-party communication platforms, apps, and softphones.
Use cases
More and more employees are being empowered to work from anywhere with the use of collaboration software, online tools, and communication platforms that can be leveraged over the internet. This is resulting in an increasingly distributed workforce, where call center agents can respond to customer needs, receptionists can greet customers and route calls, and office employees can interact with their colleagues and partners, all from the comfort of their own homes…or anywhere else!
With sounds from children, pets, other family members, and so on, home environments can introduce disturbances that are not present in a more traditional workplace. The GUV series of headsets are ideal for these conditions because of the noise-canceling microphone that minimizes background sound, in addition to delivering high-quality audio. This, in conjunction with the comfort they bring during prolonged use, are perfect for all positions with high volumes of telephone calls as well as for those that take part in long online meetings.
In particular, these headsets are perfect for call center agents, teachers, professors, remote receptionists, medical hotline agents, and remote office workers of all types.
Grandstream CEO David Li is quoted as saying, "The new GUV series of USB Headsets provides an important addition to our product line to accommodate the critical need for personal collaboration devices around the world. As business, education, and all other sectors adjust to remote operations, they need new tools to keep remote workers, students, teachers, and professionals productive and collaborating. The GUV series USB headsets were designed to address that need by providing a powerful, comfortable audio experience that enhances remote collaboration. We are thrilled to release the GUV series and are excited about the opportunities they provide for Grandstream and our partners across the globe."
The headset models
The USB headsets in the GUV line include the GUV3000 and the GUV3005 models, both of which are binaural (speakers for both ears), ensuring you can focus no matter what is going on around you. Both models have in-line controls on their cables, allowing you to adjust the volume quickly and easily, and both are compatible with any device that has a USB Type A connector.
Compared with the GUV3000, the GUV3005 model has superior audio quality, since the headset speakers are able to deliver sounds across the full frequency range of human hearing. Therefore, this headset can also be used for listening to music. It also has a better microphone and larger ear cushions, giving greater comfort and blocking out more ambient noise.
Key features
Some of the most useful features of both the GUV3000 and GUV3005 include:
Binaural headset with adjustable headband and soft ear cushions
High-definition audio
Noise-canceling technology to reduce ambient sounds
Use of USB 2.0, making it compatible with all devices sporting USB ports including:

Laptops
Desktops
Grandstream IP phones
Third-party IP phones

In-line controls for quick and easy control of volume and mute
Rotating microphone boom arm to move it out of the way when not speaking
Two-meter cord length for extensive freedom of movement
Features specific to the GUV3000 include:
Headphone speaker frequency range: 100Hz - 7kHz
Microphone frequency response: 150Hz - 6.8kHz
Microphone boom arm rotation: 310°
Weight: only 125g
The GUV3005 delivers the following above and beyond the GUV3000 model:
A busy light indicating to those around you that you are on a call
Headphone speaker frequency range: 20Hz - 20kHz
Microphone frequency response: 100Hz - 10kHz
Microphone boom arm rotation: 235°
Larger earphone cushions
Weight: only 192g
Conclusion
Grandstream's GUV3000 and GUV3005 USB headsets are a great choice for companies that are adopting a distributed workforce model, thanks to their high quality, robust feature set and comfortable fit.


---
You may also like:
Pivot quickly with Grandstream's UCM6300 solutions
Review of Grandstream's GVC3212 videoconferencing endpoint
How (and why) to integrate your VoIP phone system with web and mobile apps