Product Review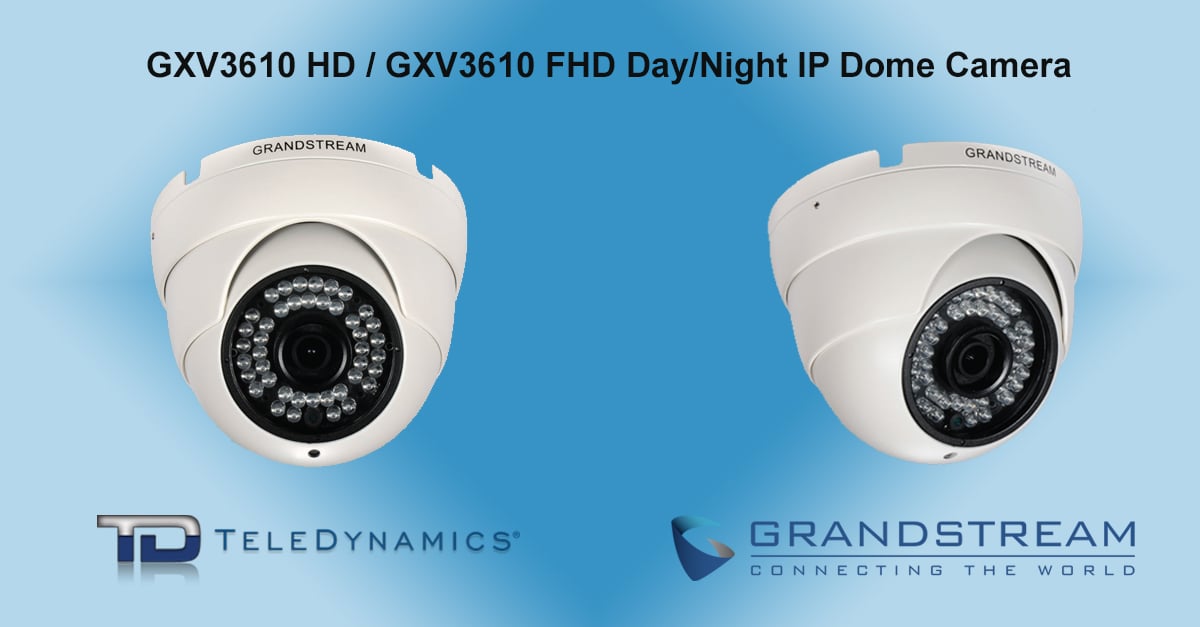 Grandstream's GXV3610 HD and FHD fixed dome IP cameras provide state-of-the-art indoor/outdoor, day/night surveillance. Easily installable almost anywhere, they are weatherproof, equipped with a 3.6 mm lens, and perfect for wide-angle monitoring of nearby subjects in crowded environments. What's more, they are compatible with a wide array of other surveillance equipment to become an integral part of your overall surveillance system.
Useful features include infrared LED illumination for night vision covering up to 10 meters, Power over Ethernet for installation without local mains power, and an alert notification feature, either via outbound voice or video call, or by the sending of a snapshot via email.
Their advanced image sensor processor (ISP) is powered by an auto-exposure/auto-white balance algorithm that allows for exceptional performance in all lighting conditions.
Both devices include the capability of defining up to 16 motion detection target areas within the field of view of the camera. With a built-in microphone and a line-out jack to connect to external speakers, you can even initiate a conversation with someone within the field of view and within earshot of the camera from a compatible mobile app, or even from an IP video telephone on the same network.
In addition to these features, the more advanced GXV3610-FHD has a 3.1 megapixel progressive scan CMOS as opposed to the 1.3 megapixel found in its sibling. This delivers a resolution well over that of full high-definition devices.


Part of Grandstream's surveillance solution
These cameras can be installed on their own and can be viewed via a web browser on a computer located on the same network. If they are connected to the internet, they can also be viewed remotely from a mobile phone, using a compatible mobile app. Alternatively, these IP cameras can be integrated into a larger video survelliance solution by connecting them with Grandstream's GVR3550 Network Video Recorder, which maintains centralized video recording, indexing, searching, and video storage management for up to 24 Grandstream IP cameras with up to 16 TB of storage space using additional external hard drives.
The GXV3610 series IP cameras can also be managed with GSURF Pro, Grandstream's free video management software that enables the simultaneous control of up to 72 cameras. These cameras are also ONVIF-compliant and can be incorporated into any ONVIF video management infrastructure.
With the proper integration with various Grandstream systems, the GXV3610 series IP cameras can become an integral part of your surveillance scheme, incorporating devices such as PA systems, emergency sirens, monitoring of cameras via Grandstream video phones, controlling cameras via mobile app or monitoring application, and accumulating video surveillance data over the network.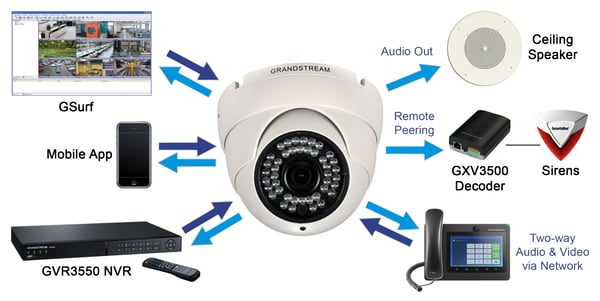 Key Features
Key features of the GXV3610 v2 series IP cameras include:
Supported maximum video resolution and frame rate

GXV3610_HD: 1280x960 (25fps); 1280x720 (30fps)
GXV3610_FHD: 2048x1536 (15fps); 1920x1080 (30fps)

Image sensor resolution

GXV3610_HD: 1/3" 1.2 Megapixel Progressive Scan CMOS, 1280H x 960V
GXV3610_FHD: 1/3" 3.1 Megapixel Progressive Scan CMOS, 2048H x 1536V

SIP for 2-way audio and 1-way video communication with SIP phones or mobile apps
H.264 and MPEG video compression
G.711 and ACC audio compression
Focal length 3.6mm
Aperture: F1.8
Field of view: F1.8
Video bit rate range: 32Kbps to 8Mbps
Built-in microphone and line jack
Motion detection in up to 16 predefined areas
Supported network protocols: TCP/UDP/IP, RTP/RTCP, RTSP, DHCP, DDNS, HTTP, HTTPS, SMTP, FTP, NTP
PoE
Privacy mask in 4 zones
IP66 weatherproof compliance

Conclusion
Grandstream's GXV3610 series IP cameras deliver a state-of-the-art and scalable surveillance infrastructure. From a stand-alone installation surveying a particular area to a large-scale installation with dozens of devices monitoring thousands of square feet of floor space, as well as integration with both Grandstream and third-party monitoring systems, this solution is ideal for surveillance areas big and small.


---
You may also like:
Grandstream's GWN7000 series Wi-Fi access points and Gigabit router
Grandstream's GXP1700 series IP phones are both functional and cost-effective
How Android converts IP phones to productivity centers