Product Review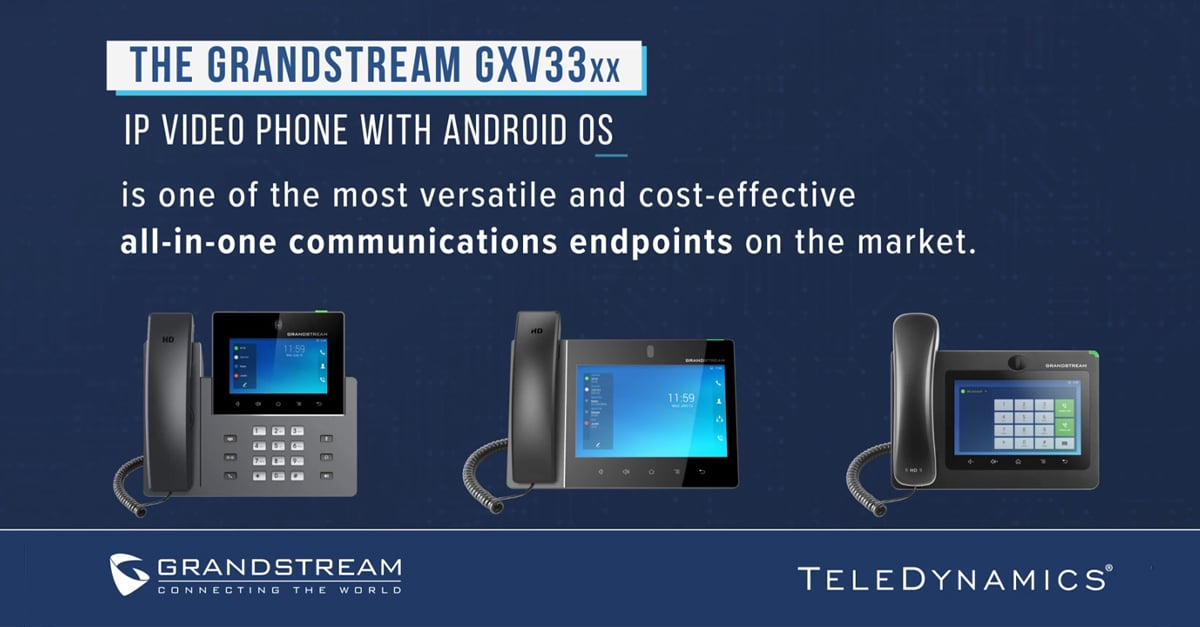 As worldwide travel faces new challenges, businesses have had to depend less on physical presence to get their job done. Grandstream's video telephony solutions are a great solution for the modern workplace.
Grandstream has introduced its ultramodern GXV33xx series of advanced IP video phones. The term "IP Video Phones" doesn't do them justice, however, because they deliver much more than video telephony – they are robust productivity centers. They combine large touch screens and the intelligence of the Android operating system to maximize the user experience. In this article, we review the GXV3380, GXV3370 and GXV3350 models.


Product highlights
One can immediately see the allure of the flagship GXV3380 model with its large, full-HD color touch screen, without the hindrances of mechanical buttons. This device looks more like tablet computer than a desk phone, which makes sense because it is based on the Android 7.0 operating system, used extensively in smartphones and tablets.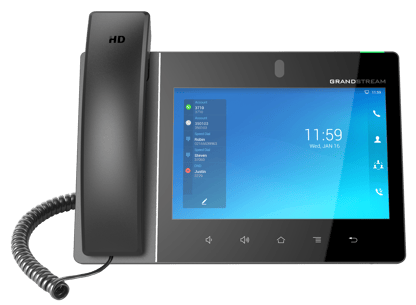 Among its other assets, the GXV3380 offers a full-HD camera with privacy wheel, Bluetooth connectivity for synching with your mobile phone and for use with a Bluetooth headset, two Gigabit Ethernet ports for high-speed connectivity of a PC workstation, and an HDMI port to connect a larger external monitor for more comfortable viewing.
Not only does this phone look like a tablet, but it has the functionality of an Android tablet, with the ability to download and install virtually all of the available apps in the Google Play Store that are supported by Android 7.0.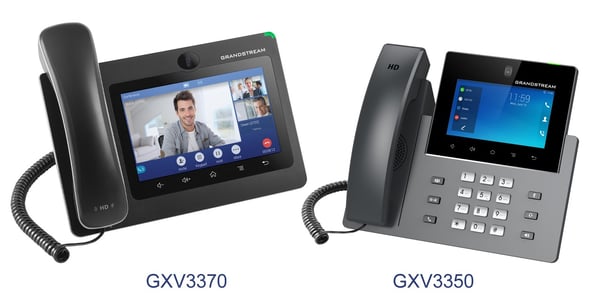 While the GXV3370 and GXV3350 and have lower price points, they are both high-end, smart IP phones. They share a feature set similar to their big brother's with some minor differences. They have smaller touch screens, lower-resolution cameras, and less flash memory. The GXV3370 retains a tablet-like feel, while the GXV3350 sports a mechanical keypad and resembles a more conventional desk phone.


Watch the video

Key features
Some key features of all three models include:
16 lines with up to 16 SIP accounts

Android 7.0 operating system

Built in Bluetooth for synching and connecting headsets

Gigabit Ethernet ports for high-speed connection of a PC workstation

Integrated Wi-Fi

Power over Ethernet

Dual-mic HD speakerphone

Capacitive touch screen

HDMI port for connecting external video monitor or data projector

USB port for multiple uses

Easy-to-use upgrade and provisioning capabilities

Fundamental and advanced telephony features

Support for most advanced and popular VoIP protocols, plus voice and video codecs

Military-grade security algorithms and encryption capabilities
In addition, the GXV3350 offers:
A large 5-inch 1280x720 color display

A megapixel CMOS camera functioning at 720p@30fps

Mechanical keypad and function keys

6-way audio conference

3-way audio conference at 720p@30fps

Up to 1000 call log records

4-core 1.3GHz ARM, Cortex A53 processor with 2GB RAM and 8GB eMMC flash memory
The GXV3370 offers:
A larger 7-inch 1024x600 color display

SD card slot

7-way audio conference
The GXV3380 offers:
A larger 8-inch 1280x800 color display

A 2-megapixel CMOS camera functioning at 1080p@30fps

Supports dual-band Wi-Fi with 802.11ac a/b/g/n/ac and WMM

3-way video conference at 1080p 30fps

Up to 2000 call log records

64-bit quad-core processor, 2GB RAM, and 16GB flash memory

Kensington security lock

See the specs for all three models side by side
This is the best way to quickly see the similarities and differences between the three models. Get the document in pdf format here.

Integration into existing implementations
The GXV33xx series of phones is compatible with virtually all major SIP platforms on the market and can also be seamlessly integrated with Grandstream's portfolio including SIP-based security cameras, door systems, IP PBXs and video conferencing systems and services. This series of phones is the perfect choice for those searching for an advanced video telephony solution that can be easily deployed and integrated with existing video systems.


Conclusion
More than just IP video phones, Grandstream's ultramodern GXV3300 series of desk phones are all-in-one communications and productivity centers. They are a perfect choice for the modern workplace, which is having to rely less on the physical presence of their associates.


---
You may also like:
Video phones: Grandstream vs. Yealink
What's exceptional about Grandstream's GRP2600 carrier-grade IP phones
How Android OS converts IP phones to productivity centers