Product Review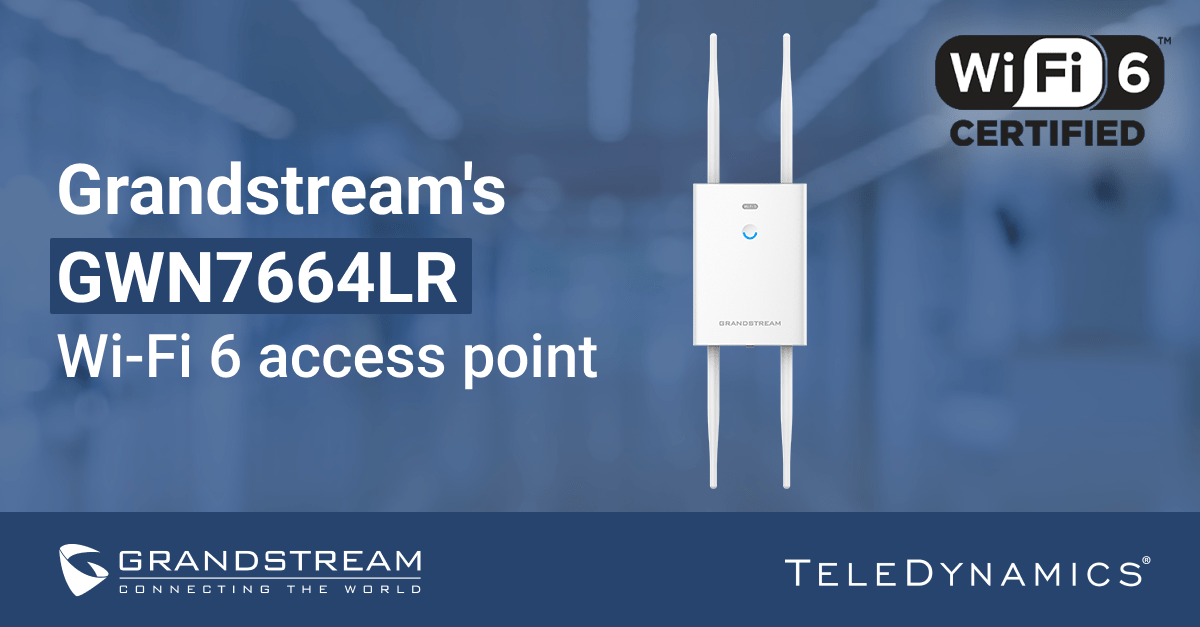 With the advent of Wi-Fi 6, the performance of wireless networks has improved dramatically. The user experience of those connecting to these networks has also enhanced so significantly that wireless communications have become comparable with wired communications.
Grandstream continues to lead this trend by introducing its new high-performance, long-range, indoor/outdoor GWN7664LR access point. We provide a detailed review in this article.
What is Wi-Fi 6?
Wi-Fi 6 is a new wireless communications specification leveraging both the 2.4 GHz and 5 GHz spectrums, also known by its more official name: IEEE 802.11ax. It is the most advanced Wi-Fi standard available today and is the successor to the highly successful IEEE 802.11ac standard. It is also sometimes referred to as "high-efficiency Wi-Fi" because the improvements made to the technology are especially important in environments with high user densities.

Its primary improvement over its predecessors is the enhancement of throughput per unit area of coverage. For large networks, the overall throughput improvement over IEEE 802.11ac has been measured to be over 300%, with 75% lower latency.
These enhancements translate to numerous benefits:
More connected devices per access point
Improved overall network performance
Superior user experience
Increased performance of delay-sensitive services such as VoIP
What does the GWN7664LR offer?
As a fully certified Wi-Fi 6 access point, the GWN7664LR delivers everything Wi-Fi 6 promises. It is specifically designed for both indoor and outdoor installation, with a sturdy, weatherproof and heat-resistant casing that can withstand temperatures from -30°C to 60°C (-22°F to 140°F) and non-condensing humidity from 10% to 90%.
The device sports four external antennas to implement a dual-band 4X4:4 multi-user MIMO that maximizes throughput and the number of concurrently connected clients. 4X4:4 means that the device has four antennas, four transceivers (one for each antenna) and four spatial streams to permit many more devices to connect at higher data rates.
In addition, you can replace the external detachable omnidirectional antennas with directional ones to focus their coverage in more specific areas to suit your needs.
Each GWN7664LR can deliver an aggregate wireless throughput of over 3.5 Gbps to more than 750 concurrently connected Wi-Fi clients with a range of 300 meters. Theoretically, in an open space completely devoid of obstacles, a single access point could cover an area of over 60 acres!

The benefits described above are significant, but perhaps the greatest advantage of this access point (AP) is that you can manage it as part of a larger network using a wireless controller. There are several options for this:
Each GWN AP has an embedded controller that can manage up to 50 local GWN APs.

GWN Manager is an on-premises enterprise-grade management platform for Grandstream

GWN series Wi-Fi access points.

GWN.Cloud is a cloud-based controller that you can use to manage an unlimited number of APs in multiple locations.
Finally, the GWN7664LR is ideal for use with voice-over-Wi-Fi deployment, offering a seamless connection with Grandstream's Wi-Fi-capable voice and video IP phones.
Summary of key features
The key features in the new GWN766LR Wi-Fi 6 AP include the following:
Official Wi-Fi 6 certification
Support for IEEE 802.11ax and backward compatibility with 802.11b/g/n/ac
Four dual-band external antennas
Support for the newest WPA3 security standard
Multiuser MIMO
Coverage range of up to 300 meters (may be reduced by obstacles)
Aggregate throughput at 5 GHz: 2.402 Gbps
Aggregate throughput at 2.4 GHz: 1.147 Gbps
Up to 32 SSIDs; 16 per frequency range (2.4 GHz and 5 GHz)
Concurrent wireless clients: 750+
Network interfaces: 1×1 Gbps port and 1×5 Gbps port
Network protocols supported: IPv4, IPv6, 802.1Q, 802.1p, 802.1x, 802.11e/WMM
Power supplied by PoE: 802.3af/ 802.3at
Maximum power consumption: 18W
Conclusion
Wi-Fi is a technology that is continually being developed and consistently delivers new and exciting capabilities as it evolves. Grandstream's GWN766LR Wi-Fi 6 access point demonstrates again how the company remains on the crest of the wave, ensuring that its customers enjoy top-notch technology with the security and reliability for which Grandstream is known.
---
You may also like:
Spotlight on Grandstream: 20 years of innovation
How to create a captive portal for the Grandstream GWN series
Grandstream UCM RemoteConnect (UCMRC)