Product Review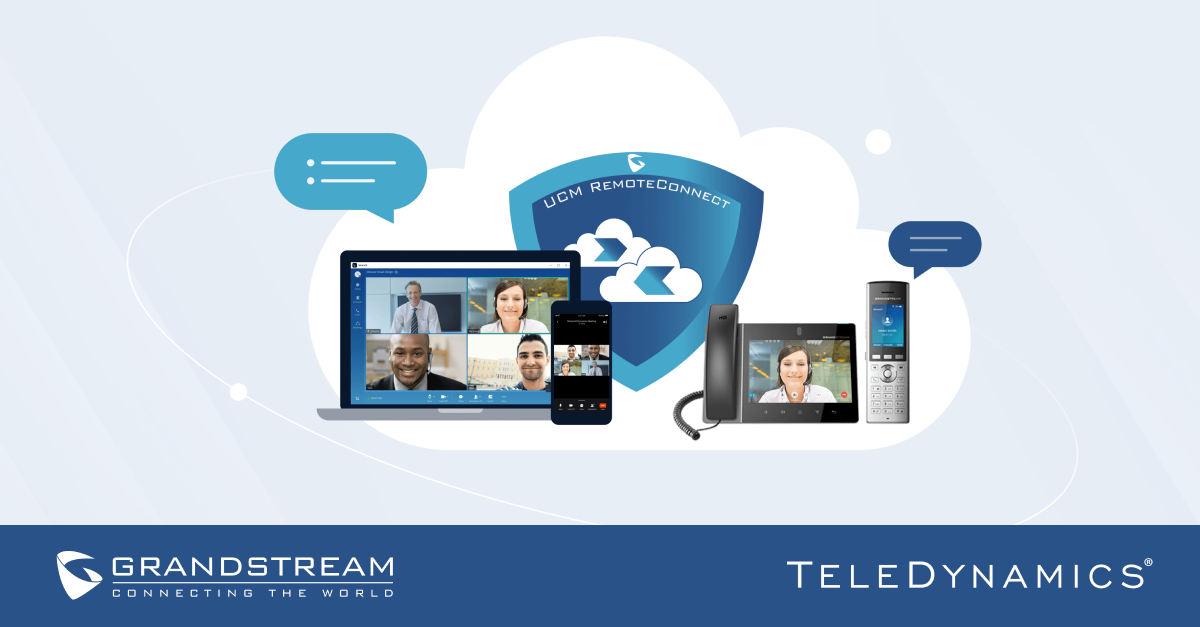 Experienced telecom administrators know it's challenging to provide ironclad security while maintaining speed on a communications network. This is especially true for enterprises with large mobile workforces, where users have internal telephone extensions on their mobile devices or home computers.
To make achieving these essential goals easier, Grandstream has introduced UCM RemoteConnect. This service caters to provisioning extensions for remote users of on-premises UCM6300 IP PBXs securely and lightning-fast.
Deploying secure remote extensions
Enabling workforce mobility through provisioning internal extensions to remote users is a groundbreaking ability that VoIP services offer. However, doing so introduces security threats, including ones related to conversation confidentiality and unauthorized access to VoIP services. It is thus essential to deploy these remote extensions in a way that includes all appropriate measures to secure them against attacks.
Optimal deployment is even more challenging when the IP PBX is an on-premises device, and communication between it and the remote extensions occurs via the corporate internet connection.
It is critical to configure each extension with the appropriate security rules, firewall exceptions, session border controller configurations and other security parameters to ensure secure communication.
This must all be done in a way that will not compromise the overall security of the enterprise network, especially at the network edge. It's all doable, but it can be time-consuming and tedious to implement.
What is UCM RemoteConnect (UCMRC)?
UCM RemoteConnect provides a zero-touch, out-of-the-box platform for provisioning remote users and devices to securely reach your on-premises UCM6300 IP PBX from outside your corporate network. It can be managed from the cloud and enabled instantaneously. You can use it to provision external extensions quickly, securely and automatically, saving time and money while giving you peace of mind.
By employing UCMRC, all external extensions — whether software-based or on physical IP phones — are automatically provisioned with a cloud-based automatic NAT traversal service that ensures the VoIP extension, your VoIP network and your corporate network remain secure. You can do it all in just a few clicks without the need for complex configurations of various network components.
Deploying the UCMRC service
The UCMRC feature is a subscription-based service that can be purchased as needed. You can choose the plan that best fits your organization's needs and can upscale or downscale the service as your requirements evolve.
The following table shows the various plans available and their fundamental features and cost. The subscription is charged annually for each UCM6300 device. So, if you have three UCM6300 appliances and purchase the Plus plan for each, you will pay $195 × 3 = $585 per year.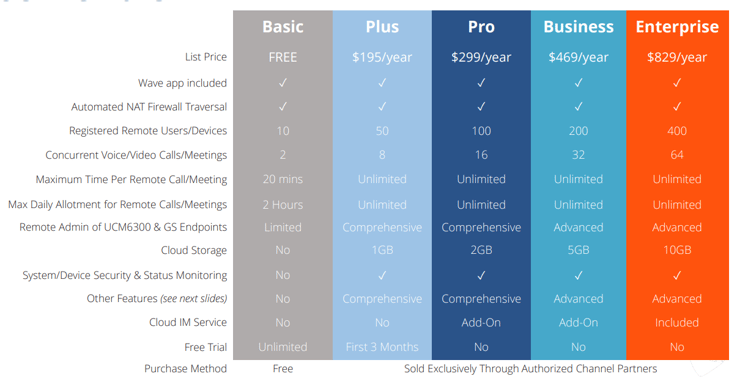 Each plan also comes with a different set of additional features that can be seen in the following table.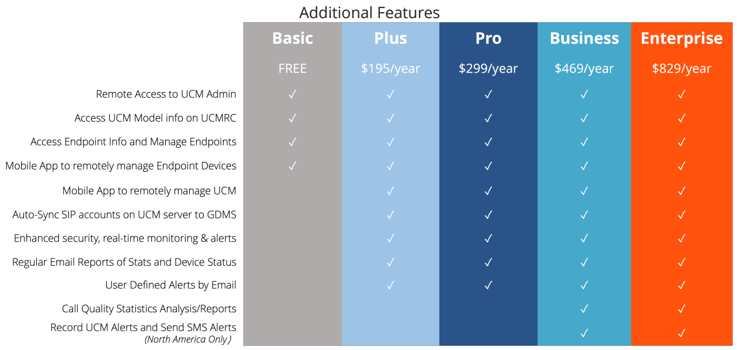 Of course, your plan choice depends upon the requirements of your organization, especially the number of remote extensions and the number of IP PBXs.

Additionally, add-ons are available for each plan, as shown in the table below.

These add-ons can provide flexibility to help you get the exact configuration your organization needs. For example, you can start with the free Basic plan and supplement it with the Admin-Only add-on for just $49 per year per UCM6300 appliance.
This option delivers the features of the Basic plan while adding 1 GB of cloud storage and the Remote Admin feature from the Plus and Pro plans, allowing network administrators to manage their UCM appliances from a mobile app.
As of July 31, 2022, all purchases of UCM IP PBXs come with a three-month trial of the Plus plan, after which customers can either downgrade to Basic or pay to stay on a paid plan.
UCMRC provides value in dynamic staffing situations
Because customers are only charged annually per UCM6300 appliance, the cost is trivial compared to the benefits. This is especially true for organizations that have large mobile workforces requiring continual moves, adds and changes (MACs).

Some organizations use employment structures that contribute to a high turnover of remote employees, including workers on contract, interns and staff that move from one area to another. Hotels (which often operate seasonally), healthcare organizations (that may swap staff), and educational institutions where teaching assignments are temporary are perfect examples.

Using UCMRC can deliver an extremely high ROI in these circumstances by streamlining all the MACs, saving time and money while maintaining the necessary levels of security.
Where GDMS fits in
Grandstream is well known for its Grandstream Device Management System (GDMS). It is a cloud-based management platform that can remotely manage IP PBXs and VoIP end devices. Users familiar with this system may be wondering how the UCM RemoteConnect feature fits in with the use of the GDMS.

UCMRC is not a standalone platform. It can be considered an extension of GDMS since it is enabled within the GDMS management platform and is used through it. Although it is possible to achieve the same level of security for external extensions using just GDMS, the process would be more tedious and difficult to administer and more prone to errors.

UCMRC streamlines the process of securing external endpoints, allowing administrators to deploy ironclad protection quickly and easily to the whole spectrum of end users of UCM6300 IP PBX appliances.
Conclusion
The increase in security concerns offsets the convenience of mobile extensions that VoIP delivers. Grandstream's UCM RemoteConnect alleviates this concern by making the provisioning of external extensions simple, straightforward and streamlined. It provides a high return on investment by delivering an exceptional level of security with very little administrative effort.
---
You may also like:
Spotlight on Grandstream: 20 years of innovation
Grandstream's GRP IP phones are now certified for Zoom Phone
Grandstream hospitality solutions