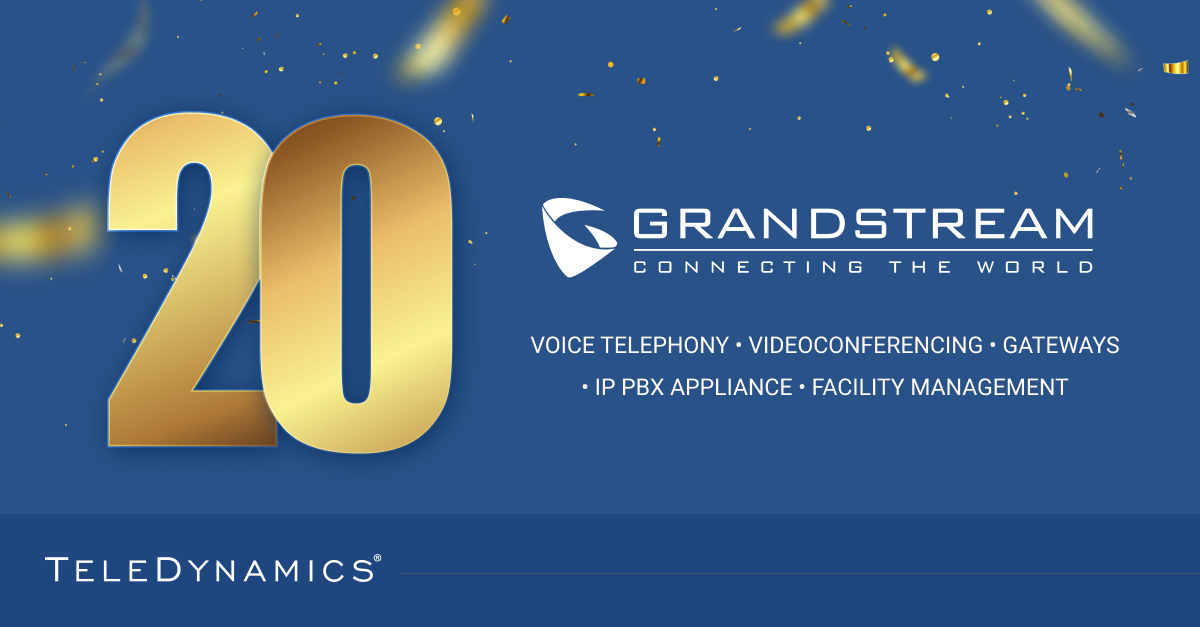 This year, Grandstream celebrates its 20-year anniversary. Since its founding two decades ago, Grandstream has grown to become one of the largest Voice over Internet Protocol (VoIP), videoconferencing, networking and facility management solutions providers in the world, delivering a wide range of products and services.
In this article, we look at the history of this pioneering company, its key product offerings and what to expect in the near future and beyond.
A brief history
Grandstream started in 2002 out of an apartment in Boston, Massachusetts. In less than a year, the company began marketing two VoIP devices: the BT100, a simple IP phone, and the H286 one-line analog telephone adaptor (ΑΤΑ).
From these humble beginnings, Grandstream began to grow, developing an increasingly sophisticated portfolio of VoIP devices and expanding into related areas of expertise.
Signs of innovation
With every success, Grandstream looked for the next goal to reach. The company continually, yet carefully, expanded into new areas. Expansions were made into areas that complemented its current products and services. Grandstream was always willing to take reasonable risks to deliver the best, most cutting-edge and cost-effective products and services to its customers — but it never overextended itself.
Important milestones
Grandstream reached several significant milestones over the past two decades that exemplify the company's successful evolution:
2005: The first-ever IP video phone was introduced, the GXV3000.
2008: IP video surveillance solutions were added to the company's range of products.
2013: Grandstream introduced the UCM series of IP PBXs.
2015: The company announced the GVC series of videoconferencing devices.
2016: The IPVideoTalk cloud service began operation.
2016: Network solutions devices were offered for the first time.
2017: Grandstream expanded into the facility access and management market.
Additionally, by 2017, Grandstream had grown to become one of the four largest manufacturers of IP phones, one of the top two manufacturers of IP videophones and the top manufacturer of ATAs.
Grandstream chose its path with a solid understanding of the current market and customer needs. Its ongoing commitment to excellence and service makes it a future-proof choice for business telecommunications.
Areas of expertise
Although Grandstream started exclusively within the VoIP realm, its portfolio now encompasses all types of business communications services. These areas include the following:
Unified communications: UC encompasses most personal telephony and communications products and services, including IP phones, ATAs, business conferencing, IP PBXs, wireless DECT handsets and room videoconferencing systems.
Facility management: This area focuses on facility access systems, surveillance and security systems, intercoms, paging and control systems.
Networking solutions: These include devices such as routers, Wi-Fi access points and Wi-Fi controllers.
Cloud-based solutions: By leveraging the cloud, most of the above products can be delivered in conjunction with cloud-based management to tie everything together, including centralized device management services.
Grandstream covers these broad areas with a portfolio of over 60 products and services, all of which are delivered with deep integration and interoperability. This not only simplifies the deployment and management of such systems but also means that Grandstream is a one-stop shop for all business communications.
This all-in-one mentality means that you save time and money because all processes involved with these systems are streamlined and centralized. Administration, management and even troubleshooting all become more efficient.
Grandstream's focus
Expanding into specific product categories was instrumental in making Grandstream a successful business communications vendor. Grandsteam chose to focus primarily on the small and medium-sized business (SMB) market because it was largely being ignored.
Products and services of the caliber now offered by Grandstream were extremely expensive at that time and were thus largely unavailable for SMBs — only larger businesses with deep pockets and dedicated information and communications technology teams could enjoy such services.
SMBs needed access to the same communications options their larger counterparts enjoyed to compete, and this is exactly what Grandstream was able to provide — and still does to this day.
Key product lines
Here are some important product lines that Grandstream offers to businesses to help them thrive in today's competitive market.
GXP and GRP series of IP phones — These include a complete range of devices from entry-level to high call-volume to executive usage phones. GRP phones are carrier-grade devices, specifically designed for high call-volume users in environments and applications where telephone communication is mission-critical.
The GXP series, on the other hand, was designed to give each individual model its own clear deployment purpose and use case scenario. For example, the GXP260x phones prioritize feature-per-price-point affordability, while the GRP261x, GRP262x and GRP263x phones have a higher price point but larger screen sizes, more physical keys and faster call management usage. Here is a comparison of the GXP and GRP series of IP phones.
UCM IP PBXs — A series of IP PBXs that provide a platform that unifies all business communications on one centralized network, including voice, video calling, videoconferencing, video surveillance, web meetings, data, analytics, mobility, facility access, intercoms, and more. It can also integrate with multiple well-known third-party software and services, including CRM and PMS platforms. The UCM line comes in both UC and audio-only versions.
Facility management solutions — These deliver access, surveillance, paging and intercom options. Facility management is simply one more network service that is offered over the same network infrastructure that serves your data network, your business telephone system and all your other network services. These solutions include components such as control stations, IP cameras, intercom and paging systems, and physical-access systems. You can read more about Grandstream's facility management solutions here.
GWN series Wi-Fi access points — These wireless coverage access points have become a mainstay in the Grandstream product line, with the GWN7630 and GWN7630LR being among the most advanced. The latest GWN series Wave 2 access points are ideal for voice-over Wi-Fi deployments and offer a seamless connection with Grandstream's Wi-Fi-capable voice and video IP phones. Click here for more information about Grandstream's Wi-Fi offerings.
Grandstream's communications accessories — These are among the best in the business, as attested by countless customer reviews. USB headsets, high-performance Bluetooth headsets, full HD USB cameras and videoconferencing endpoints are just a few of the wide range of high-quality devices available.
What the future holds
The same pioneering spirit that brought Grandstream to where it is today is still very much part of the fabric of the company. This truth is evident in the adaptability of the company to the needs of today's businesses. Grandstream is always among the first to incorporate emerging technologies into its products and services.
Conclusion
From an apartment in Boston, Massachusetts to one of the leading business communications vendors of its day, Grandstream's approach has enabled it to persist, evolve and grow over the past 20 years. Consequently, it won't be surprising at all if, in another 20 years, a much younger technical analyst will be showcasing Grandstream, celebrating its 40th year of operation.
---
You may also like:
Grandstream's GRP IP phones are now certified for Zoom Phone
How to create a captive portal for the Grandstream GWN series
Designing a warehouse Wi-Fi network