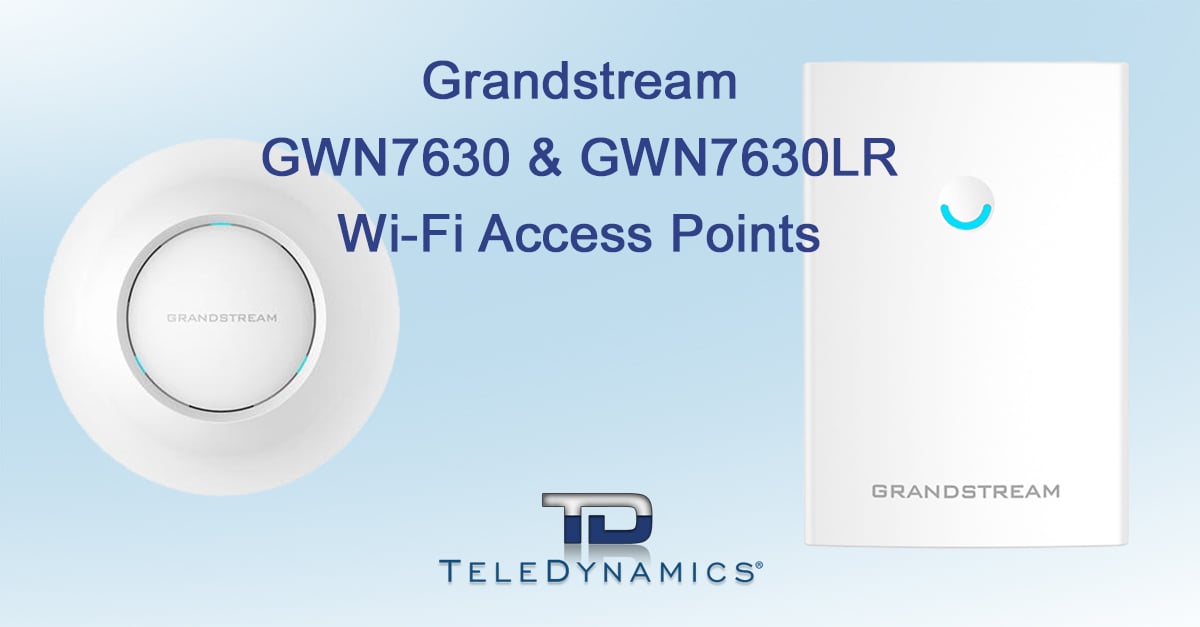 Grandstream, a leader in SIP communication solutions, emerged into the networking solutions space in the fall of 2016 with a new line of Wi-Fi devices. As Grandstream has upgraded firmware, implemented new features and added new products to this line, it has proven to be a mainstay product category for Grandstream and we are excited to review two of their new access points, the GWN7630 and GWN7630LR!
These products offer Wave-2 Wi-Fi networking, incredible Wi-Fi coverage, and fast and easy provisioning/management thanks to the built-in controller. They deliver outstanding high-performance network throughput and support for a large number of clients per access point. The GWN7360 and GWN7630LR APs can be paired with 3rd-party routers, Grandstream's GWN7000 router, and existing Wi-Fi networks, making them ideal for both new and existing Wi-Fi deployments. In this article, we review the GWN7630 Wireless Access Point and GWN7630LR Outdoor Long-Range Access Point, which are the newest GWN series products launched by Grandstream.


Indoor/Outdoor
Both devices are wireless access points (APs) that can be paired with any 3rd-party router (as well as the GWN7000 routers from Grandstream), making either model ideal for both new Wi-Fi deployments and for replacing older APs in existing deployments. The GWN7630 is a high-performance 802.11ac Wave-2 wireless access point for small- to medium-sized businesses, multiple-floor offices, commercial locations and branch offices. The GWN7630LR is an outdoor long-range 802.11ac Wave-2 Wi-Fi access point designed with weatherproof casing and heat resistant technology for medium to large businesses and enterprises who need to provide long-range coverage in both indoor and outdoor spaces. Both APs offer dual-band 4x4:4 MU-MIMO technology and a sophisticated antenna design for maximum network throughput and an expanded Wi-Fi coverage range.
One of their best aspects is that the GWN7630 and GWN7630LR use a controllerless distributed network management design (controller is embedded in the web user interface) which allows each access point to manage its own network independently without relying on extra dedicated controller hardware/software and without single point-of-failure. Both devices are also supported by GWN.Cloud, Grandstream's free cloud Wi-Fi management platform that was launched in 2019. These access points offer self-power adaptation upon auto detection of PoE or PoE+, and support 200+ concurrent Wi-Fi clients.


Watch the video
Noteworthy Features
Dual-band 4×4:4 MU-MIMO technology to support and maximize connections on all devices

MIMO allows the device to receive multiple simultaneous data streams
2.4G 4x4:4 Single-User MIMO, 5.G 4x4:4 Multi-User MIMO
4 detachable/changeable dual-band omnidirectional antennas (GWN7630LR)

Supports all possible Wi-Fi standards: 802.11 a/b/g/n/ac (also known as Wave 2)
Supports 16 SSIDs per access point (16 wireless networks)
Supports 200+ Wi-Fi client devices per access point
2 Gigabit ports which support up to 2.33Gbps throughput

Offers link backup and network pass-through (network pass-through is not supported on most other Wi-Fi APs)

PoE/PoE+ support

Supports auto-adjusting of power consumption based on power source (25.5 W for PoE+, 16.5 W for PoE)

GWN7630: Up to 175-meter coverage range
GWN7630LR: Up to 300-meter coverage range


What's exemplary about these APs
Embedded controller – One of the most unique aspects of the GWN7630 and GWN7630LR is that they have their own embedded provisioning master, or what is commonly referred to as a controller. Not only does Grandstream offer an included controller, but this controller is available very simply through either the AP's web user interface or by Grandstream's cloud management platform, GWN.Cloud.
Long range – Each GWN7630 offers an impressive Wi-Fi range of 175 meters (575 feet), and each GWN7630LR delivers a Wi-Fi range of 300 meters (984 feet). For example, I was able to receive a signal from the GWN7630 on my mobile phone at over 160 meters away from the device, and that was in low power mode.
High-performance throughput – The GWN7630 and GWN7630LR were built to be able to transmit extremely large amounts of data for productive and growing businesses. Because the devices feature dual-band Wi-Fi, they can offer simultaneous throughput of up to 2.33Gb per second. With regards to the mesh network and QoS, network speed consistency was also tested. The easy administration made adding a mesh network simple, and adding another station only made the rest of the network better by offering another node to handle traffic from all points. Since the GWN7630 and GWN7630LR can each handle 200+ clients per AP, the more APs you add to the network, the more clients you can support while maintaining adequate throughput. Whether upgrading existing equipment or building a new network, one or two additional APs were enough to maintain consistent speeds in our test.
16 SSIDs per GWN7630 / GWN7630LR – Each GWN7630 and GWN7630LR offers up to 16 different Wi-Fi networks per device. This provides a multitude of options when building and deploying a Wi-Fi, VLAN, or VPN network. Within one coverage area, you can offer up to 16 different networks, allowing you to build separate networks for each department, for example, within a business to maximize bandwidth and throughput for all. This is especially great for offices, commercial or retail settings that want to offer separate networks for employees, customers, management, security personnel and more.
Works with any 3rd-party router – The GWN7630 / GWN7630LR is made to work with 3rd-party routers as much as it was made to integrate with Grandstream's upcoming routers. No matter what router you are using now or what router you may use in the future, the GWN7630 / GWN7630LR will work well for you.


Security
Network security is always an important subject. The GWN7630 and GWN7630LR support 2 high-end security features that many other APs do not support: a unique security certificate per device (based on SHA256 encryption) and random default passwords per device. These two features ensure that APs do not share security certificates or passwords and thus adds another level of protection per device, as well as for the whole network.
While the most comprehensive firewall and other security settings would be controlled by the router being used, the GWN7630 and GWN7630LR support a wide variety of security encryptions and algorithms themselves.


Installation and Management
As mentioned throughout this review, all of the GWN series access points uniquely include a controller built into their web user interface and can also be controlled by the Grandstream platform GWN.Cloud. This prevents users from having to purchase a separate controller, thus saving money, and also makes setting up and installing Wi-Fi networks as easy as a few clicks of the mouse, thus saving time.
For a more detailed review of the GWN7630 and GWN7630LR, download the full report here. You can also refer to our previous review of the GWN7610 for a step-by-step guide to building Wi-Fi networks using the Grandstream embedded controller and any device with a DHCP server.


Conclusion
The GWN series has become a mainstay in the Grandstream product line and the GWN7630 and GWN7630LR are two of the newest additions. The latest GWN series Wave 2 access points are ideal for voice-over-Wi-Fi deployments and offer a seamless connection with Grandstream's Wi-Fi-capable voice and video IP phones. We have been testing the device for a few weeks here at our TeleDynamics office and have found the devices to be very easy to install and quite powerful compared with similar mid-range Wi-Fi APs. We are excited to offer the GWN7630 and GWN7630LR along with the other GWN devices to our customers and would recommend them for any Wi-Fi deployment.


For a review of the GWN7000 series of APs, refer to our previous article. To purchase Grandstream GWN access points on the TeleDynamics website, click here.
---
You may also like:
What's exceptional about Grandstream's GRP2600 carrier-grade IP phones
Review of Grandstream's GXV3610 IP surveillance cameras
What's so great about the Grandstream GWN7610 Wi-Fi access point