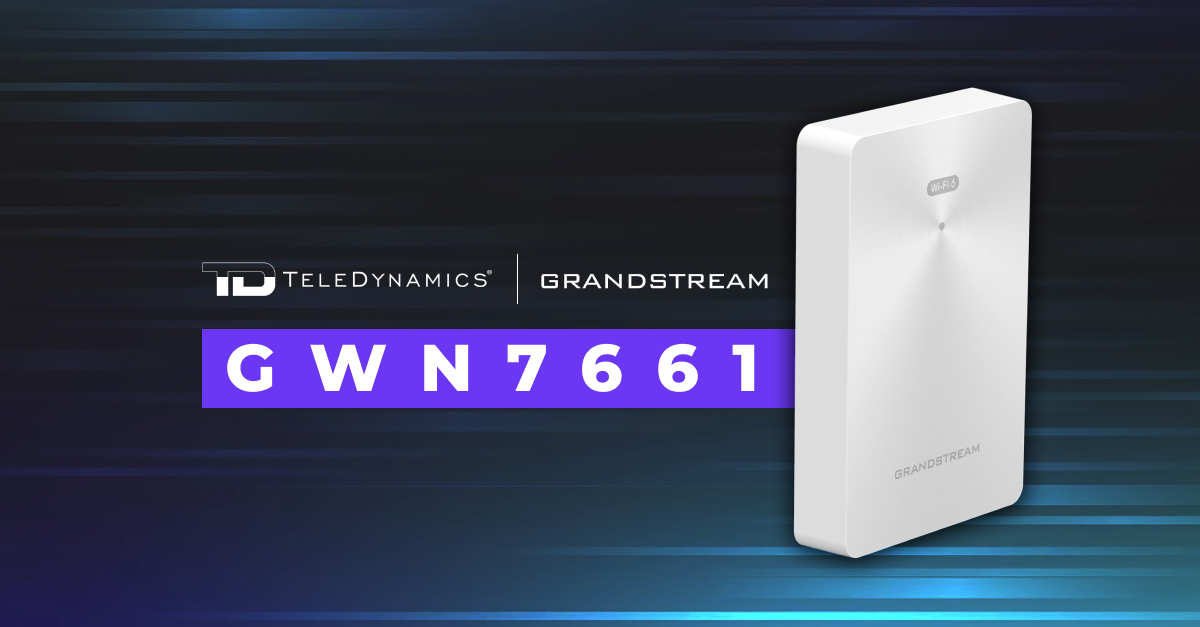 Grandstream just introduced its newest Wi-Fi 6 access point: the GWN7661. This compact, lightweight device with convenient wall-mounting options is an excellent addition to Grandstream's arsenal of wireless APs, and it will make a fine addition to any home or business, as well. In this article, we take an in-depth look into the benefits and value of this unique device.
GWN7661 overview
The GWN7661 is a cutting-edge, in-wall 802.11ax Wi-Fi 6 access point designed specifically for small and mid-sized businesses, commercial spaces, residences, and hotels. Boasting dual-band MU-MIMO technology and an advanced antenna design, it ensures optimum network throughput and broad Wi-Fi coverage.
Its Wi-Fi 6 capabilities cater to modern, high-user-density scenarios where multiple users and devices require consistently fast and reliable connections.
Wall-mountable with power options
The device is exceptionally compact and versatile: It can be mounted on the wall at the network jack, thus ensuring a sleek and professional appearance that seamlessly integrates into any environment. It is powered using PoE/PoE+, so it doesn't need a separate power cord or adapter to operate.
The GWN7661 has a built-in switch with three Gigabit Ethernet ports. These ports essentially multiply the wired connectivity options where it is used, allowing users to plug in PCs, printers, IP TVs, or any other devices that need direct network access.
An additional unique perk is the delivery of low-power PoE (up to 6 W per port) on two of those three ports, enabling Ethernet-based power for devices such as IP phones or cameras.
Installation and management
Ease of installation and management are key benefits of the GWN7661 thanks to its controller network management system, where the controller is incorporated directly into the product's web interface.
This lets the device act as a central controller for up to 50 compatible Grandstream APs on the same local network. For integration within larger networks, the GWN7661 is also compatible with GWN.Cloud and GWN Manager, Grandstream's complimentary platforms for cloud and on-site Wi-Fi management.
Voice over Wi-Fi applications
This device is perfectly suited for voice-over-Wi-Fi setups, teaming up effortlessly with Grandstream's Wi-Fi-enabled IP phones. Its capacity for 500+ concurrent users and support for high-end features like advanced QoS, real-time applications requiring minimal latency, mesh networks, and captive portals position the GWN7661 as a prime choice for medium-scale wireless networks with a moderate to high user density.
Hospitality use case
To see how this device can be extremely valuable, let's consider an example in the hospitality industry. Imagine a hotel located in the heart of the city that wants to offer its guests high-quality Wi-Fi connectivity.
The hotel has multiple floors, with a combination of suites and standard rooms. Given the unique architecture and aesthetics of the hotel, any technological additions, such as a Wi-Fi network, must not disrupt the overall ambiance.
The GWN7661 in-wall Wi-Fi access point is an ideal solution that can fulfill these requirements due to its many benefits:
Sleek integration:

Due to its in-wall design, each GWN7661 blends seamlessly into hotel rooms and corridors, preserving the hotel's stylish interior.



Dense coverage and cost efficiency:

Leveraging Wi-Fi 6 technology, the GWN7661 can cater to multiple guests in the hotel, each possibly with several devices, ensuring that everyone gets a strong signal without interference.



Cost-efficiency:

The low cost of the device allows each room to be equipped with a device, ensuring complete coverage and high performance for everyone.



Multifunctional ports:

The built-in Gigabit network ports allow the hotel to directly connect IP phones as well as IPTVs in each room and provide high-speed wired internet access for guests who prefer it.



Centralized management:

Using the GWN.Cloud platform, the hotel's IT staff can easily monitor and manage all access points, ensuring consistent performance and addressing issues remotely if they arise.



Guest portal:

The captive portal feature allows the hotel to create a custom login page for guests, enhancing branding and offering promotions or information about hotel amenities.
The net result is that guests at the hotel consistently experience reliable and fast Wi-Fi, leading to improved satisfaction, positive online reviews and increased repeat bookings. In addition, the GWN7661 not only meets the hotel's technological needs but also aligns with its commitment to maintaining a luxurious atmosphere.
Key features of the GWN7661
The specific features that make this lightweight, cost-effective, yet highly advanced access point noteworthy include the following:
Support for Wi-Fi 6 (IEEE 802.11ax)

Dual-band (2.4 GHz and 5 GHz)

2x2 MU-MIMO

Support for up to 1.77 Gbps wireless throughput

Up to 500 concurrently connected Wi-Fi clients

Advanced QoS to ensure real-time performance for VoIP, video, and other time-sensitive applications

Embedded controller to support up to 50 local APs

Cloud management capabilities using GWN.Cloud

Up to 32 SSIDs (16 per band, 2.4 GHz and 5 GHz)

Powered by PoE/PoE+

Integrated three-port Gigabit Ethernet switch

Two low-power PoE ports (up to 6 W each)

Security features supporting the latest WPA3 standard
The GWN7661 expands Grandstream's wireless AP series
Grandstream is making a name for itself in the corporate Wi-Fi infrastructure market, and the GWN7661 enhances its already extensive line. With equipment such as the GWN7052 Wi-Fi router, the high-performance GWN7664LR AP, and its GWN7630 series APs, Grandstream provides a full spectrum of access points with varying levels of capabilities and cost points, giving a wide range of options to businesses of all sizes.
Add to this the company's facility management solutions and network switches, and Grandstream can deliver a fully functional, highly effective network with exceptionally advanced systems and services.
Conclusion
Wi-Fi networks are an essential part of any organization's telecommunications infrastructure. The design of these networks is of utmost importance, with reliability, security, scalability and ease of use all essential considerations.
Grandstream's holistic approach to Wi-Fi network design makes deploying a network using its equipment a breeze. And now, with the introduction of the GWN7661 AP, the series of Wi-Fi devices offered by the company is more comprehensive than ever, making it easy to pick the right device for your flexible network infrastructure deployment.


---
You may also like:
Grandstream GUV3050 BT headset: high performance plus all-day comfort
Grandstream's reliable, secure Wi-Fi solution for Tripalink
Grandstream's GDS3712 IP video intercom system