Product Review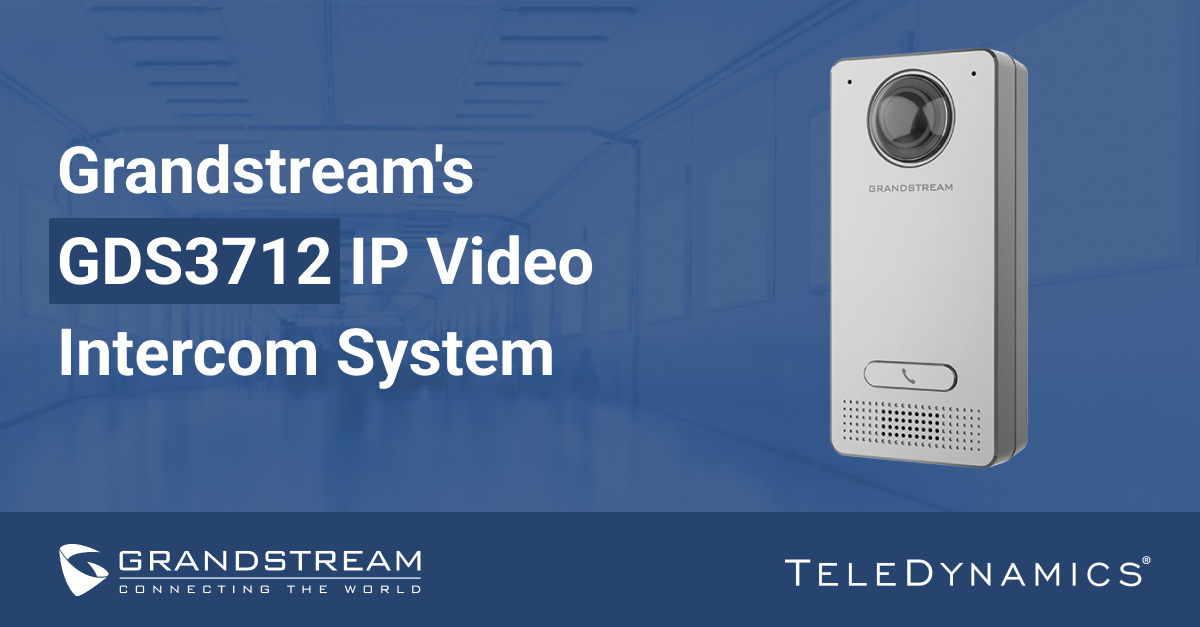 A key telecommunications trend today involves integrating multiple communications systems that were traditionally implemented separately. IP telephony, video and collaboration, and now security, access and facility management, are all converging into unified communications systems.
Grandstream has recognized and helped further this trend through innovative devices such as the GDS3712 IP video intercom system. In this article, we dig deeper into the capabilities of this device and how its use can simplify and enhance security and facility management.
Network convergence and facility management
As we previously examined, facility management involves supervising the brick-and-mortar portion of your organization. Efforts in this area encompass the buildings where your employees work as well as the physical assets of your organization, such as warehouses, factories, labs, storage facilities, and other physical structures or premises.
An important aspect of facility management is security and access management, which deals with the mechanisms for allowing or denying physical access to particular areas of your facilities. One means of implementing this is through audiovisual interaction with individuals to recognize and either permit or disallow access, and that's where the GDS3712 IP video intercom system is very useful.
The GDS3712: a single-button HD IP video intercom system
The GDS3712 is a truly innovative device with the characteristics of an IP phone, an IP security camera, an intercom system and a smart doorbell. The device is typically installed adjacent to or near a door with a security system, where guests can alert receptionists or security personnel of their intent to enter by pressing the button on the device and initiating a call to the appropriate party.
A two-way conversation then lets company personnel see the individual, ascertain the reason for the visit, and decide whether to remotely open the door or ask the person to wait for an escort.
All this functionality is achieved, not via some proprietary and complex communication protocol, but by using open standards and widely used protocols. This ensures the device's compatibility with existing communication systems, resulting in much-coveted communications network convergence.
Interoperation with existing networks
The GDS3712 supports the SIP protocol and can thus be easily integrated into the enterprise phone system as another telephony endpoint. You can configure it to automatically call a particular IP phone or group of phones when its button is pressed to ensure that someone will respond.
A typical Grandstream IP telephony device, ideally with a screen to view the video feed, can be used to converse with the visitor and unlock the adjacent door using the keypad and DTMF tones, allowing access.
The device features a Fast Ethernet port that supports Power over Ethernet and all the most common network features for seamless communication on your enterprise IP network. It also has two generic alarm input relays for a door sensor or other low-voltage device, as well as two alarm output relays for an electric lock, light switch or similar devices.
IP camera functionality
The GDS3712 can also stream SIP-based video to a network video recorder (NVR), video intercom station and one or more IP phones or smartphones simultaneously. This means it can also be used as a surveillance camera, accumulating historically recorded video for security and other purposes.
It has a built-in 180° hemispheric camera that operates at 1080p, allowing for wall-to-wall video coverage, ensuring that your guests always remain in the camera's field of view. The camera also supports motion detection with up to four privacy masks.
Crystal-clear sound
A built-in microphone capable of capturing the human voice at a range of 5 feet or more permits crystal-clear conversations with guests. The built-in HD 2W loudspeaker delivers audio that lets guests standing even 10 feet away or more comfortably listen to you without difficulty.
Universal installation
The GDS3712 can be installed almost anywhere, indoors or outdoors, with on-wall or in-wall mounting options (the latter of which requires the GDS-WMK mounting kit). The device is quite rugged: It is resistant to water, dust and physical impact, making it resilient against vandalism.
Key features
Here are some of the most noteworthy features of the GDS3712:
180° hemispheric 1080p 30 fps camera
Secondary 1280×720 video stream for SIP/VoIP video calls
Third video stream at 320×240 for smartphone applications
HD audio with 2W loudspeaker supporting advanced Acoustic Echo Cancellation (AEC)
Built-in microphone with 5' voice pickup range
Fast Ethernet connectivity with Power over Ethernet (PoE)
Two alarm in and two alarm out relays for connections to door sensors and locks
Wall surface or in-wall mounting (with additional in-wall mounting kit)
Connects to existing SIP/VoIP infrastructure for communications
Camera compatible with NVR for surveillance and video recording purposes
Motion detection with four privacy masks
Snapshots triggered upon events can be automatically sent via email or FTP
Robust metal casing with IP66 (EN60529) and IK10 (IEC62262) certifications
Can be managed by GSURF Pro or any ONVIF-compliant video management system
Flexible HTTP API for easy integration with third-party applications
Supports Grandstream's Wave mobile app
Conclusion
If you already have a SIP-based VoIP system and a facility management infrastructure and strategy, the GDS3710 is an ideal addition to your network. Even if you don't have any Grandstream devices, this video intercom endpoint can integrate successfully with whatever systems you already have in your enterprise network. You'll quickly see it become a favorite, especially among the teams managing your organization's security and reception desks.
---
You may also like:
Grandstream facility management solutions
Grandstream's new carrier-grade IP phones: GRP2612G and GRP2650
Spotlight on Grandstream: 20 years of innovation