Product review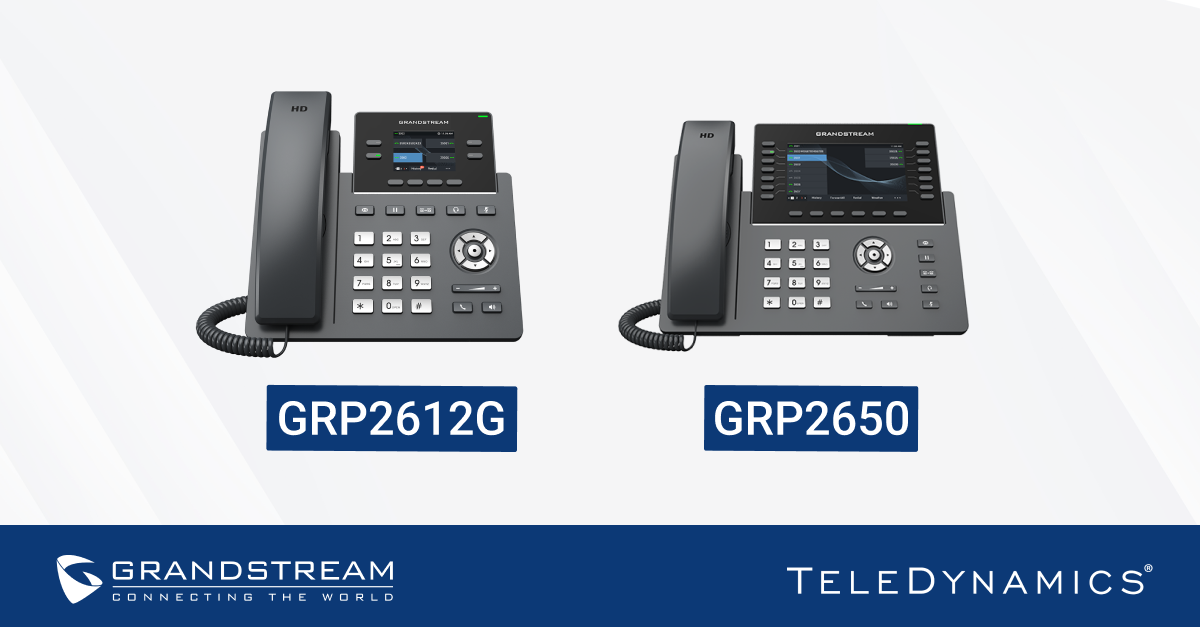 Grandstream's carrier-grade IP phones have been a great success for several years now, delivering superior quality to employees and executives who deal with high call volumes. The company is further extending its specialization in this area with the introduction of two new phones to the series: the GRP2612G and the GRP2650.
GRP series carrier-grade phones
We've talked extensively about Grandstream's carrier-grade IP telephones, their advanced feature sets, and the addition of innovative models to the series last year. These phones deliver high reliability, rich features, and intelligence within the devices themselves rather than relying solely on the IP PBX to deliver advanced capabilities.
The term "carrier-grade" means that these phones deliver higher quality and greater robustness than phones meant for consumer or even commercial-grade use. These models are ideal for anyone dealing with high call volumes, including receptionists, helpdesk support technicians, and call center agents. They are also perfect for busy executives who spend a lot of time on the phone.
GRP2612G and GRP2650
The newest additions to this successful line of IP telephony devices are the GRP2612G and the GRP2650. The first complements the existing GRP2612 entry-level model, while the latter is the series flagship and offers the most advanced feature set.
Both devices deliver the same advanced network and security protocols as the rest of the series, including SIP, STUN, 802.1x, TLS, SRTP, IPv6, as well as Layer 2 and Layer 3 QoS protocols, to name a few.
GRP2612G
The GRP2612G is the same as the GRP2612P but also offers Gigabit Ethernet, allowing any connected workstation to enjoy lightning-fast network connectivity to any attached computer. Gigabit Ethernet offers 10 times the speed of the 100 Mbps Fast Ethernet used on the GRP2612P.
Gigabit Ethernet connectivity coupled with PoE capabilities greatly improves network performance while simplifying power provisioning. It's a compelling feature for an entry-level phone, considering that these are the types often used most in an organization.
GRP2650
The new GRP2650 sits at the summit of the GRP series of professional carrier-grade IP phones, delivering executive-level quality with 14 lines and a 5-inch color LCD screen. Like all phones in the series, it is designed with zero-touch provisioning for mass deployment and easy management.
The GRP2650 delivers an impressive six SIP accounts and 56 programmable virtual multi-purpose keys, allowing you to configure speed dials and keep your most commonly used features at your fingertips. With a multitude of connectivity options — including Gigabit Ethernet, Wi-Fi, and Bluetooth — as well as high-definition audio from the handset, speakerphone, or optional headset, this phone delivers versatility like no other. If the number of programmable keys is not enough, you can add on a GBX20 extension module that provides an additional 40 functional buttons.
Key series features
All the phones in the series deliver the following robust feature set:
Support for the most common and useful protocols, including SIP, STUN, LDAP, and IPv6
Support for the most advanced voice codecs, including G.711, G.729, G.722 (wideband), as well as iLBC and OPUS
Support for Grandstream Device Management System (GDMS), which provides a centralized interface to configure, provision, manage, and monitor Grandstream devices
High-quality sound via handset, speakerphone, and connected headset
Layer 2 and Layer 3 QoS mechanisms, including 802.1Q and DiffServ
Exceptional security features, including:

MD5 authentication
256-bit AES encryption
TLS
1× Port security

Upgrading and provisioning achieved via:

FTP/TFTP
HTTP/HTTPS
GDMS/TR069
AES-encrypted XML config files
GRP2650-specific features
The GRP2650 IP phone, as the flagship device of the series, offers these additional advanced features:
14 lines and 6 SIP accounts
RJ9 headset jack allowing EHS with Plantronics headsets and integrated USB headset support
Noise-shielding technology to minimize background noise
Support for five-way audio conferencing for easy conference calls
Enterprise-level security protection, including secure boot, dual firmware images, and encrypted data storage
A swappable faceplate for easy logo customization
Integrated dual-band Wi-Fi 802.11 a/b/g/n/ac (2.4 GHz and 5 GHz)
Conclusion
Any enterprise that depends heavily on voice communications should consider Grandstream's carrier-grade series of IP phones. Their reliability and numerous features make them well worth the investment. The introduction of the Gigabit-Ethernet-capable base model (GRP2612G) and a new flagship model (GRP2650) has made the GRP carrier-grade IP phones even more attractive to telephone users of all types.


---
You may also like:
Grandstream's GRP IP phones are now certified for Zoom Phone
Comparison of Grandstream GXP and GRP series of IP phones
Grandstream GRP2624 & GRP2634 carrier-grade IP phones