Product Review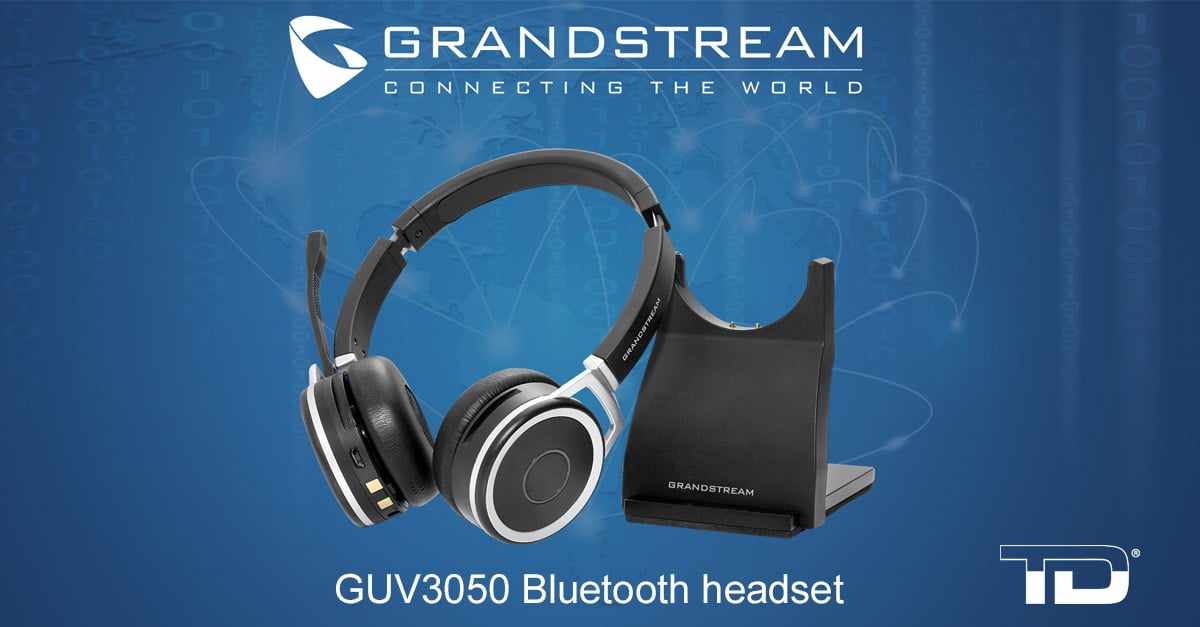 This article completes our three-part series on Grandstream's GUV line of personal collaboration endpoints by focusing on the new GUV3050 Bluetooth headset, which delivers both comfort and performance to remote and onsite workers alike.
The GUV3050 Bluetooth headset is part of the GUV family of IP endpoints, along with the GUV3000 and GUV3005 USB headsets and the GUV3100 Full HD webcam. All of these devices are designed to enhance the productivity of all types of workers, whether they be remote, onsite or hybrid.
The GUV3050 is an HD Bluetooth headset that pairs effortlessly with laptops, computers, IP phones, and essentially any Bluetooth-enabled device to offer high-quality wireless sound. Ideal for busy environments, this Bluetooth headset features a noise-cancelation microphone that minimizes background sound to provide crisp HD audio. The GUV3050 provides all-day comfort thanks to an adjustable headband and plush ear-cushions. It also comes equipped with a charging base station.
If the device you want to connect to does not support Bluetooth, you can use the included USB dongle to easily enable connectivity. This dongle is compatible with desktop and laptop computers, as well as with any Grandstream IP phone that sports a USB port. The headset supports all major third-party communication platforms, apps, and softphones, as well as Grandstream's IPVideoTalk Meetings and Wave app.
Productivity features
The GUV3050 is designed with productivity in mind. Delivering up to 12 hours of autonomy on one charge, it can easily support extended talk times for even the longest working day, which is especially useful for users with a high call volume. It sports an integrated red light on both ear cups, which is activated automatically when on a call, letting those around you know that you are busy. The microphone captures the full range of human speech, replacing the tinny sound of a voice on the telephone with high-quality, high-definition audio for your listeners. Besides the adjustable headband, a rotating boom microphone enables a left or right wearing style. On/off hook, microphone mute, and speaker volume can all be adjusted using controls on the headset itself.
Watch the video
Key Features
The GUV3050 has the following features:
Bluetooth 4.2 delivers dual connectivity for two Bluetooth devices simultaneously
Up to 12 hours of talk time on one charge
Audio controls including on/off hook, mute, and speaker volume
Integrated busy light on both ear cups
Speaker audio bandwidth:

20 Hz – 20 kHz in music mode
150 Hz – 6.8 kHz in communication mode

Unidirectional noise-canceling microphone on a medium-length adjustable boom arm
Microphone frequency range: 150 Hz – 6.8 kHz
Weighs only 158 grams (5.5 oz)
Includes charging stand and USB Bluetooth dongle
Conclusion
By offering crystal-clear HD audio, easy Bluetooth pairing, comfortable use, and wide compatibility, the GUV3050 is ideal for anyone who seeks a more focused and productive communications experience.


---
You may also like:
Grandstream's GUV3100 Full HD USB camera
What's impressive about Grandstream's GUV USB headsets
Helpful VoIP integrations for managing remote teams