Product Review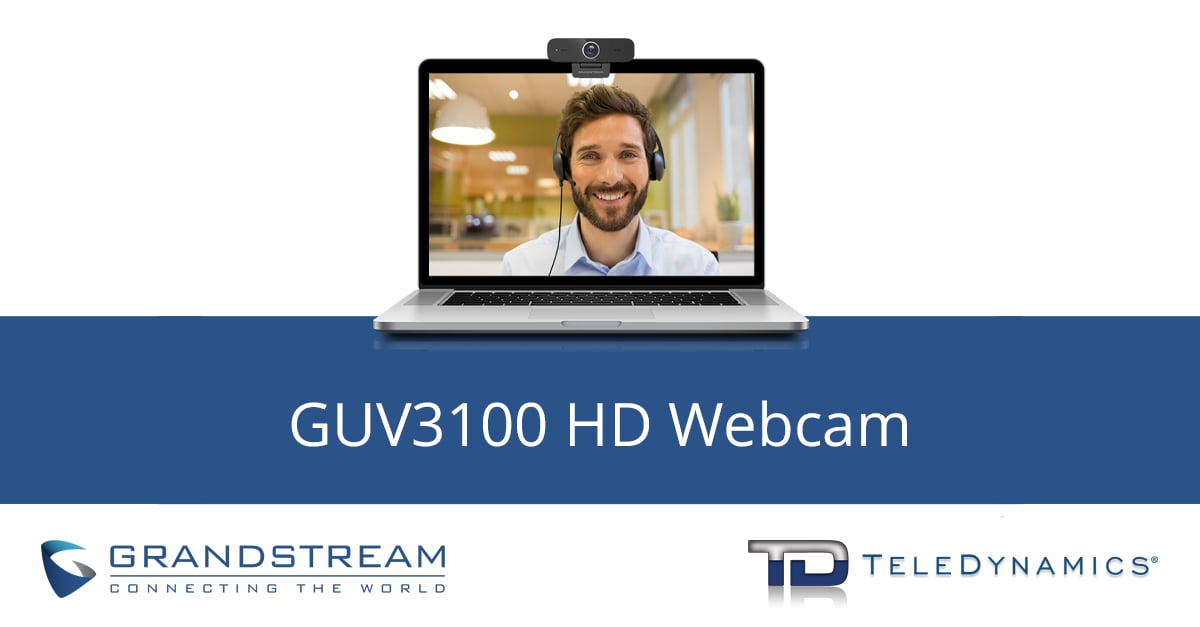 Effective communication requires the ability to see and hear each other clearly. With today's distributed workforce trends, new technologies and devices are needed to deliver the high-quality audio and video that workers are accustomed to in their in-person meetings. Grandstream has made great strides in rolling out innovative endpoints to make remote communications not only of higher quality, but more comfortable, as well.
In this article, we review Grandstream's exciting GUV3100 HD webcam, which is part of the GUV series of personal collaboration endpoints.
A webcam built for an optimal audio and video experience
Focusing on the senses of sight and sound, the GUV3100 lets those you are communicating with see and hear you clearly. Delivering 1080p HD video and high-quality audio captured by two built-in microphones, this camera is perfect for any remote employee, collaborator, teacher, professor, medical professional, family member, or friend to transmit crystal-clear audio and video.
Grandstream CEO David Li has this to say about the webcam: "The GUV3100 exemplifies our continued commitment to offering competitive personal collaboration devices that enhance remote communications. Our GUV series was designed to meet the growing remote collaboration needs of any organization with a portfolio of powerful and easy-to-use USB headsets and a webcam. The newly released GUV3100 adds a 1080p HD webcam and pairs with the GUV3000/3005 HD USB headsets to cover all audio and video collaboration needs while being compatible with all major platforms and apps. We are excited to work with our partners to bring the GUV series to customers around the world."
The webcam
The GUV3100 camera captures sharp and vibrant video using its 2-megapixel CMOS at 30 frames per second, and delivers clear high-definition audio via its two built in microphones. It has many highly configurable video settings including brightness, resolution, saturation, contrast, gain, and low-light compensation features. For an even higher quality audio experience, use the camera in conjunction with the Grandstream GUV3000 & GUV3005 HD USB headsets or Grandstream's GUV3050 Bluetooth headset.
The camera is compatible with all major third-party communication platforms, apps, and softphones, as well as Grandstream's IPVideoTalk Meetings and Wave app. Ideal for remote workers, the GUV3100 provides an easy-to-setup, easy-to-use USB webcam with Full HD video and audio quality for web meetings, video conferences, and more.
Watch the video
Key features
Some of the most useful features of the camera include:
2-megapixel CMOS delivering native 16:9 ratio video
Supports MJPEG, YUV2, H.264, and H.265 video compression standards
Two integrated omnidirectional microphones with over 1 meter voice pickup distance
USB 2.0 for transmitting video and audio communication, power, and firmware upgrades
Supported video resolutions with both 16:9 and 4:3 ratios ranging from 160x120 to 1920x1080
USB cable length: 1.8 meters (6 ft)
Compatible with all major third-party communication platforms, applications, and softphones, including Microsoft Teams, Zoom, Cisco WebEx, Grandstream IPVideoTalk Meetings, Grandstream Wave, Counterpath Bria softphone, 3CX softphone, and many others
Conclusion
Grandstream's GUV3100 HD webcam delivers an exceptional video and audio experience to allow collaborators from any industry or sector to communicate effectively, easily and comfortably.
---
You may also like:
What's impressive about Grandstream's GUV series USB headsets
Pivot quickly with Grandstream's UCM6300 solutions
Grandstream's ultramodern GXV3300 smart IP video phones