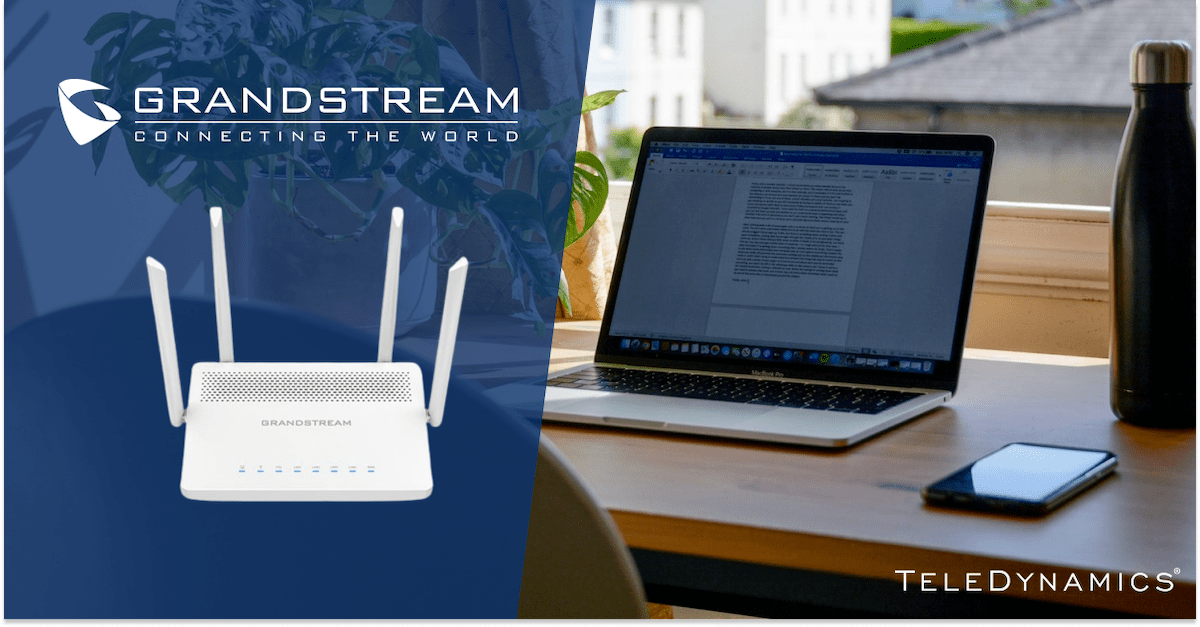 Grandstream has again raised the bar by unveiling a new series of groundbreaking Wi-Fi routers. The new GWN7052 and GWN7052F routers deliver faster speeds, higher capacities and innovative features ideal for residential users, small businesses and more extensive campus networks.
This article takes a closer look at the capabilities of these new devices and the benefits you can expect from their deployment.
The need for more speed
Modern communications applications are continually demanding higher throughputs to deliver innovative services. Networks must respond to this need for faster speeds, greater capacities and superior quality of service. This goes especially for Wi-Fi networks, which are among the fastest-growing type.
Ever-increasing video resolutions, richer content-sharing options and the multiplication of video streams are just some features straining network resource usage. Grandstream understands this because its business delivers unified communications (UC) devices and services that continually use growing network bandwidth.
To help enable all of these services and more on a wireless network, Grandstream has introduced the GWN7052 and GWN7052F wireless access points (APs). These devices deliver significant improvements over many competitors, all in a compact and elegant design that's easy to install almost anywhere.
Noteworthy features
Both models are based on the IEEE 802.11ac Wi-Fi standard, which can deliver up to 867 Mbps to each wireless client using 5 GHz frequency bands and up to 300 Mbps for devices connecting at 2.4 GHz. The router delivers a total aggregate wireless throughput of 1.27 Gbps, ensuring that even the most bandwidth-hungry applications running on connected wireless clients have sufficient throughput.
Its four external antennas achieve these speeds in a 2×2 multiuser multiple-input multiple-output (MU-MIMO) arrangement. MU-MIMO technology also enables the device to provide a good user experience for up to 100 concurrently active wireless clients, supporting demanding UC applications that include 4K Ultra HD video streaming, web meetings, videoconferencing, online gaming and multi-channel collaboration.
Network expansion and scalability are simplified with the ability to mesh with other Grandstream access points. You can extend the wireless network by placing a new access point within the range of the currently deployed network.
Security
The devices have a rich set of security features, including built-in VPN support based on IPsec, to allow easy access to corporate networks for remote employees. They support a protected guest network, network blacklists, an antihacking secure boot process, and critical data and control lockdowns via digital signatures.
Rich firewall features include anti-DoS capabilities, traffic rules, NAT and application layer gateway (ALG) operations. Users can configure wireless clients with the WPA/WPA2-PSK and WPA/WPA2 Enterprise (TKIP/AES) security standards or enjoy maximum wireless confidentiality via WPA3 support.
Management and provisioning
The GWN7052 wireless routers contain an embedded controller, allowing one device to act as the management controller. The controller can manage itself and a limited number of additional GWN APs. Support for Grandstream's GWN.Cloud is expected to be added in an upcoming firmware release for deployments with dozens or even hundreds of devices.
GWN7052 vs. GWN7052F
This wireless router's enhanced "F" version offers the additional benefit of a 1 Gbps SFP WAN port to connect a fiber optic cable. This is a rare feature in this type of access point. It is highly desirable in larger installations because it allows connections that exceed the usual 100-meter limit of UTP copper cabling.
This capability is critical when installing access points in large deployments such as conference centers, convention facilities, universities, or corporate campuses.
In addition, where the GWN7052 sports 128 MB of RAM and can support up to 30,000 NAT sessions, the GWN7052F has twice as much RAM (256 MB) and can thus support twice as many NAT sessions (60,000). Its larger memory also allows the GWN7052F to act as a controller for up to 50 GWN series access points, whereas the smaller GWN7052 model can support up to 30.
Key features
The following summarizes the key features of the GWN7052 series wireless routers:
Support for the IEEE 802.11 a/b/g/n/ac standards

Four external antennas, including 2 per frequency band:

2.4 GHz: 5.0 dBi gain

5 GHz: 5.0 dBi gain

2.4 GHz frequency data rates of up to 300 Mbps per client

5 GHz frequency data rates of up to 867 Mbps per client

16 SSIDs in total (8 per radio)

Network interfaces:

GWN7052: 1× Gigabit Ethernet RJ-45 WAN and 3× Gigabit Ethernet RJ-45 LAN

GWN7052F: 1× Gigabit SFP WAN and 4× Gigabit Ethernet RJ-45 configurable LAN/WAN

128 MB RAM (GWN7052) or 256 MB RAM (GWN7052F)

MU-MIMO:

An embedded controller that supports up to 30 GWN APs (GWN7052) or 50 GWN APs (GWN7052F)

GWN.Cloud support coming in a future firmware update:

Wi-Fi and system security includes support for WPA/WPA2-PSK, WPA/WPA2 Enterprise (TKIP/AES), and WPA3

Anti-hacking secure boot and critical data/control lockdown via digital signatures

Unique security certificate and random default password per device

NAT session support: up to 30,000 (GWN7052) or 60,000 (GWN7052F)

Network protocol support includes Pv4, IPv6, 802.1Q, 802.1p, and 802.1x

QoS support includes 802.11e/WMM and TOS
Conclusion
The Grandstream GWN7052 and GWN7052F are powerful wireless routers designed for small businesses, larger business campuses and home networks. These routers offer exceptional Wi-Fi speeds, mesh networking, copper and fiber wired connections, and features like VPN and advanced QoS.


---
You may also like:
Grandstream GWN7664LR high-performance Wi-Fi 6 access point
Grandstream GWN7800 series managed network switches
How to create a captive portal for the Grandstream GWN series