By Phil Bowers, Senior Marketing Manager, Grandstream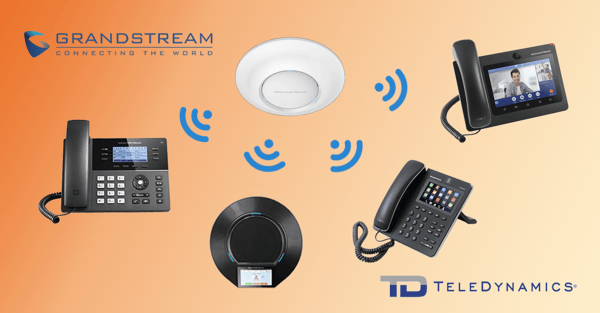 A new trend is beginning to develop within the business communications industry. Being driven largely by enterprises looking to streamline internal networks by eliminating wiring, voice over Wi-Fi (VoWi-Fi) could be the next major advancement within the VoIP industry. It features the same exact backend hosted, cloud, or SIP trunk services as any wired voice-over-IP (VoIP) network, but with the connections being extended to endpoints through an immersive Wi-Fi network rather than an endless maze of Ethernet cabling.
Here at Grandstream, we are leading the Wi-Fi voice trend through a variety of initiatives and solutions designed to allow businesses to build powerful VoWi-Fi networks that increase productivity, streamline installation and management, and offer eco-friendly benefits. This article will introduce the Wi-Fi voice trend, cover the reasons many businesses are adopting Wi-Fi voice networks, combat a major Wi-Fi voice concern, and highlight the Wi-Fi voice solutions we offer at Grandstream.

The benefits of Wi-Fi voice networks
Wi-Fi voice networks offer tremendous productivity, installation, management and environmental benefits, which is why enterprises around the world are beginning to deploy them. Many of the benefits revolve around the completely wireless nature of Wi-Fi. Adopting Wi-Fi voice is the last step for many businesses in moving to a completely wireless office setup, as currently most data, internet and even video collaboration networks often operate mainly through Wi-Fi connections. The wireless office is truly the office of the future, and Wi-Fi voice is playing a major factor in allowing the world to realize the power of wireless offices.
Wi-Fi voice networks allow for streamlined installations since they entirely cut out the cumbersome, expensive and time-consuming process of running wires to, and installing switches in, every corner of an office just to deliver a voice connection. This means that new deployments – or deployment expansion – is as easy as placing a Wi-Fi IP phone on a desk. This also drastically reduces ongoing maintenance by removing most cabling and switches, which are common sources of network issues.
Wi-Fi voice networks proactively support mobility and productivity in the office, allowing employees to roam anywhere and have access to a phone (ideally a cordless Wi-Fi IP phone like our WP800). A major trend within the enterprise space over the past few years has been the move to open offices where employees do not have assigned desks or seating areas and are encouraged to move around in order to increase collaboration and productivity. Wi-Fi voice is a requirement for the open office to ensure employees always have access to a voice network. Wi-Fi voice is especially great for cordless phones, since Wi-Fi offers superior range compared with DECT solutions.
Another major benefit of Wi-Fi voice networks is their eco-friendly nature. Being able to eliminate miles of Ethernet cabling cuts back on a lot of potential waste and hard infrastructure. Being able to claim an office is "wireless" has become an important component of many corporate social responsibility programs.


Quelling concerns about voice quality
Throughout the past year as Grandstream begins to dive further into the Wi-Fi voice space, I have had a lot of conversations with individuals from all over the channel about Wi-Fi voice. A common initial reaction to this technology is an expectation that the quality of voice calls will be poor, as will the quality of other Wi-Fi connections because they are all mixed together on the same network and coming from the same Wi-Fi access points (APs). While in the past these concerns had some merit, thankfully they have been solved.
Wi-Fi access point manufacturers like us have created numerous ways to allow Wi-Fi networks to both prioritize voice connections and proactively facilitate roaming decisions. For example, our GWN series of Wi-Fi APs allows users to prioritize voice packets (or any other type of connection) using QoS so that critical voice calls are not affected by other network connections. For roaming, which is a decision made by the client, AP manufacturers can utilize Wi-Fi Voice Enterprise (trademarked by the Wi-Fi Alliance) to allow APs to speed up the roaming process by providing a client with a list of nearby APs and streamlining the authentication process. Another similar piece of technology, PMK (Pairwise Master Key) Caching and OKC (Opportunistic Key Caching) also helps streamline the roaming process by eliminating the need to exchange authentication between a client and AP while roaming and also providing all APs with the client's authentication details.


Grandstream is breaking down barriers and leading the Wi-Fi voice trend
Historically, there were two major roadblocks to Wi-Fi voice realizing its potential. The first barrier was the lack of technology to optimize voice connections and prioritize them through a Wi-Fi network. This has been solved through numerous protocols instituted on Wi-Fi APs like our GWN series, including the features mentioned in this article. Our GWN series currently offers three different Wi-Fi AP models: the GWN7610, GWN7600 and GWN7600LR. All of them support the voice prioritization and roaming features mentioned above.
The second barrier has been a lack of quality SIP endpoints that support Wi-Fi connections. Having recognized this a few years ago, we have developed a variety of Wi-Fi voice endpoints.
CONCLUSION
If you are looking to build a Wi-Fi voice solution, Grandstream is your one-stop shop for everything you need. We have the easy-to-install and manage Wi-Fi APs to anchor the solution and a whole portfolio of Wi-Fi Voice (and video) endpoints to offer the ideal device for every type of user. Even if you are not taking advantage of this trend now, keep an eye on it, as it is poised to have a major impact on the VoIP industry sooner rather than later.


---
You may also like:
What's so great about the Grandstream GWN7610 Wi-Fi access point
Wi-Fi network security: Do you have a blind spot?
How Android converts IP phones to productivity centers