Product Review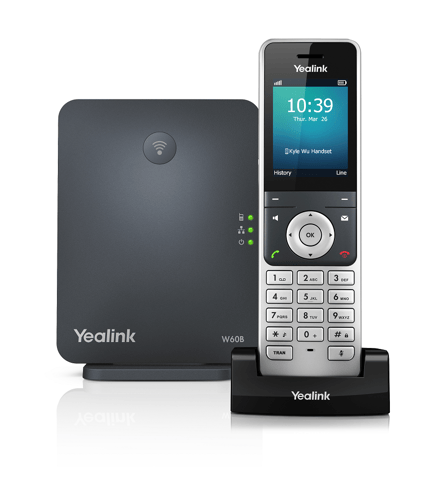 Companies are continually striving to discover new workplace philosophies that will maximize the productivity of their employees. Google, Apple, and Facebook are just some examples of organizations that are introducing innovative workspace and workplace designs. Most of these are moving away from the traditional "employee tied to a desk" standard by freeing up their staff and providing for mobility within the workspace.
Yealink's W60B DECT IP Phone Base Station is an ideal ally to aid any small- to medium-sized business in achieving such employee mobility. Since it is easy to deploy, flexible in its functionality, and rich in features, it provides for all the requirements of any internally mobile workforce.
Tried and tested technology
Deploying a wireless IP telephony system can be a daunting task. Achieving the required quality of service over a shared Wi-Fi network for Wi-Fi enabled handsets, as well as providing for the encryption and security features necessary for such a deployment, demands a certain level of expertise. Because smaller organizations often cannot maintain an internal ICT department, this can mean a substantial increase in installation and maintenance costs.
The W60B however, uses the Digital Enhanced Cordless Communications (DECT) standard for the wireless portion of the communication between the handsets and the base station. This means that security, quality of service, and handset connectivity are already preconfigured and preset for maximum performance. DECT is a tried and tested technology that has been around since the early 90s and has been continually updated and enhanced over the years, making it a mature and reliable technology. Because it uses frequencies discretely separate from those of other wireless technologies, wireless interference ranges from unlikely to downright impossible.
IP Telephony at its best
Yealink has successfully integrated two mature technologies, DECT and IP telephony, to seamlessly interact, resulting in a functional and feature-rich product. While DECT is used for connectivity between the handsets and the base stations, the W60B is, at its heart, an IP telephony device, with all the advantages and flexibility of VoIP. Supporting the standard network protocols and audio features such as SIP, VPN, AES encryption and voice codecs like G.722, Opus and iLBC, to name a few, the W60B can easily be integrated into any IP PBX system.
Easy to use and deploy
Features such as Power over Ethernet 802.3af, auto-provisioning via FTP/HTTP/RPS/PnP and over-the-air handset upgrades make the W60B a cinch to install and maintain. Each base station can support up to eight W56H handsets, and additional handsets and base stations can be purchased and installed as needed. With up to 30 hours of talk time and 400 hours of standby time, the handsets, if recharged daily, will never leave you stranded. Handsets have a large 2.4-inch, 240x320 pixel color display, and have an indoor range of up to 165 feet and an outdoor range of almost 1000 feet. Additional accessories such as belt clips, USB charger, handset protection case, and replacement batteries can be obtained for increased comfort and reliability.
Rich phone features
Deployed on a SIP server, the W60B provides basic and advanced phone features including:
Up to 8 SIP accounts per base station

Up to 8 concurrent calls per base station

Three-way conference calls

Speed dial

Voicemail and message waiting indication

A local phonebook for up to 500 entries stored in the base station, in addition to a remote LDAP phonebook

Call history and Caller ID

Music on Hold

Shared call appearance

Tested and certified compatibility with Broadsoft, Metaswitch, 3XC and Asterisk SIP servers
Comparison with other Yealink products
The W60B base station comes as a significant enhancement to the already robust W56P IP DECT phone and base station package. Below you can compare these devices and see the improvements that have been designed into the W60B as compared with its predecessor. Note that the W56P is sold with a handset while the W60B can be purchased either as a standalone base station or as a DECT IP Phone W60 Package with one handset included. Both systems can use either the W52H or the W56H handset.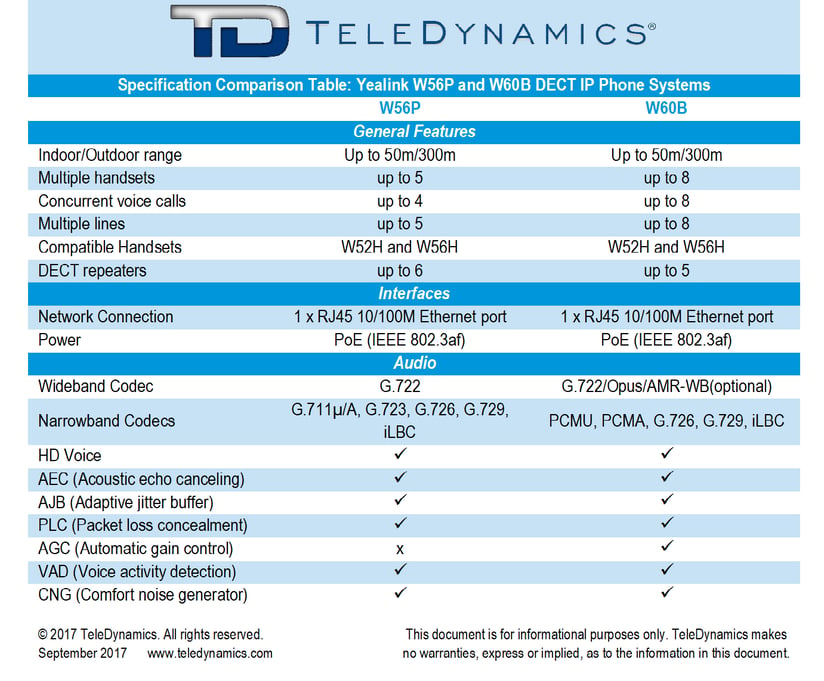 CONCLUSION
The Yealink W60B is an effective tool for freeing up staff and providing for mobility within the workspace of small- to medium-sized businesses. Compared with its predecessor, the W56P, it offers a number of enhancements including increased handset capacity.
---
You may also like:
Cordless SIP phones in the workplace: DECT vs. VoWi-Fi
Why you should connect your VoIP phone system to a mobile network
Thought video conferencing was not for SMBs? Think again.