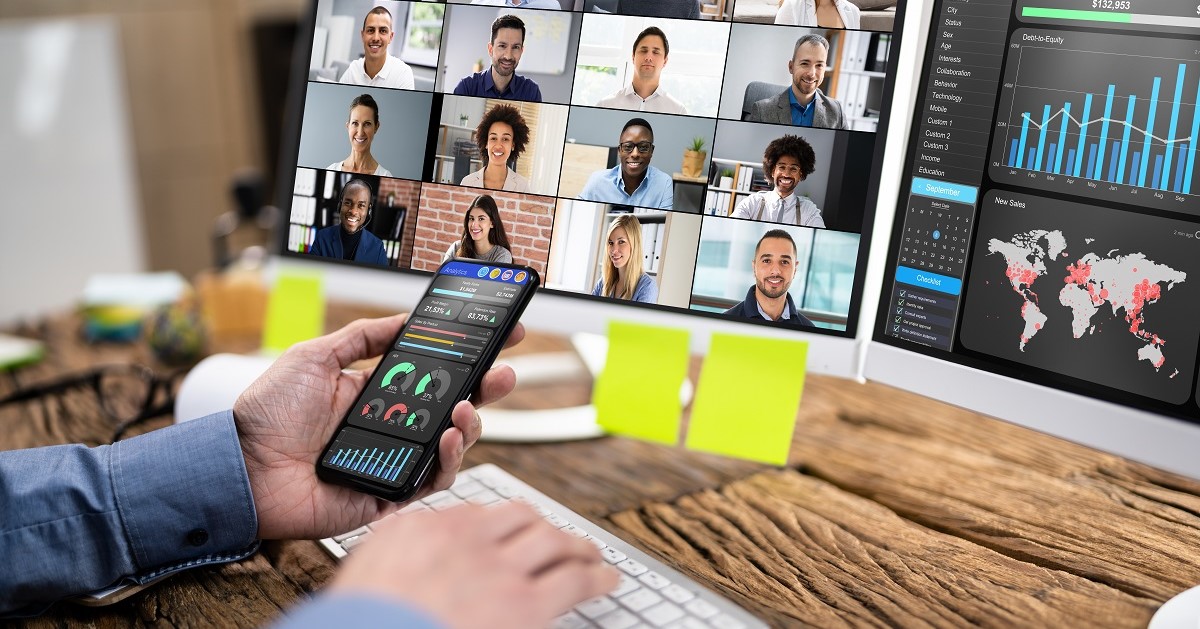 Telephony is all about voice communication. For over 100 years, telephones have brought people together, connecting individuals and businesses around the world. Today, communications systems are being enhanced to a degree that voice is no longer the only option for communications, nor is it alone the most desirable. Its integration with video services is becoming increasingly prevalent.
In this article, we'll examine the current trends in the integration of video with telephony, resulting in video telephony, and how it is being deeply integrated with voice systems.
Enhancing communications
Voice communication is simple, convenient, and virtually ubiquitous in the form of telephony. Simply dial a number on your desk phone or cell phone, and you're connected. Speed dials and contact lists have simplified it even further, allowing you to merely choose a contact to communicate with, rather than dialing a phone number.
Nevertheless, technology today is capable of delivering a much deeper level of communication between remote parties, enabling multiple channels of interaction, including video, filesharing, instant messaging, and presence. We've seen these technologies blossom dramatically over the past two years, with their evolution and development being further driven by world events.
But just how integrated is today's voice and video?
Level of integration of voice and video
At first thought, most of us would say that voice and video have indeed become integrated to a great extent. There has been no other time in history where people located anywhere in the world could both see and hear each other as clearly as today.
However, in order to enjoy this face-to-face interaction, you must use a special application or platform, such as Zoom, Microsoft Teams, Slack, WhatsApp, Viber, or any one of a number of videoconferencing applications. You typically schedule a specific time for a meeting and communicate with potential participants via email or instant messaging beforehand to ensure availability and to confirm the chosen platform of communication. Depending on the selected platform, you may require a desktop, laptop, mobile device, webcam, speakerphone, or room system designed specifically for these services.
Most of us have taken part in videoconferences using various platforms. We can likely agree that none of these systems is truly as simple or immediate as a telephone call. There is always some level of preparation and organization, as well as some limitation as to whom you can communicate with, and with which service.
Ubiquitous video telephony
In order to truly achieve the same level of simplicity and ease that we have come to enjoy from telephony, video telephony must evolve in a way that will allow us to gain both voice and video communication by simply dialing a number or choosing a contact. There is, as yet, no worldwide standard that will allow anyone to call anyone with both voice and video enabled.
There have been some attempts to allow a wider userbase to be able to make calls in such a simple manner, and these include:
Mobile communication operators that have enabled video communication between smartphone users by simply dialing a number. T a video call may cost more but will be achievable between users of the same mobile provider, or even with subscribers of other mobile providers.
Platforms such as WhatsApp, Viber, and Google Duo use mobile phone numbers to create databases of users with video-capable devices that enable voice and video communication using only the called party's phone number.
Microsoft has been working with companies such as Yealink to integrate their desk phones, and Yeastar to integrate their IP-PBXs with the Microsoft Teams collaboration platform, enabling video telephony between Teams-enabled individuals by simply dialing a number.
Cisco has integrated video telephony into their products for over 15 years by enabling video communication via a connected workstation, such as a desktop or laptop computer, or by using built-in cameras and screens on their IP phones.
All of the above examples allow users to make video telephony calls by simply dialing a telephone number. However, the limitation is that both the caller and the called party must be registered with the same platform. Someone using WhatsApp will not be able to initiate a video telephony call to a Microsoft Teams user, for example.
This inter-platform incompatibility is one of the major obstacles to being able to obtain truly ubiquitous video telephony.
Now, most will not see this as a problem but will perceive it more as a procedural obstacle that simply makes video conferencing more of an event than a casual and immediate telephone call. Until a viable method of inter-platform communication is developed, or a more generally defined video telephony integration protocol is established, most video telephony services will remain segregated within their own specific platforms or will interoperate only with the platforms of those companies that they have chosen to partner with.
Services that can benefit from video telephony
Having established the case for video telephony, it is also important to identify various telephony services that will benefit from deeper video integration. One particular area in which video telephony will greatly affect services involves the contact center.
More and more contact centers are incorporating multiple channels of communication, including voice, chat, email, and ticketing. Adding video as a channel has not yet emerged as a mainstream contact center service but could reinforce helpdesk and customer service in the near future. Seeing the agent that is serving you could be a great enhancement to the customer service experience.
In order to maximize the userbase that will be able to use such services, a web-based solution is currently the most viable option. Delivering services over web-based communication protocols such as WebRTC will require users to simply connect over their web browser. Both voice and video can be natively delivered, whether on a desktop, laptop, or mobile device.
Conclusion
We are still some ways away from video telephony being as simple to execute as voice-only telephony. As systems become more integrated, and as platforms continue to increase their interoperability, video telephony will eventually become the norm and will emerge as an important factor in our communications needs and habits. As a result, benefits for both mainstream telephony and specific telephony services such as contact centers will continue to increase.
---
You may also like:
Yealink Teams-compatible video bars
The rise of AI in video collaboration