Product Review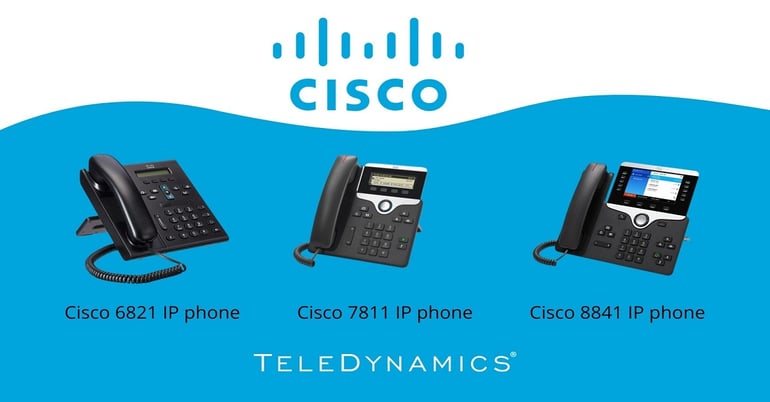 Cisco is a household name when it comes to networking, the internet, and telecommunications in general. With its legendary reliability and virtual ubiquity in the market, the company has consistently delivered equipment and services of the highest quality around the world.
This reputation has followed the company into the voice equipment market, as well. In this article, we'll take a look at Cisco's multi-platform IP telephone offerings and examine their benefits for your business.
Cisco's IP telephony legacy
In the past, we have shed light on Cisco's pioneering history, as well as its entry into the voice market. We have seen how its reliability is now being made more available to smaller businesses, as its licensing and pricing schemes are becoming more SMB-friendly.
This is also the case with its IP telephony devices. These were originally designed to function exclusively with Cisco's Unified Communications Manager (CUCM). However, Cisco has made these phones available for use with third-party SIP servers, allowing businesses that have invested in other vendors' core IP telephony infrastructure to enjoy the use of Cisco's endpoints on their systems.
An overview of MPP
Cisco sells these devices as Multiplatform Phones (MPP). These are essentially the same as CUCM-compatible phones but have been licensed to function on third-party SIP servers. Cisco has pre-approved specific platforms for use with these phones and guarantees their full interoperability, including Asterisk, Centile, and Metaswitch. Many third-party SIP platforms are based on Asterisk, so Cisco's MPP phones offer a very broad compatibility matrix.
The MPP devices deliver a specific firmware load that supports this interoperation. While the feature set and user experience provided by this firmware are not identical to what is provided for Cisco on-premises systems, the level of performance is virtually identical.
Cisco MPP series phones
Cisco delivers three stylish series of MPP phones: the 6800, 7800, and 8800 series devices.
6800 series – This is an entry-level series with three phone models. Each has a clear black and white LCD display, with either two or four SIP registrations.
7800 series – This series goes a step further by delivering four phones with a sleeker design, a larger and higher resolution black and white screen that is backlit in some models, and a larger number of SIP registrations.
8800 series – As the top-of-the-line series, these seven phones deliver large color screens, and some also sport built-in HD cameras for a fully equipped video telephony experience.
The devices in all three series support:
Session Initiation Protocol (SIP)
Narrowband and wideband audio codecs
High-quality, full duplex speakerphone
Power supplied by IEEE standardized Power over Ethernet (PoE)
Secure and encrypted communication using industry standard AES and Secure RTP
Built-in Ethernet switch to connect a local workstation, such as a PC or laptop
QoS mechanisms to mark and serve voice packets with the appropriate priority
The 6800 series
The three phone models delivered in the 6800 series are shown in the image below from left to right: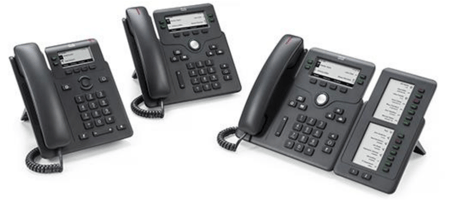 The line buttons on each model are fully programmable. You can set up line buttons to support either SIP registrations or call features, such as speed dialing. You can also boost productivity by handling multiple calls for each SIP registration, using the multiple-calls-per-line appearance feature. Tricolor LEDs on the line buttons support the calling features and make the phone simple to use.
Fixed function buttons on the 6800 series phones give you one-touch access to service, messaging, directory, hold/resume, transfer, and conference features. A full-duplex speakerphone lets you set up multiparty conferences for flexible collaboration. There are fewer fixed function buttons available on the 6821 than on the 6841 and 6851.
The 6821 IP phone has a 2.5-inch (240x120 pixel) grayscale display with white backlighting for easy reading. The 6841 and 6851 IP phones each have a high-resolution, 3.5-inch (396x162-pixel) grayscale display with white backlighting.
The 7800 series
The four phone models delivered in the 7800 series and are shown in the image below from left to right: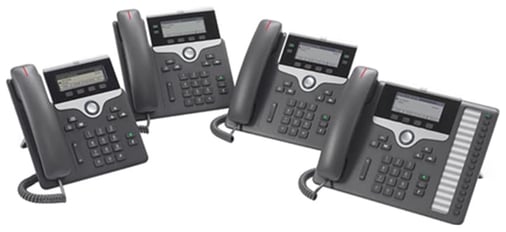 Similar to the 6800 series, the line keys on each model are fully programmable, and you can set them up to support either lines or call features. You can handle multiple calls for each directory number, as well. Fixed function keys work much the same way as the 6800 series.
This series features a high-resolution 3.5-inch (396x162) greyscale display with white backlighting on the 7821, 7841 and 7861 phones, and a 3.2-inch (384 x106) display without backlighting on the 7811 phone for easy reading.
The 8800 series
The 8800 series comprises six desk phones and one conference phone. All desk phones support ten lines, four programmable softkeys, and PoE. In addition, each phone model in the series has various features, the most prominent of which are listed below: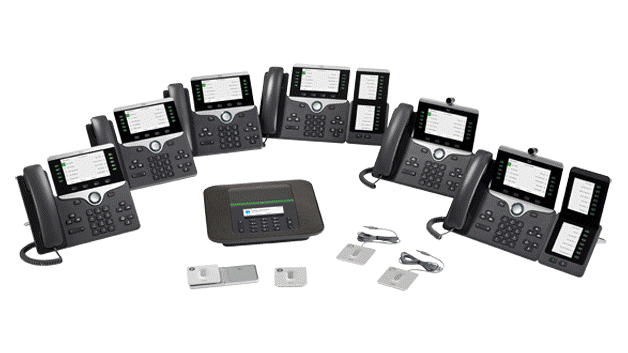 Combined, these three series of Cisco phones offer fourteen endpoints ranging from the simplest entry-level device to the most sophisticated high-call-volume telephone. Additionally, many of them support expansion modules, USB ports, Bluetooth, and Wi-Fi connectivity, delivering even more flexibility. This range of phones represents one of the most flexible, feature-rich, and configurable set of devices available on the market, and all are compatible with a wide range of third-party SIP servers.
Conclusion
It is not uncommon to see Cisco telephony devices that have been in continuous operation for well over a decade. Much like their networking equipment, Cisco telephones live up to the reputation that the company has established over the years. This reputation has not only created loyal customers but has also given the company the opportunity to obtain new customers, especially as the company is focusing more on SMBs. We believe that Cisco's MPP offerings are definitely worth exploring.
---
You may also like:
Equipping employees to use their enterprise IP phones at home
How to fix IP phone registration issues