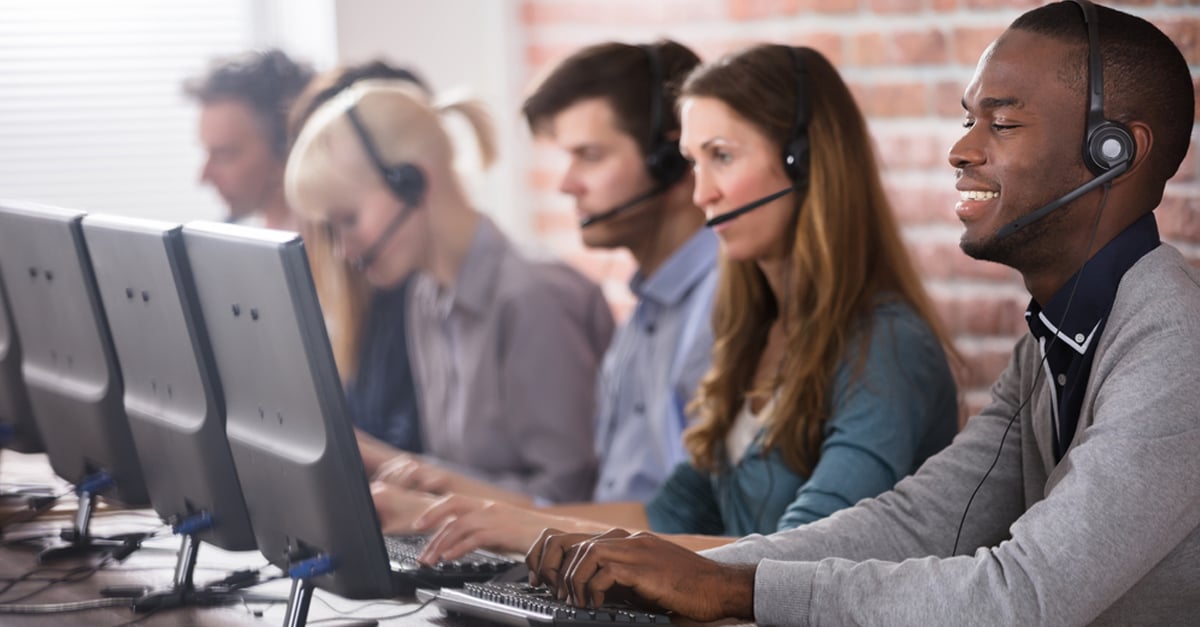 The COVID-19 pandemic has resulted in overwhelmed contact centers for many companies. Calling customer support can sometimes be a frustrating experience, especially when there are long wait times or too many hurdles to speaking with a live human being. But, it doesn't have to be. In this article, we review some best practices for call center design, so that calling support can be a pleasant experience in which customers can get exactly what they need in the least amount of time possible.


Call center philosophy
The call center is usually one of the primary ways customers come into contact with company representatives. As such, the contact center plays a vital role in serving and delighting customers.
For this reason, the call center design must prioritize the customer experience. Some of the fundamental design principles and innovative tools that can be employed for this purpose include:
Quickly determining the caller's intent –Using well-designed menus, well-trained agents, and innovative informational tools, the caller's intent should be determined quickly and efficiently, in order to get to the next stage of support.
Minimizing wait times – The time a customer spends from start to finish should be as brief as possible. This can be achieved by minimizing the amount of time a caller waits in the queue, by having clear and concise prompts, and by using the least number of menu options possible.
Equipping agents with information – Various methods can be used to inform agents about the caller before they even speak to them. The caller's name, their account information, as well as a history of their previous calls to the contact center can all be provided to the agent on their computer screen. Click here to see our previous article on integrating your phone system with your CRM.
Well-trained agents – Agents should be trained to ask the right questions. Dealing appropriately and politely with callers is also of utmost importance, as studies have shown that even an agent's smile can be "heard" over the phone.
Take advantage of technology – Features such as caller call-back, speech recognition, data integrations and machine learning can all improve the caller's experience when implemented correctly.

Call center design
Here are some best practices for optimizing the customer experience when they call support:
Menu design – Most contact centers function with a series of voice menus where users can make choices using the telephone keypad. These menus should include:
Clear and concise voice prompts – The shorter, the better
A maximum of four choices per menu – Have you ever had to wait for eight or nine options only to have forgotten what the first few were and then you needed to listen to them again?!
A maximum of three nested menus – when you make a choice, you usually hear a second, and maybe a third menu; users should never have to make more than three menu choices to get where they want to go
Caller queue duration – We've all heard the phrase "please wait for the next available agent" or something to that effect, and we know how frustrating this can be to hear! Ideally, callers should not spend more than an average of three minutes in such a queue. In order to minimize the wait time, the number of agents serving calling customers should be enough to keep the queue length to three minutes or less during peak times. Because this can vary over time, it is important to periodically examine call statistics and evaluate what changes need to be made to ensure maximum efficiency. Another option to deal with queue lengths includes a call-back service, which is further described later in the article.
Enabling agents – Agents should be knowledgeable about the company's products and services and skilled at asking the right questions to get to the user's intent as quickly as possible. They should also be supplied with essential information about the caller before they even speak with them, as described in the database connectivity section below.
Innovative services and enabling technologies – There are several technologies that can be used both to enable agents and to serve customers more effectively, as well as to make the customer's call-in experience more helpful, pleasurable, and ultimately successful. These include:
Call-back service – This is a feature that enables callers waiting in the queue to choose the option of being automatically called back by the system so they don't have to wait in line. Users are given the option to dial the number at which they want to be called back, after which they hang up. The system keeps a placeholder in the queue and calls them back once their place reaches an agent. This adds immensely to the quality of the user experience, as most callers resent waiting for extended periods of time on the phone for the next available agent.
Time and place in queue announcement – With this feature, callers waiting in the queue are told periodically what position they are in and what the estimated wait time is. This is useful especially when used in conjunction with the call-back service; based on this information, a user can then elect to remain on the line, or choose to enable the call-back service.
Database connectivity – This feature allows the system to display relevant information about the caller on the screen of the agent. This can be done using the caller's caller ID as the search key or an account number that the caller may have been prompted to enter during their initial call-in. The system will use this information to query a connected customer database and bring up relevant information for the agent to use. The database can also be updated with additional information that the user or agent may enter.
Advanced features – Some of the most recent developments in computer telephony integration have improved features such as speech to text and artificial intelligence to the point where they are accurate enough to be useful. These features will be further discussed in future articles.

Time is key
The ultimate goal is to get the user to their telephony destination as quickly as possible. Saving a second or two per call may seem inconsequential; however, contact centers can easily have thousands or even tens of thousands of callers per day. In such a case, shaving off just ten seconds per caller can amount to savings of over 27 hours of caller wait time per 10,000 calls.
Time savings can be achieved by:
Removing an unneeded word or two from a prompt – Remember, being polite and informative in the prompts is good, but reducing caller wait time is even more important. Make sure you balance these aspects effectively.
Reducing the number of options per menu and the number of nested menus – Get callers to their destination with the fewest number of menu options and the fewest number of keypad responses possible.
Supplying caller history information to agents – Avoid requiring callers to recite their full call history to get the agent to understand what the current situation is.
Using advanced features wisely – Make sure that any innovative features used (call-back, AI, speech to text, and others) genuinely reduce caller wait time. Evaluate them and if they don't improve caller experience, get rid of them.

Conclusion
If planned and applied well, you can empower your customer call center to become a useful and highly effective tool for serving, delighting and retaining your customers.


---
You may also like:
Grow your business and boost customer satisfaction with VoIP phone integrations
What platforms are compatible with your SIP phone?
5 cool tricks you can do with your SIP phone system