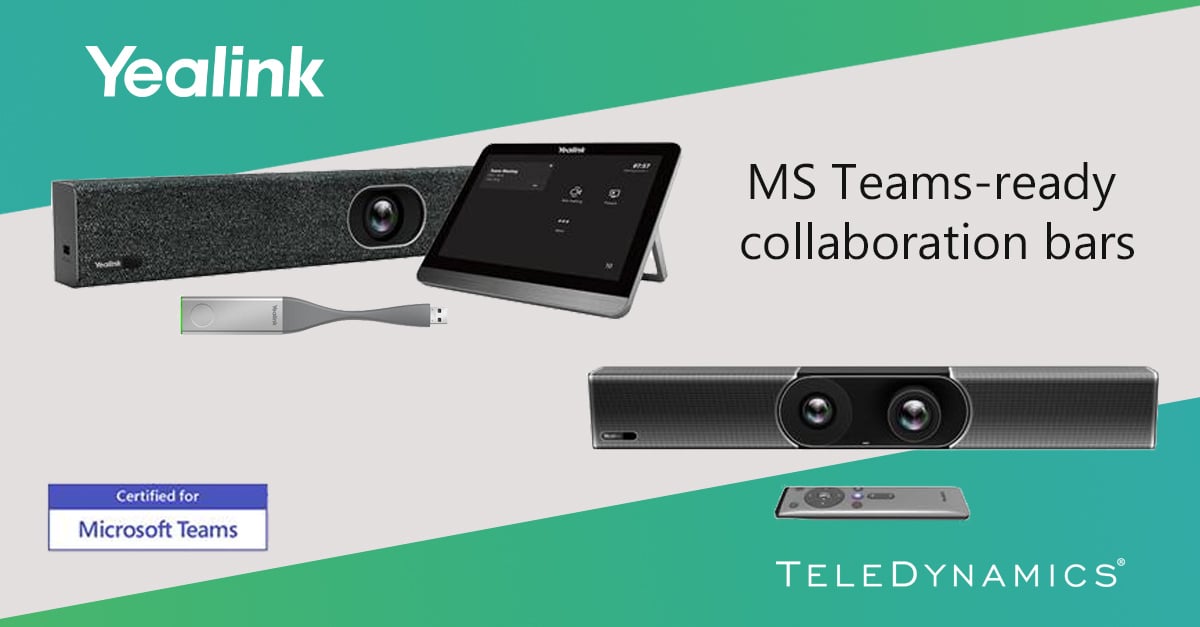 As we have written about in the past, Yealink offers a wide range of collaboration solutions that bring the Microsoft Teams experience to every workspace and user. In this article we review Yealink's collaboration kit options that feature Teams-enabled video bars.
Video bars and their advantages
Video bars (also known as collaboration bars) are convenient and compact all-in-one devices that incorporate a camera, speakers, and microphones in a single package. They come in the shape of a bar that can be easily mounted just above, but most often just below, a large video display. Typically, they sport at least one camera, at least one speaker, and can be connected to one or two large-screen displays. They also provide a multitude of wired and wireless connectivity options for connecting devices to control the bar, as well as for transmitting audio, video, and collaboration content.
In general, these all-in-one systems work well in areas that range from small huddle rooms with up to a handful of participants, to medium-sized meeting rooms suitable for a dozen people.
The bars themselves are actually smart devices in the sense that they run an operating system and can be considered specialized minicomputers purpose-built to deliver collaboration services.
Yealink's Teams-enabled MeetingBar kits
Yealink's four kits are based on two collaboration bars and innovative control accessories.
YEA-A20-010-TEAMS – The MeetingBar A20 is an Android-based video collaboration bar for small rooms and huddle rooms. The kit comprises a built-in 20 MP camera with a wide-angle lens, stereo speakers, and an eight-microphone array that streams both high-quality video and audio. The bar supports up to two large-screen displays and offers intelligent features, including auto framing of multiple people along with speaker tracking. Wi-Fi, Bluetooth, and Ethernet connectivity options offer flexibility in both connectivity and control.
YEA-A20-020-TEAMS – This kit comes with the same innovative MeetingBar A20, but also adds the convenient CTP18, a collaboration touch panel designed for small and medium-sized rooms. Using this touch panel, you can control the A20 with a much more functional interface. When operated in conjunction with the Yealink WPP20 presentation pod, the CTP18 can also optimize collaboration content, as well as annotate and control the content directly.
YEA-A30-010-TEAMS – For larger rooms with up to about a dozen participants, this kit takes advantage of the MeetingBar A30, which goes a step beyond the previous two kits. This device has two cameras: one wide-angle and one telephoto camera. Based on Qualcomm's SD845 Chipset, the processing power for this device is more than enough to deliver the performance you need. Like the A20, the A30 includes the same microphone arrays, connectivity options, and intelligent features. Unlike the A20, it has two speakers instead of one as well as line in and line out options to connect external sound sources and sound systems to extend the range of the device even more.
YEA-A30-020-TEAMS – This top-of-the-line kit incorporates the MeetingBar A30 plus the convenient CTP18 touch panel for increased control and collaboration content options.
Detailed device features
Itemized below are the key features of each device included in the kits.
A20 Android Video Collaboration Bar
Android 9.0
20 MP camera transmits well over HD quality video
133° field of view
4x electronic pan tilt zoom (e-PTZ)
Intelligent auto framing and speaker tracking features
Array of eight MEMS microphones
Supports an extension microphone
5W high-fidelity speaker
Beamforming with directed voice pickup technology
Full-duplex audio and echo cancellation
Network connectivity

Wi-Fi or wired GigabitEthernet options
Security includes port security, built-in certificates, and AES 256-bit encryption
Other network features include QoS, VLANs, IPv4, IPv6, and network diagnosis mechanisms

Other connectivity options include

Bluetooth
2 HDMI ports for up to two displays
2 USB ports

Meeting features encompass

Content sharing and whiteboard
Calendar
One-click join meeting
PSTN dial-in
A30 Android Video Collaboration Bar
The A30 includes all of the features of the A20, unless otherwise stated below, plus:
8 MP wide-angle camera with

120° field of view
4x e-PTZ

8 MP telephoto camera

90° field of view
10x hybrid zoom (3.5x optical, 3x digital)

Two 5W high-fidelity speakers
Other connectivity options include

Line in 3.5mm jack
Line out 3.5mm jack
CTP18 Collaboration Touch Panel
8-inch multi-touch screen with 1280 x 800-pixel resolution
Android 9.0
Annotation on shared content
Wi-Fi and Bluetooth connectivity options
Supports Power over Ethernet
1 USB port
Compatible with multiple Yealink collaboration devices
Conclusion
More and more companies are discovering the benefits of remote collaboration solutions and are choosing them over travel and business trips. These video bars turn small and medium-sized meeting rooms into high-quality collaborative environments, enabling efficient and effective teamwork. As part of Microsoft's Teams ecosystem, these devices deliver unprecedented collaborative innovation and functionality.


---
You may also like:
Yealink MVC rooms systems for Microsoft Teams
Yealink's MP series of Teams-certified desktop phones
Yealink work-from-home solutions
Yealink's line of high-quality headsets