Product Review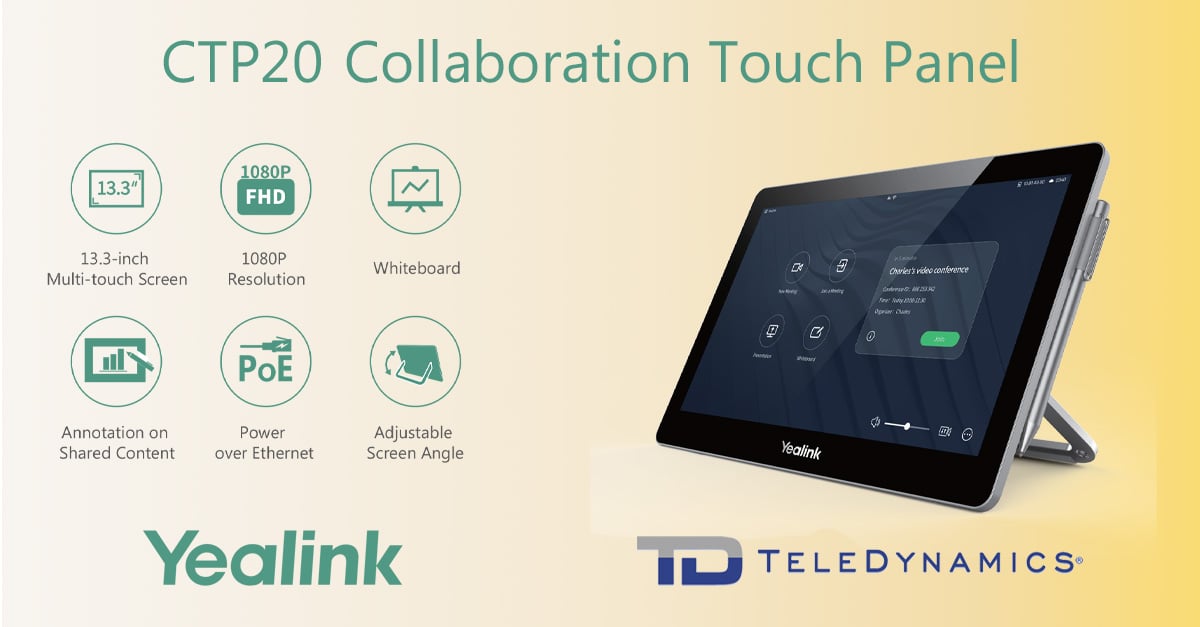 The remote collaboration space continues to evolve at a rapid pace. Advanced technologies are being applied to mimic the in-person experience as much as possible. Yealink has taken remote collaboration another step forward with its CTP20 Collaboration Touch Panel, which adds annotation and whiteboard capabilities to its videoconferencing systems. When used with the WPP20 Wireless Presentation Pod, you can even annotate and reverse-control shared content!
The CTP20 looks similar to an iPad or smart tablet. It has a full HD 13.3-inch IPS (in-plane switching) monitor, offering outstanding color accuracy and extra-wide viewing angles. Equipped with capacitive 10-point multi-touch technology plus an active capacitive pen, this panel enables a number of exciting functions for videoconferences. This product is compatible with all of Yealink's videoconferencing solutions.

Watch the video

Key features
Richer and easier meeting control
CTP20 makes meeting control effortless and intuitive. Using the high-quality touch-sensitive screen, you can create or join a meeting on the home screen, and all meeting controls can be navigated with a simple touch or a swipe of your finger, including previewing and adjusting the camera, changing the participant layouts, recording, and more.
More efficient collaboration
CTP20 features a built-in whiteboard, and up to four CTP20 units can be used simultaneously in one system. This allows multiple participants to write on the whiteboard at the same time. The real-time handwriting presentation allows participants to see what is being written with no latency, making discussions more effective. When paired with Yealink WPP20 Wireless Presentation Pod, you can gain reverse control from CTP20 over your computer, achieving multi-screen interaction.
Natural writing annotation
CTP20 fuses together the industry-leading 13.3-inch touch screen with a scalable canvas, so every idea can be recorded on the ample space provided by CTP20. In addition, the accompanying active capacitive pen is designed to deliver a natural writing experience, so participants can focus on the topics of discussion without being distratcted by the technology.
Clutter-free meeting space
CTP20 supports PoE where a single cable delivers both data and power for the device. Data transmission between the CTP20 and the endpoint is realized either by cable or by Wi-Fi, which eliminates the tricky wiring connections between the TV area and the conference table.


Ordering details
The CTP20 is sold as part of the VC800 complete videoconferencing kit, the VC800 basic videoconferencing kit, or the VC500 complete videoconferencing kit. Links to view and download the CTP20 data sheet can be found on these three conferencing kit product pages.


The WPP20 Wireless Presentation Pod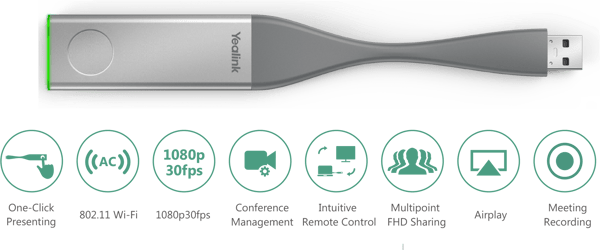 WPP20 is a wireless presentation pod that partners with the Yealink new-generation video conferencing systems to offer a high-quality content-sharing experience. Adopting 5G Wi-Fi network connectivity, WPP20 enables content sharing on an external display with just a single tap. When paired with a Yealink video conferencing system and a touchscreen television (or the CTP20 touch panel or other touch-sensitive screen such as a tablet computer), WPP20's embedded meeting assistant software offers rich functionality such as inviting participants, conference recording and even reverse control of the laptop from the external touch screen. This rich feature set transforms any conference room into a hassle-free space for team collaboration.
Access the WPP20 data sheet on our website's product page.

Conclusion
With whiteboard and annotation capabilities, as well as reverse-control, pairing with external monitors, touch-screen meeting management and wireless convenience, Yealink's CTP20 Collaboration Touch Panel combined with the WPP20 Wireless Presentation Pod creates a high-quality, engaging and productive videoconferencing experience.
---
You may also like:
Yealink's Next-Gen videoconferencing solutions: The future is here
Make productivity zoom with Yealink Zoom Room kits