Product Review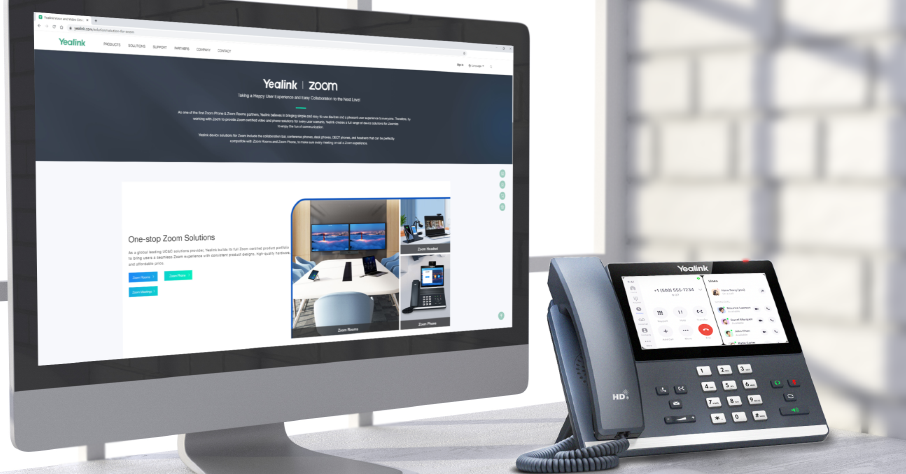 Yealink's innovative MP IP phone series is now Zoom certified, making this advanced series of IP phones all the more useful and functional for employees of all types. In this article, we explore the implications of this certification and what it means for businesses with a high percentage of mobile and hybrid employees.
The importance of certification
Telecommunications equipment and services of all types are delivering more advanced applications than ever before, making the mobile workforce and remote work more efficient and achievable. These advancements, in turn, require more complex hardware and a deeper integration with the software services they leverage. That is why it is so important that this deep integration is thoroughly tested and verified to ensure the optimal communications experience for the end user.
Over the past 18 months or so, companies have realized how important such certification is, especially when the hardware and the software platforms being used come from different vendors. For this reason, Yealink has been working hard to ensure that its hardware is certified for use with some of the world's most popular communications platforms.
Yealink's MP series IP phones
Yealink's innovative MP series IP phones are among the most advanced in their class, delivering superior voice quality, large screens, and an Android-based operating system. A while back, we were excited to announce that these phones became certified for use with Microsoft Teams. Today, we have the pleasure of announcing that Yealink has gone even further to ensure seamless operation with the world's top video call platform: Zoom.
What certification means
The "Zoom Certified" badge we see on the box of a brand-new MP series IP phone indicates that these phones have been taken into the lab by Zoom engineers and have been put under rigorous tests to make sure that the Zoom platform operates on them flawlessly. Not only that, but Yealink, in coordination with Zoom, has tweaked the Android software to include Zoom-specific applications and functionality, enabling what Yealink calls "native Zoom Phone and Meetings capabilities."
As a result, these phones are able to receive audio and video from a Zoom video session, participate in Zoom conferences using audio, and deliver interactive whiteboard features — and all of this can be done simply and intuitively with the use of Zoom-specific apps on the devices themselves.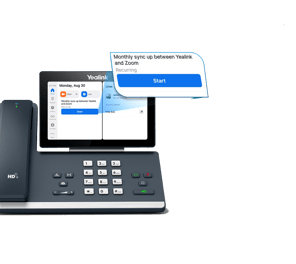 MP IP phone series key features
The Zoom-enabled MP series contains three models, from basic to premium, based on expected call volume and communications needs.
MP54 for Zoom – An entry-level, cost-effective desk phone for common areas and workers of co-working spaces. At first glance, this phone looks anything but entry-level, primarily due to its large color touchscreen and sleek lines. In addition, this phone sports a Gigabit Ethernet port for the connection of a workstation laptop or PC, a speed unheard of in entry level phones of other vendors, which typically deliver a Fast Ethernet port.
MP56 for Zoom – A mid-level desk phone for office and knowledge workers, this phone is a step up from the entry level phone, with a larger screen and integrated Bluetooth and Wi-Fi connectivity.
MP58 / MP58-WH for Zoom – A smart business desk phone for executives and professionals, it represents the top of the line in this Zoom-certified series. This phone's primary visible feature is its large 7-inch screen, which is mounted on an adjustable hinge for maximum viewing comfort. Connectivity options include Ethernet, USB, Bluetooth, and Wi-Fi, delivering high-quality HD audio. The WH version has a wireless Bluetooth handset, freeing your workspace from the clutter of cords.
MP series key features summary
MP54 for Zoom key features
Android 9.0 OS
4'' capacitive touch screen
Native Zoom user interface
Exchange calendar integration
Optimal HD audio, Yealink Noise Proof Technology
Bluetooth via optional dongle BT41
Wi-Fi via optional dongle WF50
1 USB Type A port, supports USB Headset or dongle
Dual-port Gigabit Ethernet
PoE support
Supports Zoom/Yealink Device Management Platform
MP56 for Zoom key features in addition to those of the MP54
7'' capacitive touch screen
Built-in Bluetooth and dual-band Wi-Fi
1 USB Type A port, supports USB Headset
MP58/MP58-WH for Zoom key features in addition to those of the MP56
Adjustable 7'' capacitive touch screen
Supports Yealink wireless Bluetooth handset BTH58
2 USB Type A ports, supports USB headset
Conclusion
Yealink continues to solidify its leading market position by certifying its MP series of IP phones with the Zoom communications platform.
---
You may also like:
Yealink's video bar systems for Zoom
Yealink's ZVC conferencing kits for Zoom
Yealink's bring-your-own-device (BYOD) solutions