Product Review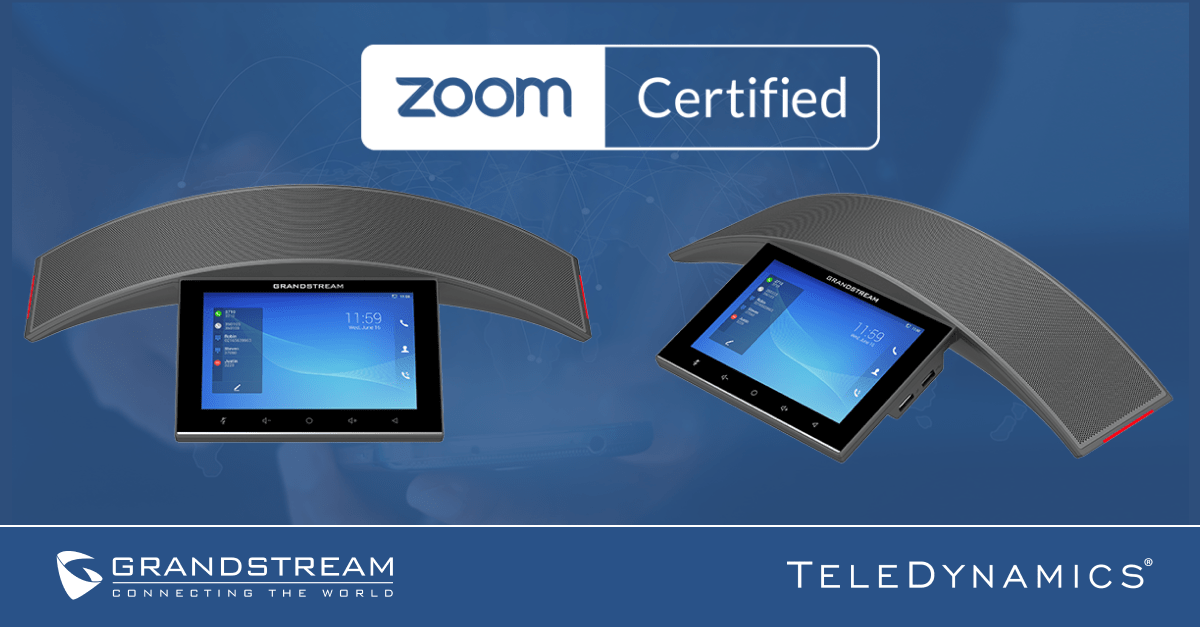 Many businesses need to be able to create ad hoc teleconferences involving both local employees and multiple remote workgroups. Grandstream's new GAC2570 teleconferencing device makes it possible to quickly transform any small or mid-sized room into a teleconferencing workspace, offering a rich feature set with high-quality sound and simple operation.
In this article, we review some of the most significant features of the device and the common use cases where it shines.
GAC2570 feature set
The GAC2570 is a full-duplex conferencing device with a sleek design that can transform any conference space into a teleconferencing center. It delivers a natural and immersive communications experience for local and remote participants via its exceptional speaker and multichannel microphone array design (MMAD) that incorporates 12 omnidirectional microphones.
The device sports a brilliant 7" LCD touch screen display with 1280×800 resolution. It runs the Android 10 operating system and is extremely intuitive to use.
The GAC2570 is designed especially for setting up teleconferences "on the fly." It offers multiple convenient connectivity options and can operate with the freedom of a wireless device with no communication or power cables required.
Ease of setup and use
Imagine that you and your team of designers are sitting around a table in your office in an impromptu meeting, discussing a critical stage of your product's development. The need quickly arises to contact your sales and marketing departments to get some crucial feedback on a particular aspect of the design.
You don't have time to schedule a meeting in one of the dedicated collaboration or huddle rooms, but you have the GAC2570 enterprise conference phone.
The device's fully charged 3,300 mAh battery gives you four hours of independent operation, and its Wi-Fi 6 capabilities automatically connect it to the corporate network when you turn it on. All you need to do is hit the power button and dial your remote teammates to interact with them almost as if they were in the same room.
There's no need to worry about power cords, network cables, or finding the right outlets. There's also no technical setup required and no straining to hear or understand your colleagues.
Additional innovative capabilities
The GAC2570 has additional features that enable many more deployment options, including the following:
Network connectivity with Power over Ethernet capabilities, so no separate line power is needed for the device.

Bluetooth connectivity that allows wireless control of the device from a smartphone.

Support for the wireless connection of up to two

GMD1208 wireless external microphones

, extending audio pickup range from 15 feet to 60 feet for complete room coverage.

Built-in teleconferencing support for up to 12 remote participants.

Compatibility with the

GVC32XX series videoconferencing systems

, allowing you to easily add a video to your conference.

Zoom Rooms certification for deep integration with the Zoom videoconferencing platform.
Key features of the GAC2570 enterprise conference phone
Some of the most noteworthy features of the device are highlighted below, including:
Full-duplex speakerphone:

HD acoustic chamber
Advanced acoustic echo cancellation
10 W high-fidelity sound
Frequency range of 100 Hz to 20 kHz
83 dBA volume at 3 feet

Microphones:

An array of 12 omnidirectional microphones
Microphone beamforming array enabling directional audio pickup
Multichannel microphone array design (MMAD) technology
15-foot pickup range
Can be wirelessly paired with up to two GMD1208 mics, extending coverage to 60 feet

Network connectivity options:

10/100/1000 Mbps Ethernet network port with PoE+
Dedicated Ethernet media port for laptop connection
Integrated dual-band (2.4 GHz and 5 GHz) Wi-Fi 6 connectivity supporting 802.11 a/b/g/n/ac/ax

Screen characteristics:

IPS LCD touchscreen
1280×800-pixel resolution
7-inch screen size

Telephony features:

12-way audio conferencing (including the host)
Call hold, call park, call pickup, call waiting
XML and LDAP contact list with up to 2,000 entries
Call recording, call logs, music on hold

Ports:

Auxiliary port
Media port
network port
HDMI in
USB
Line out
Micro-USB
Kensington lock

Supplemental features:

Zoom Rooms certification
Android 10 operating system
Bluetooth 5.0 support
Conclusion
The GAC2570 enterprise conference phone supports multiple conferencing platforms and connectivity options and is ideal for an enterprise or small business needing a flexible audioconferencing device for a huddle room or common area. This device delivers a flexible, wireless audioconferencing solution for any location within the office network. It is ideal for open offices, remote workers, and conference rooms of all types.
---
You may also like:
The Grandstream GXV3470 IP videophone
Grandstream's GDS3712 IP video intercom system
Grandstream's new carrier-grade IP phones: GRP2612G and GRP2650