Product Review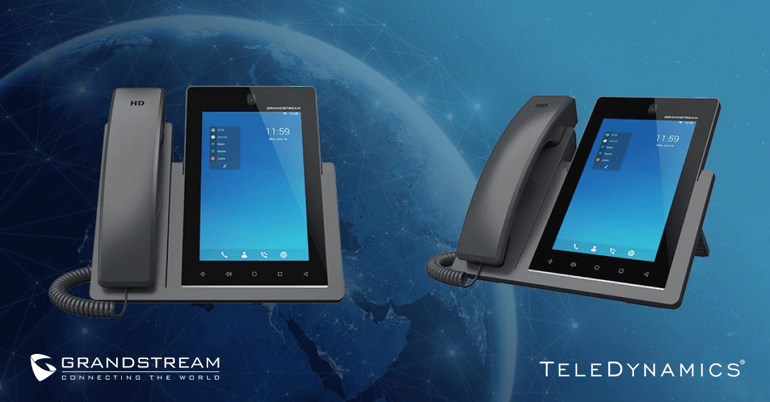 Video is becoming an integral part of effective communications for modern businesses, which is why Grandstream has devoted a series of IP phones to video telephony.
The company recently added its most advanced and cutting-edge IP video phone to its product line, delivering even more comfort, ease and productivity for its users. Here, we showcase the GXV3470 and how it fits into Grandstream's videophone series.
The GXV33xx series of IP videophones
Grandstream made headlines with the introduction of its GXV33xx series IP video phones back in 2020. Today, these phones continue to be among the market's most versatile and cost-effective all-in-one communication endpoints. Since their launch, these phones have been used extensively in administrative, management, executive and high-call-volume scenarios.
The term "IP videophones" doesn't do these devices justice because they deliver so much more than video telephony: they are robust productivity centers. They combine large touch screens and the intelligence of the Android operating system to maximize the user experience.
The original three models all feature built-in cameras for video telephony plus many additional features:
GXV3350

: A more conventional yet smart-looking IP videophone, this is the entry-level device of the series, delivering a small touchscreen with a conventional telephony keypad.

GXV3370

: Equipped with a larger screen, this phone retains a tablet-like feel, with all user interactions performed on the touchscreen.

GXV3380

: This model has the largest screen, the most capabilities and the sleekest look, resembling a tablet with a handset.
The new GXV3470 IP videophone
Expanding this stellar lineup is the GXV3470, branded as a high-end smart Android video phone. It is similar in design to the GXV3380, with a significant and striking difference being the screen's vertical orientation. This design is more familiar and ergonomic for most people as it mimics the orientation of smartphones.
The phone supports the cutting-edge Android 11 operating system, so all compatible third-party applications found on the Google Play Store are available for download, installation, and use. In addition, you have access to Grandstream's GS Market to keep all of Grandstream's applications up to date.
Stupendous specifications
The GXV3470 delivers up to 16 lines with up to 16 SIP accounts, making it an ideal choice for a receptionist, executive or executive assistant. With a two-megapixel CMOS camera, the phone can send 1080p video at 30 frames per second with excellent sound quality.
Multiple connectivity options are available, including Gigabit Ethernet, integrated dual-band Wi-Fi 6 capability and Bluetooth 5.0 for syncing with mobile devices and connecting Bluetooth headsets.
Additional peripherals can be connected via an HDMI out port, a USB port and an RJ-9 port, with Electronic Hook Switch (EHS) capabilities for compatible headsets.
Telephony features of the GXV3470
As a telephone, the GXV3470 is very versatile. It's compatible with any SIP-based IP PBX and provides standard telephony features, including hold, transfer, forward, call park, call pickup, call waiting, bridge line appearance, and shared call appearance. It also has programmable keys and XML and LDAP-compatible contact lists with up to 1,000 entries.
The device keeps call logs of up to 1,000 records, performs local and server-based call recordings, and can be customized using XML. The videophone can natively host a 10-way audio conference and a three-way videoconference at 720p and 30 frames per second.
Key features of the

GXV3470 IP video phone
The following lists all the key features that make the GXV3470 an ideal choice for enterprise employees and users:
7" vertical 5-point LCD touch screen

1280×800 screen resolution

Android 11 operating system

16 lines with up to 16 SIP accounts

Built-in 2-megapixel CMOS camera with privacy shutter

Bluetooth 5.0 support

Dual-switched Gigabit Ethernet ports with PoE/PoE+ support

Dual-band Wi-Fi 6

HDMI out port for an external monitor

Dual microphones

USB port for additional peripherals

RJ-9 port for EHS-compatible headsets

Full-duplex HD speakerphone with echo cancellation

Quad-core 2.0 GHz ARM Cortex A55 processor

2GB RAM

16 GB eMMC flash storage
Conclusion
With its sleek design, powerful capabilities and rich feature set, the GXV3470 is an ideal choice for executives and their assistants, who typically require a versatile and often highly configurable and customizable device to meet their needs.
---
You may also like:
Grandstream's ultramodern GXV3300 smart IP video phones
Grandstream's new carrier-grade IP phones: GRP2612G and GRP2650
Grandstream's GRP IP phones are now certified for Zoom Phone