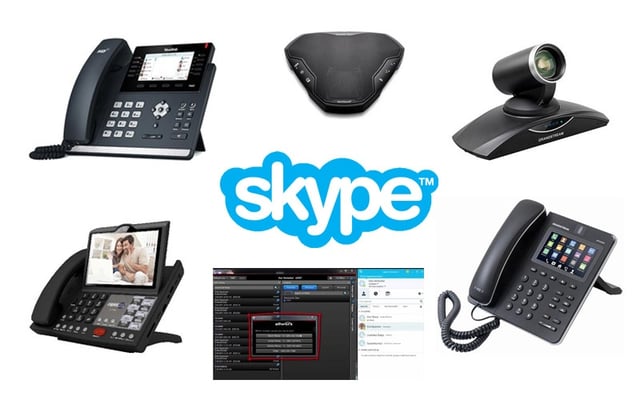 In today's connected world, it is increasingly common to have workers in different parts of the country, or even different parts of the world, collaborating over the multiple communications channels available to them. Many remote workers use OTT services like Skype to keep in touch with their clients, partners and customers in situations where a telephone call (even over VoIP) would incur a non-trivial cost.
Such calls usually require the use of a computer with a webcam and either a headset or speakers and a microphone. This makes Skype calling more complex than a simple telephone call. Skype-enabled telephony devices remove this complexity by integrating the application with the endpoint, so communicating over Skype becomes as simple as a traditional telephone call. By enabling Skype, these devices also make more features available to the user like instant messaging, presence technology, and file sharing.
In this article we list some productivity-boosting Skype- and Skype for Business-enabled products.


Yealink's T4 SFB series Skype for Business IP Phones
Ranging from the T42G SFB with a black and white screen all the way to the T48G SFB with an impressive 800X480 pixel backlit touchscreen, Yealink's T4 SFB Skype for Business endpoints allow you to pin your favorite contacts directly to the home screen, visually arrange them as you like, and dial them easily with just a tap. It also allows you to synchronize Outlook Calendar meeting schedules in real-time and you can even join a teleconference meeting simply by clicking it in your calendar. Note: The T4 SFB models function only with the Skype service and cannot be used as IP phones on an IP PBX system. Other models in this series are feature-rich IP endpoints, so choose the model that is right for you.
Download a table comparing the specs of all 10 T4 IP phone models on one handy sheet


Grandstream Video Conferencing System and Conference Phone
Grandstream's GVC3202 SIP/Android HD videoconferencing system and GAC2500 Android Enterprise Conference phone take Skype to a whole new level with professional audio quality and, in the case of the GVC3203, HD video. Based on Android OS, Skype can easily be integrated by downloading the Android Skype app from Google Play just like you would on a smartphone.


Grandstream Android Video Phone
The Grandstream GXV3240 IP multimedia phone for Android combines a 6-line IP video phone with the power of a multi-platform video conferencing solution and the convenience of an Android smartphone to offer an all-in-one voice, video, data and mobility solution, right on your desktop. With Android OS, Skype can be integrated seamlessly into this device by downloading it from the Play Store.


Konftel Conference Phones
The Konftel 55 series, the 300IPx and the Ego are three unique conferencing stations that each support integration with Skype for Business. With connectable expansion microphones, external loudspeakers and wireless headsets, these outstandingly versatile conference stations are ideal for rooms of all sizes, from home offices up to large auditoriums.


Allworx InteractSync
InteractSync is an optional software add-on for the Allworx VoIP communications system, permitting integration with Skype for Business. Users can sync their presence and status between Skype for Business and Allworx, make one-click calls from Skype and Outlook, and make calls directly from websites accessed via Chrome and Firefox browsers.


Fans-Tel Video Phones
The Fans-Tel W712C and VT50 analog video phones provide the best of both worlds. Either one connects to any traditional analog PSTN line, allowing you to use line 1 just like any other simple analog phone. Line 2, however, is a Wi-Fi-enabled Skype line (no Ethernet cable needed) where using your Skype credentials, you can have all the advantages of Skype features using the same endpoint.


CONCLUSION
Enabling Skype features on a traditional telephone, conference phone or video conferencing system boosts productivity and expands versatility, all while reducing complexity and containing costs.


---
You may also like:
How Android converts IP phones to productivity centers
How WebRTC can benefit your business
Are you still only using your IP PBX for voice communications?