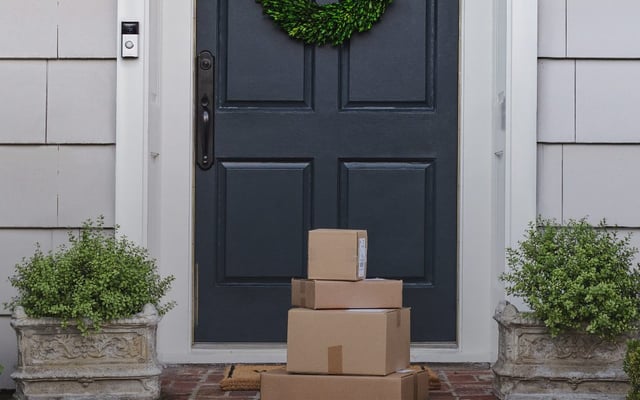 If it has happened to you, then you know what it feels like. You've put in an online order for an item, but it doesn't arrive on the scheduled date. You look up the tracking number and you are informed that the package has been successfully delivered. The porch pirates have been at it again.
More purchases are now done online than in brick and mortar stores, and more than a billion packages were delivered to Americans over the past Christmas season alone. With the rise in packages being left on people's doorsteps has come a rise in package theft. The thieves are known as porch pirates and they work either by following delivery trucks around or hanging out in neighborhoods waiting for the packages to arrive.
Home security and surveillance systems can help convict such thieves, and even deter instances of theft from occurring in the first place.
In the past, home surveillance systems were typically bulky, difficult to configure and often involved a lot of wiring and special proprietary equipment that could cost a lot of money. A new line of products has been developed over the past couple of years that is quickly filling the gap in this market, providing low-cost surveillance and automation functionality using extant and almost ubiquitous infrastructure and equipment. Put simply, they use your home Wi-Fi network and your smartphone, so no proprietary equipment or cabling is required.
In this article we explore video surveillance systems by Ring and Nest Labs.


Surveillance
Ring started off with the creation of the Ring Video Doorbell (originally known as Doorbot) from a crowdfunding campaign in 2012. It is essentially a Wi-Fi enabled camera embedded within a doorbell that, depending on the model purchased, can be connected to an existing hardwired doorbell or installed independently. In both cases, when someone rings the doorbell, your smartphone notifies you and initiates a video VoIP call so you can see and talk with whoever is at the door. Employing the optional integration with a smart lock system, you'll be able to remotely unlock your door for your visitor if you choose to, even if you're not at home. Additional notification options are available, as well as video recording plans, whereby video can be recorded and stored on the cloud for up to two months without any additional hardware, so at a later date you can review any events that you missed.
Ring's products tie in to a single app on your smartphone, allowing you to manage the whole system remotely and to be informed of any notable events.
Nest Labs, on the other hand, began in 2010 by offering a self-learning thermostat. Two years later, Nest was acquired by Google and has quickly expanded its innovation to other areas including surveillance. Using the same logic as Ring by combining your existing Wi-Fi network and your smartphone, Nest Cams can alert you of motion, stream video directly to your phone and even let you converse with anyone within earshot of the camera itself. Unlike Ring, some Nest Cam models provide additional intelligence and can distinguish between the motion of your pet, a billowing curtain or an actual intruder, notifying you only of the latter and automatically zooming in on the imposter for a closer look.


Additional Automation
Ring provides some accessories for its devices such as an indoor chime with a Wi-Fi extender to make sure your Ring devices have a strong wireless signal as well as a solar panel option that will automatically and ecologically recharge your Ring camera.
Nest provides an even wider range of automation, including its flagship product, the Nest Learning Thermostat. Using intelligent software, sensors and the location of your phone, this thermostat learns your routines and can automatically adjust to your lifestyle. It also has the ability to control your hot water heater, provide you with remote control capabilities from your phone and estimate how much energy you've saved over the months and years.
Nest also provides other interesting devices such as smoke and carbon monoxide alarms, which of course are also wireless, powered by extra-long-life batteries (these can last for years) and integrated into the Nest app on your phone for monitoring and management.
Nest has partnered with other vendors such as Logitech, Amazon, Google Home and Somfy, to name a few, that provide complementary devices in categories such as lighting, appliances, entertainment and home automation. The company has also provided a "Works With Nest" certification complete with logo that other vendors can use to indicate compatibility.


CONCLUSION
Home automation and security have come a long way with innovative products that leverage the existing networks we have in our homes and the telecom devices we have in our pockets. Ring and Nest Labs systems can easily be installed by most smartphone and internet users without the need for specialized technical skills, and they have the convenience of long-life rechargeable batteries and wireless connectivity.
By encouraging your customers to install an automated video surveillance system, you can help them avoid being victimized by the porch pirates.


---

You may also like:
Are you still only using your IP PBX for voice communications?
The benefits of integrating the IoT with your VoIP phone system
Wi-Fi network security: do you have a blind spot?