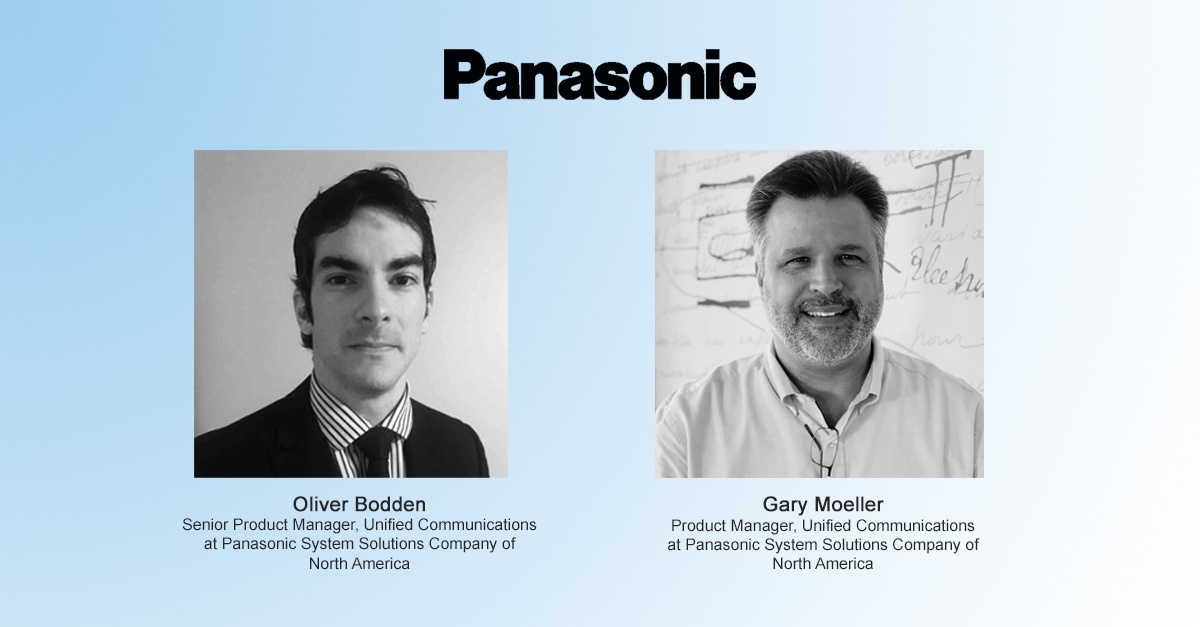 Panasonic recently launched UC Pro 2, the successor to UC Pro. UC Pro 2 is a robust unified communications solution designed to use Windows clients as the main interface, to provide a host of collaborative functions, including large-capacity call functions, unified messaging, presence, shared directories and more.
We had a chance to speak with Oliver Bodden, Senior Product Manager, Unified Communications, and Gary Moeller, Product Manager, Unified Communications, at Panasonic System Solutions Company of North America, about the UC Pro update and what it means for customers.

TeleDynamics ("TD"): Mobility has become an essential requirement of the modern workforce, and many industries rely on their workers' ability to do their job from anywhere at any time. Can you share with us some of the main ways that UC Pro enables this?
Oliver Bodden ("OB"): When it comes to mobility, you need to consider security and flexibility. UC Pro provides customers with the benefit of using their preferred device, whether it's their laptop/desktop computer or their mobile device. In addition, all conversations, whether local or through the internet, are encrypted, ensuring that all conversations are secure.


TD: There are so many ways for business associates to interact, but a lot of time can be wasted switching back and forth between different applications and platforms. Because of this, the integration and unification of collaboration platforms is a growing trend. How does UC Pro contribute to this?
OB: One of the key features of UC Pro is centralizing communication into a single application. Users can take control of their desk phone, call from the built-in softphone or smartphone, or call other UC Pro users using the same interface. In addition, UC Pro provides enhanced integration with calendar services, such as Microsoft Exchange or Active Directory, reducing the amount of work needed from an IT perspective and improving overall business efficiency.


TD: What problems does UC Pro solve for companies?
Gary Moeller ("GM"): UC Pro keeps a company's employees easily connected. UC Pro users can see everyone's presence status on the device they're using, even if other employees on the company's KX-NS/NSX are not UC Pro users. Employees can connect as they want with text or voice chat, audio or video calls, voice conferencing, and easy access to voicemail. All these types of connectivity maintain a high degree of productivity among the employees.


TD: What enhancements does UC Pro 2 add to the previous version?
OB: One of the key features provided by UC Pro is a built-in client that can be used to generate calls without the need for having or controlling an external device. UC Pro 2 builds on this with a built-in web contact portal that can be integrated with the business' website, so any customer accessing the website portal can interact directly with an employee running UC Pro.


TD: How does UC Pro reduce costs for an enterprise?
GM: UC Pro keeps employees connected, saves time with quick contact, increases productivity and leverages the IP equipment a company is already using.


TD: What are some ways that UC Pro 2 enhances productivity?
OB: Tight integration with calendar services allows employees to share their presence with other employees or even with outside companies using federation, which increases productivity. Say an employee tends to call a co-worker regularly and they never forward to voicemail. With UC Pro, you can link your presence to a specific action like forwarding to voicemail. Or, the co-worker can see the employee's presence as busy (since it's integrated with calendar services) and decide to send an IM. All information that's shared between users can be controlled, to avoid sharing information with unauthorized users.


TD: What kind of companies benefit most from UC Pro 2?
GM: Any company that wants to keep its employees connected and maximize the use of their KX-NS/NSX family of servers. Licenses are sold in as few as a 5-pack, so it can be for any size of company, too.


TD: Is the UC Pro 2 scalable beyond 1,000 users?
GM: Yes. UC Pro itself has a capacity of up to 2,500 users, which can be expanded based on project needs.


TD: What equipment is needed to deploy UC Pro 2?
GM: Besides a KX-NS/NSX family of servers, UC Pro is itself run on a separate server and communicates with a STUN/TURN server, as well as a company's Active Directory and MS Exchange servers. A Windows desktop PC is also needed to run the client and, optionally, an Android or iOS cell phone for the mobile client.


TD: How easy is UC Pro 2 to install and maintain?
GM: In order for a Panasonic Reseller to offer UC Pro to customers, a certification class must be successfully completed. That class provides a Reseller with the information they'll need to install and maintain UC Pro.


Browse TeleDynamics' range of Panasonic Unified Communications and Business Telephone products on our website.
---
You may also like:
Introducing the Panasonic Mobile Softphone
Are you ready for a mobile workforce?
Worker overwhelm and the demand for UC