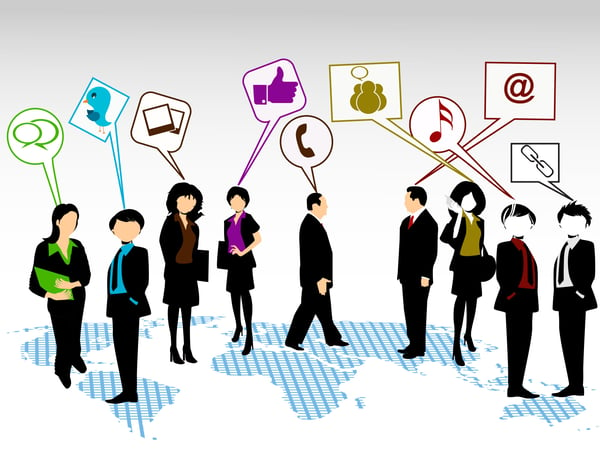 We speak a lot about unified communications and how network convergence allows it. Getting your customers migrated to VoIP is the first step to introducing them to unified communications (UC). Once that is established, they will be much more likely to embrace UC if you can show them the business problems it can help solve.
In this article, we look at some of the key drivers of demand for UC, which you can keep in mind when selling systems upgrades to your customers.
Communications app overload
A recent study conducted by CITE Research on behalf of RingCentral called From Workplace Chaos to Zen found that managing multiple communications applications at work often causes frustration or overwhelm, in addition to productivity loss. Of the 2,000 knowledge workers surveyed, 68% reported toggling between communications apps up to 10 times per hour, and 69% said they wasted up to 60 minutes per day switching between apps – that adds up to about 30 work days per year!
Unified communications
Going back and forth between different applications that are supposed to be enhancing productivity can actually be disruptive for workers and interrupt their train of thought.
Most of the workers surveyed (66%) said they believed having all of their communications centralized on a single platform would help improve their workflow, and almost as many also thought it would make them more productive (65%) and would cut out some of the chaos in their work (62%).
As a reminder, unified communications (UC) refers to the seamless integration of different business communications and collaboration tools to facilitate workforce productivity and performance.
Managing multiple apps
The good news is, with the sophistication of today's IP PBXs and SIP endpoints, if your customer already is using a VoIP telephone system, a lot of the communications tools integrations are already included as features with your IP PBX or IP endpoints.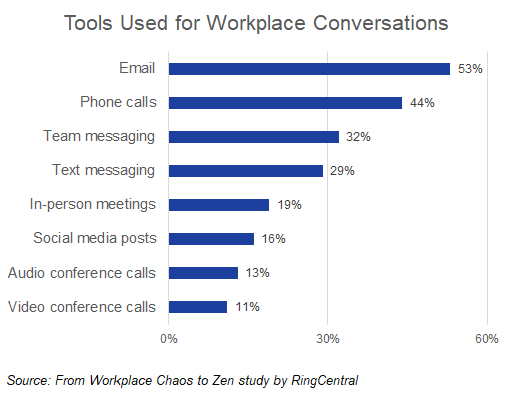 Voicemail to email is a handy feature that allows workers to get their voicemails from their email inbox, so they don't have to dial into voicemail to retrieve their messages. For more information about how this works see our article about voicemail to email.
Almost all IP PBXs allow audio conferencing as a standard feature, and with video phone endpoints, workers can also hold videoconferences from the same device, right from their desk.
To take integrations even further, you can get endpoints with Android OS so that all of the business productivity apps available on Google Play Store can be loaded onto a desk phone and used on a single platform. This includes anything from social media and instant messaging to Skype, calendars, project management apps and more. See our article on Android endpoints for more information about how this OS works on IP phones.
Finally, Bluetooth integrations are getting more sophisticated on IP endpoints, allowing you not only to connect headsets but also integrate your smartphone and tablet so you can use your phone book and other tools directly from your desk phone. For more details about this, check out our article about IP phones with integrated Bluetooth.


Platform integrations
Of course, since with VoIP the telephony and data networks are converged, you can also integrate other platforms to your telephony system like your CRM (customer relationship management), ERP (enterprise resource planning), ATS (applicant tracking system), BMS (building management system) and more. In fact, studies indicate that only a small number of end users perform these integrations in-house – the vast majority outsource this task, which represents a major opportunity for telephone dealers and installers. For more information, refer to our article about phone system integrations.
CONCLUSION
Even if your customer has a VoIP system, they may not be fully leveraging its capabilities and benefitting from the improvements in performance and productivity this technology allows. By understanding the most common challenges facing workers who deal with information overload, you can help them implement efficiency-boosting integrations on their system that could be as simple as activating features they already have or adding on a few new endpoints.


---
You may also like:
Are you still only using your IP PBX for voice communications?
Cloud and UC: Is your telephone system on board?
What network convergence can do for your company