Product Review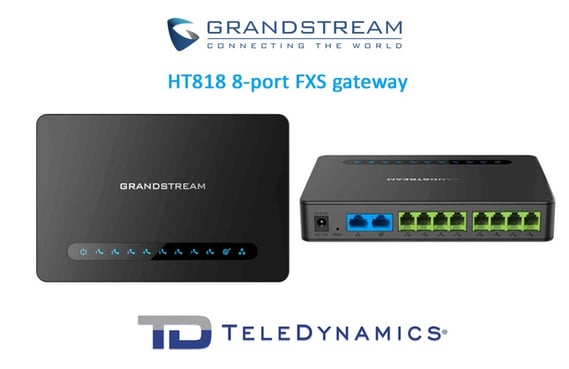 On an enterprise's journey from an analog telephony system to an all-VoIP infrastructure, there are situations in which a network must continue to support analog devices. This may be due to a transition period where existing analog endpoints have not been phased out, or it could be to accommodate analog-only devices such as fax machines, wireless DECT phones, analog PA systems, or even alarm and security systems.
Whatever the reason, a media gateway is used to connect the analog endpoints to the VoIP system. This is where Grandstream's HT818 8-port FXS Gateway comes in. The latest in the family of HT VoIP gateways, the HT818 fulfills a need in the market for a higher density FXS gateway that will accommodate a larger number of analog devices and services.
Essentially an expansion of the already successful HT814 gateway, it doubles the number of FXS ports while maintaining the rich and impressive feature set you've come to know from Grandstream's analog gateways.

Specifications at a glance
8 FXS ports for analog devices

2 Gigabit Ethernet Ports

Up to two SIP profiles for registration to a SIP server

Support of industry-standard and high-quality voice codecs

T.38 fax support

Strong encryption protocols for secure voice communication

Integrated network address translation (NAT) functionality

HT818 feature highlights
The main motivation for acquiring an HT818 is the number of FXS ports it provides. Port density is always an advantageous feature, especially because it reduces the cost on a per-port basis. That said, the features that are retained from the HT8414 model are equally enticing. Simple provisioning options using TR069, 3-way voice conferencing available on each port, and the availability of a wide-band HD codec are all key selling points for the HT818 and for the other models in the HT series that support them.
FXS vs. FXO gateways
As a reminder, a voice or media gateway is a device that translates voice from one technology to another. When one of these technologies is traditional analog telephony, the port on which that analog telephony is supported is called either an FXS or FXO port.
FXS stands for Foreign Exchange Subscriber or Foreign Exchange Station. Essentially what this means is that this port is used to connect an analog endpoint like a fax machine or an analog phone. If a gateway device has an FXS port, it means it is capable of allowing an analog device to connect to a VoIP network.
FXO, on the other hand, stands for Foreign Exchange Office. Such an interface connects to an analog telephony infrastructure such as a traditional PBX or the PSTN. If a gateway device has an FXO port, it means it is capable of connecting a VoIP device or network to a legacy internal telephony system or directly to the analog PSTN.
Hence, the HT818 FXS gateway provides analog endpoints with the ability to connect to and communicate on a VoIP infrastructure.
CONCLUSION
Grandstream's HT818 is a powerful VoIP gateway with 8 FXS ports and an integrated Gigabit NAT router, built for accommodating analog devices and services with high voice quality, strong encryption and robust enterprise network performance.