Product Review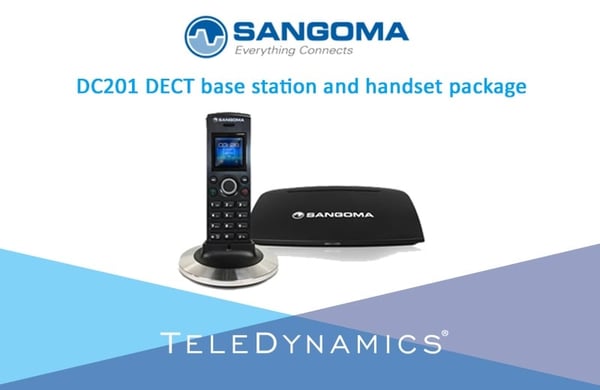 Sangoma offers an ideal solution for the mobile employee in its new DC201 DECT Base + Handset system. This is a package that includes a DB20 DECT base station with a single D10 handset. The DC201 is an ideal starting point for establishing an internal wireless telephony system which you can later expand by adding additional handsets, as well as additional base stations to expand the coverage area.


Product description and operation
The DC201 integrates the best of Voice over IP (VoIP) with Digital Enhanced Cordless Telecommunications (DECT). DECT is used as the wireless telephony protocol between the handsets and the base station, while VoIP is employed to provide base station connectivity to the IP PBX.


VoIP
As with most VoIP devices, the DB20 base station operates in conjunction with an IP PBX. Using the Session Initiation Protocol (SIP), it registers on the local IP PBX, also known as a SIP server, to obtain access to the local internal telephony network, the PSTN and any other telephony networks the IP PBX is connected to.
Because the DB20 base station is an Ethernet device that plugs in to the corporate network, it can be located anywhere there is a network jack. Even if the necessary infrastructure is not there, simply running a UTP cable to the appropriate location will suffice.
As seen in the diagram below, the DB20 base station couples the wireless telephony DECT domain with the VoIP-enabled corporate network.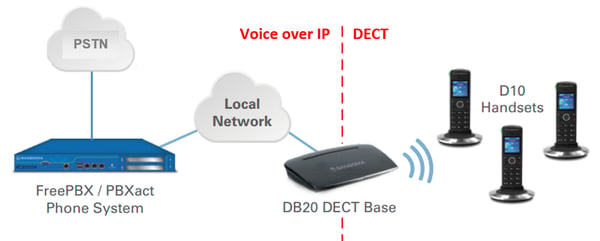 DECT
DECT is a wireless technology designed to function with the appropriate signal power, authentication, encryption, and connectivity settings optimally preconfigured. Unlike a VoIP over Wi-Fi (VoWi-Fi) solution, this wireless voice network is not shared with other traffic, nor does it use frequency bands allocated for other services. This makes the DB20 base station and compatible handsets not only secure, but ready to use with near-zero configuration. Any handset-to-base-station connectivity configuration that may be needed is minimal, intuitive and non-technical, so almost anyone can do it.


IP PBX interoperability
Arguably one of the most attractive features of the DC201 package is that like most Sangoma endpoints, it is designed for use with both Sangoma's PBXact series as well as the widely deployed FreePBX.
Sangoma's PBXact series of PBXs provide survivability, redundancy, security, and ease of use and deployment. The integration of the DC201 device package with these IP PBXs is so deep that automatic and seamless provisioning can occur with both of them. These devices support EndPoint Manager software for both FreeBPX and PBXact. This feature allows easy deployment and mass provisioning of multiple devices, making implementation as well as administration of these telephony systems much easier on both the end users as well as on the IT department.


Key features
Both the handset and the base station are equipped with state-of-the-art features and functionality. D10 handsets offer support for most audio codecs, including G.726, G729 and G.722 wideband audio. Telephony features such as paging, intercom, auto answer and many more, as well as an attractive color TFT display, all add to the handset's allure. Additional features include:
2 simultaneous calls per handset

Up to 75 hours standby and up to 8 hours of talk time

Indoor range of up to 165 feet (50 meters)

Wideband duplex speakerphone

Headset connector

Polyphonic ringtones

Local and remote phonebook support

3 feet (1 meter) drop protection
The DB20 base station supports a multitude of network protocols that provide flexibility and security to the network portion of the system. Additional features of the base station include:
Supports up to 20 handsets per base station

Supports up to 5 simultaneous calls per base station

10/100 Ethernet connectivity

Static or dynamic IP allocation

SIPv1 and SIPv2 supported

1Q, 802.1x and STUN are among the network protocols supported

European and North American frequency bands supported

CONCLUSION
With its intuitive provisioning, ease of use, interoperability with both PBXAct and FreePBX systems, not to mention its affordability, the DC201 DECT Base + Handset package is a great way to start a new wireless telephony network within your business. It is also an ideal way to expand an already existing wireless network by placing additional base stations in appropriate locations and handsets in the hands of your workforce.
---
You may also like:
Grandstream's DP760 long-range DECT repeater
DuraFon PRO rugged enough for horseplay
Cordless SIP phones in the workplace: DECT vs. VoWi-Fi