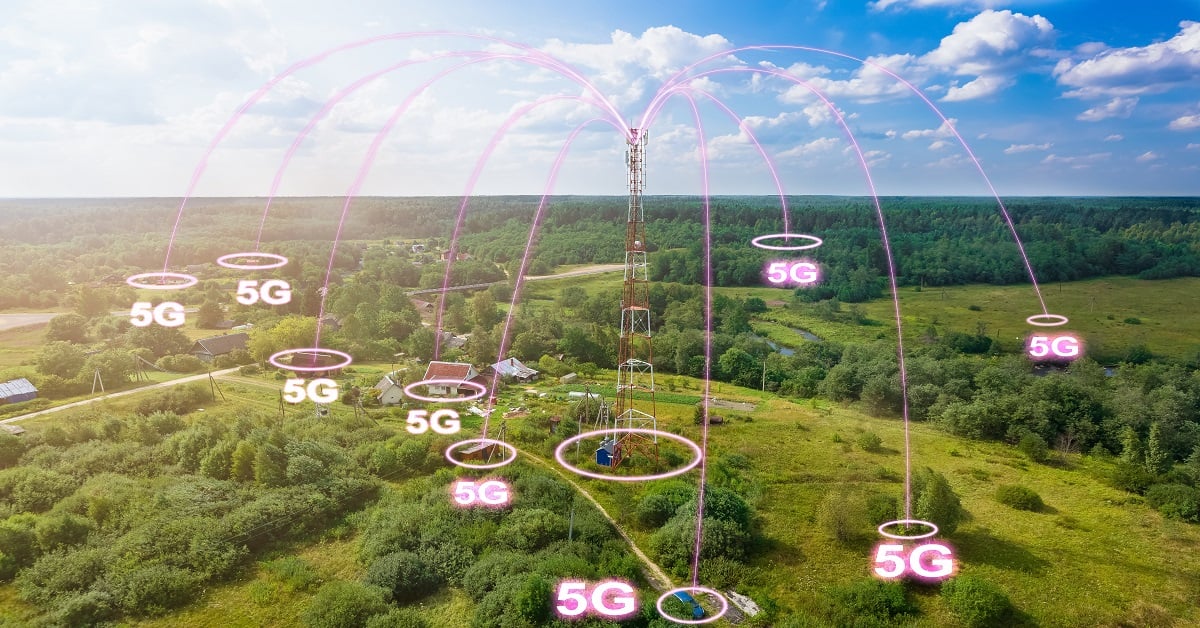 5G has been a hot topic in the telecommunications industry over the past few years. Since early 2020, we've been hearing more and more about 5G services being rolled out. Every day, a greater number of telcos around the world are marketing and deploying them.
This, then, begs the question: what is the real status of 5G deployment today? Can I truly enjoy all that 5G promises simply because I have a 5G icon in the status bar of my smartphone? We examine these questions and more in this article to get a feel for what's available now and what you can expect in the future.
The 5G migration path
The marketing departments of mobile network operators (MNOs) today would have you believe that 5G has been fully deployed and that all of the groundbreaking capabilities that it promises are right at your fingertips. This, however, is not the case.
As we mentioned in our article describing what 5G is, a mobile communications network has two major components: the core network and the radio access network (RAN). The diagram below shows how these components fit into the mobile communications infrastructure as a whole.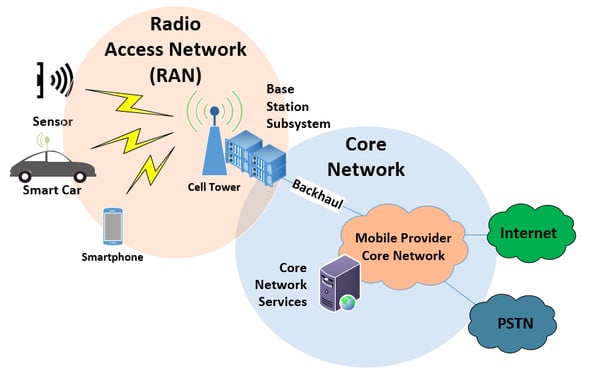 5G's development relies heavily on the advancements and innovations achieved in previous generations of mobile communications networks in general and those of 4G/LTE in particular. As such, it has been specifically designed with a migration path that takes advantage of existing 4G infrastructure, specifically the 4G core network. This core network is called the Evolved Packet Core (EPC); it is compatible with 5G and makes it possible to deploy a 5G RAN that is served by an EPC core network.
For telcos, this is extremely attractive. They've invested a great deal of time and money into their 4G infrastructure, and they don't want to rip it all out and replace it with a 5G core, at least not immediately. Instead, they can keep their EPC core network for a while longer and simply replace the RAN with 5G technology.
5G methods of deployment
Using a 5G RAN with a 4G core network is called a 5G non-standalone (5G NSA) deployment. Virtually all telcos worldwide have opted for this migration path, and for good reason. Some of the most important advantages of an NSA deployment include:
Cost – It is much cheaper for a telco to replace its cellular base stations and maintain the core network rather than replace everything in one go.
Speed of deployment – Telcos can quickly light up the 5G signal, making that all-important 5G icon appear in the status bar of users' phones.
Marketing – Telcos can truthfully say that they have deployed 5G, even if the core is still operating using 4G technology.
But you cannot get something for nothing, and there are some disadvantages to such a deployment. Specifically, with NSA, many of 5G's defined thresholds are unattainable, making some promised applications unachievable. Indeed, many NSA deployments are comparable in performance to some of the most advanced 4G/LTE networks, so smartphone users in most cases will see little improvement in the network beyond an increase in bandwidth.
Alternatively, telcos can opt for directly installing a 5G standalone (5G SA) deployment, where both the core and the RAN are based purely on 5G technologies. Although much more expensive and time-consuming to deploy, such an arrangement will generate the expected 5G performance.
What a deployed 5G network actually is
A telco can deploy 5G NSA and still advertise their brand-new 5G network. That may be all right for 5G handset users, but this won't cut it for many of the more innovative and groundbreaking applications that are expected over the next few years, especially those within the ultra-reliable low-latency communications (URLLC) and the massive machine-type communications (mMTC) areas of application defined by the ITU.
Most telcos worldwide, for reasons previously cited, have chosen to begin with a 5G NSA deployment, with a plan to gradually migrate to 5G SA in the coming years. At the time of writing, there is only one telco that claims to have a fully 5G SA network in the U.S., but even that network's capabilities are hindered by its choice of using extremely low-frequency ranges. This, of course, allows for greater coverage with fewer base stations, thus saving on costs, but it limits the network's capabilities and speeds.
What this means for you and your business
Beyond achieving somewhat higher bandwidths with a 5G handset, nothing much has changed for your average cellular subscriber. If you're leveraging any 5G networks to deliver cloud-based or on-premises VoIP services, you shouldn't see any changes in performance, other than possibly a better handling of wideband codecs.
Conclusion
Even though 5G is being rolled out today at a quick pace, the migration paths chosen by the majority of telcos make some of its most pioneering features and capabilities a thing of the future. Therefore, what we hear from marketing departments should be taken with a grain of salt.
That said, the innovation disseminated by full-fledged 5G SA networks when they are finally deployed will be anything but mediocre. We'll just have to wait a little longer to see it for ourselves.


---
You may also like:
How 5G will change the way we communicate
5G and its applications for UC