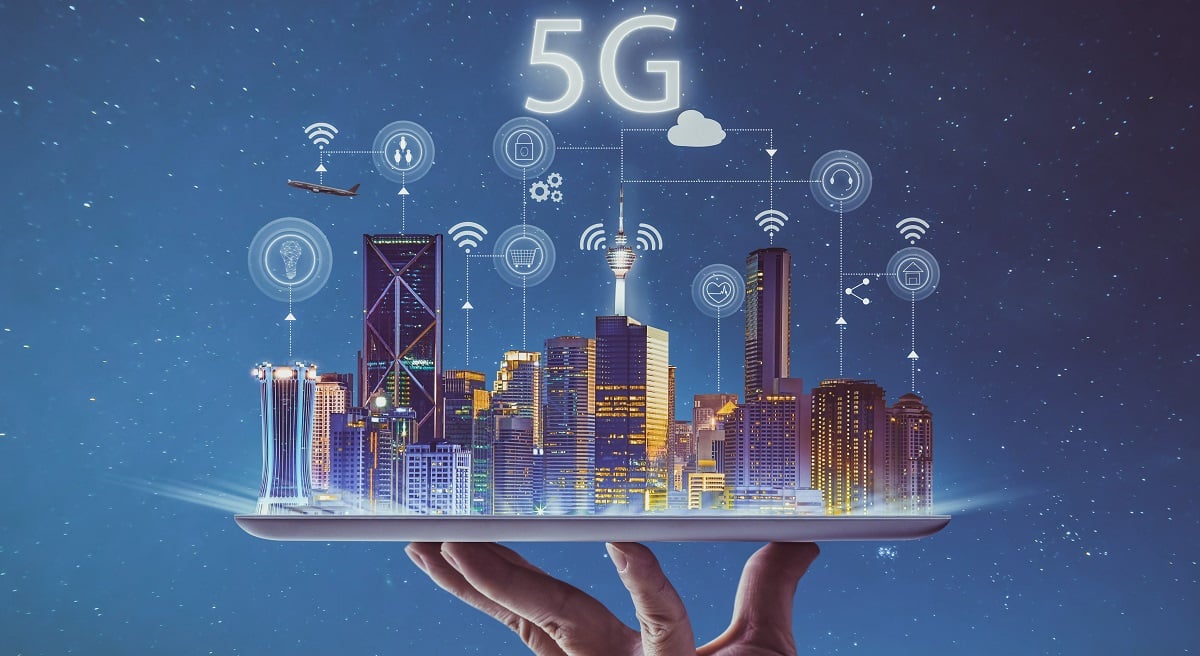 When they are fully deployed, fifth-generation mobile communications networks are expected to deliver unprecedented speeds and network performance. However, 5G is not all about delivering high bitrates to smartphones. In actuality, other areas of application will benefit most from the proliferation of this innovative technology.
In this article, we take a deeper look at some of these applications and how they are poised to change the way we work, play, and communicate.
What 5G is not…
Unlike previous generational iterations of mobile communications networks, 5G is not all about transmitting voice and data to smartphones. By the mid to late 2020s, 5G smartphones are expected to compose an exceedingly small, and arguably insignificant, part of the 5G ecosystem. 5G will primarily be used to interconnect tens of billions (or more!) of devices through an increasingly ubiquitous network presence to deliver innovative applications and services across all business sectors.
With its unprecedented network performance thresholds, 5G will enable many applications that only several years ago would have been considered science fiction.
Applications enablement
Delivering network connectivity at the performance level expected from 5G will enable a multitude of applications. This includes things like smart cities, smart agriculture, smart supply chains, smart transportation systems, automated and assisted driving, medical and healthcare applications, arts and entertainment applications, and the internet of things (IoT), to name a few. But this is barely scratching the surface. Sensors and data collection can be combined with artificial intelligence, business analytics, and statistical engineering platforms to supply predictive analytics for all kinds of applications, including financial and natural disaster plans.
Defined areas of application
Previous mobile communications networks employed a one-size-fits-all philosophy, where the network capabilities were predefined, and any applications wanting to leverage the network would have to conform.
5G has turned this philosophy upside down: the network itself conforms to the requirements of the application in question.
The International Telecommunications Union (ITU), which has defined the thresholds that 5G technology must achieve in order to be called "5G," has also defined three particular areas of application. Each area has specific network requirements that 5G networks must fulfill. These areas are further described below.
Enhanced mobile broadband (eMBB) – This area of application primarily focuses on delivering high speeds to mobile devices. eMBB will have faster connections, higher throughput, and a higher connected device capacity. Applications falling within the eMBB category include traditional internet connectivity to smartphones, tablets, laptops, and PCs, fixed wireless connectivity, and more innovative applications, such as telepresence, telemedicine, virtual and augmented reality, and entertainment applications.
Ultra-reliable low-latency communications (URLLC) – This area of application uses the 5G network for mission-critical applications requiring high reliability, robust data exchange, and low latency. Applications within this area include vehicular autonomy, spanning both road and drone traffic, some types of manufacturing and industrial automation, warehouse and harbor automation, military applications, and emergency services support.
Massive machine-type communications (mMTC) – This area of application takes advantage of 5G's immense connected device capacities, which reach 2.5 million connected devices per square mile. mMTC applications don't require the high bitrates, high reliability, and low latencies supplied by eMBB and URLLC, but they do need the high device density and long distance between the connected device and the base station. Typical applications for mMTC include the internet of things, smart cities, smart buildings, smart agriculture, smart grids, and industrial monitoring.
One network for all applications
5G can be all things for all applications. It can deliver high speeds, low latency, high device densities, long-distance connectivity, and high reliability, depending upon the requirements of the application. In fact, the 5G network's capabilities can be customized for the particular need of the application.
This customization is known as network slicing, where 5G networks can be sliced into virtual network segments, each of which can be configured to conform to the needs of the particular application. This is achieved using network function virtualization (NFV) and software defined networking (SDN). These concepts together can be thought of as virtualization for networks, in much the same way that virtualization of systems (the creation of VMs in the cloud) is applied to servers.
Applications for your business
This is all well and good, but what does 5G have to offer your business practically?
5G is poised to become universal. It can be used as a WAN connection for fixed-wireless connectivity to the internet, to deploy facility management devices throughout your premises, and to deliver connectivity to end devices for use with either cloud-based VoIP services or on-premises devices.
The groundbreaking reality is that regardless of where your company assets are – whether situated in a single location or throughout the country– the ubiquitous nature of 5G allows you to achieve connectivity for all of your devices and applications, allowing them to function at their full capacity regardless of their requirements.
Conclusion
These areas of application have been well defined, but the truth is that they have not yet been extensively deployed. At the time of writing, you would be hard pressed to find any URLLC- or mMTC-capable 5G networks anywhere in the world. So far, only eMBB has been deployed to any extent. However, deployment rates are expected to increase over the next few years, and we will soon see these applications flourishing and positively affecting your business.


---

You may also like:
5G and its applications for UC
Know your stuff: Wi-Fi fundamentals
How (and why) to integrate your VoIP system with web and mobile apps