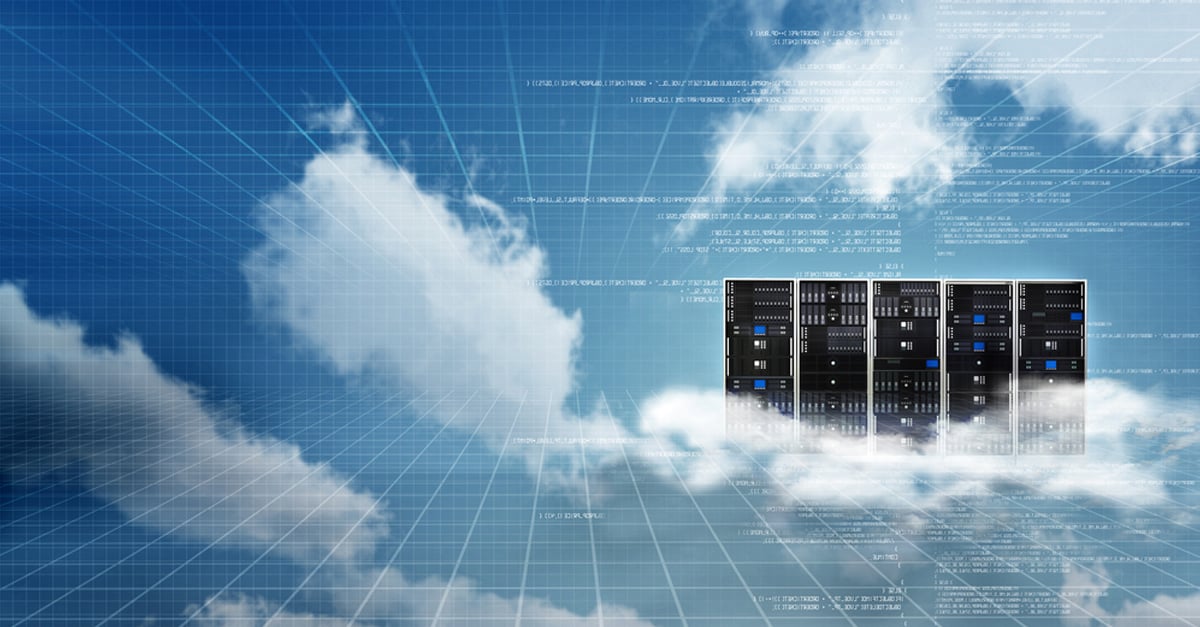 In today's virtual world, telecom and network services have come a long way, from being offered using locally installed, standalone monolithic servers to ethereal entities residing in the cloud. This evolution has touched every part of network service provisioning, and one of the most fascinating facets of this trend is that the network infrastructure itself can be virtualized.
Network function virtualization (NFV) is a network architecture philosophy that virtualizes the network infrastructure. In this article, we take a look at what NFV is, how it works, how it fits in with other virtualization technologies, and how it can be of benefit for enterprise networks.


What is NFV?
NFV is a network architecture concept that seeks to virtualize a part of the network infrastructure. As its name suggests, NFV does not simply create virtual network devices such as routers or switches, but it virtualizes network functions. Examples include network traffic load balancing, implementation of security policies, intrusion detection services, and WAN acceleration.
Unlike systems virtualization, NFV does not seek to replace all of the physical network infrastructure with a virtual version. A network will always have a physical component because PCs, IP phones, tablets, mobile phones, and IP cameras are all physical devices that need either a cable or a wireless link to connect them to the network. The network requires a physical switch or a wireless access point to uplink these connections to the rest of the network.
For enterprise networks, the portion of the network that NFV seeks to virtualize is centered on the datacenter, the location where the network services reside and are being provisioned, as well as on the network edge. For service providers, NFV plays a significant role in their core network.


Advantages of NFV for VoIP
Since NFV is a relatively new addition to the virtualization arsenal, it has yet to mature enough to be a common component of an enterprise network. Nevertheless, in both an enterprise network environment as well as a telco provider's network, NFV can play a vital role for VoIP services.
NFV has the potential to improve reliability, availability, and lower costs for telco-provided VoIP services. The use of NFV within a cloud-based VoIP implementation can host VoIP application components in a way that allows them to be scaled as needed for performance and availability. NFV can also allow you to perform certain functions (such as voice gateway, IVR capabilities, and call routing) in different parts of the network (e.g., on a server on the premises, on a network access device, or on an edge router), thus further distributing VoIP operations throughout multiple physical or virtual devices.
Finally, using NFV, it becomes possible to build a voice service that includes both hosted features and network connectivity and to manage these services as a unit. This could encourage providers to bundle voice services with things like cloud computing and VPNs, and also lets voice providers include things like hosted SBCs (session border controllers), security appliances, and others.


NFV Framework
NFV functions within a well-developed and specifically defined framework. This framework comprises a standard developed by the European Telecommunications Standards Institute (ETSI) and is composed of three components, as shown in the diagram below.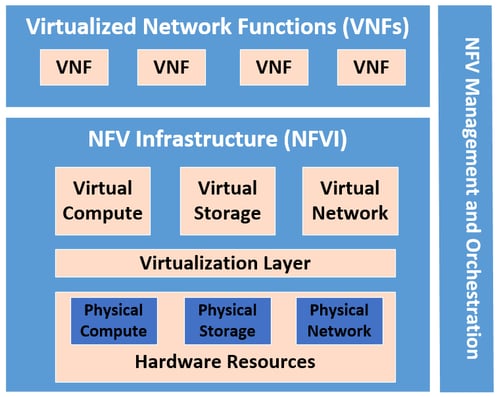 Virtualized Network Functions (VNFs) – These are the functions of the network that are being virtualized. They include functions that are traditionally performed by physical devices, such as the implementation of security policies, web and security operations, network load balancing, WAN acceleration, and routing and switching between virtual machines (VMs). This section of the framework contains the virtual entities that perform these functions.
NFV Infrastructure (NFVI) – This is the physical infrastructure that is used to create and maintain the VNFs. NFVIs within the NFV framework are the counterparts of the physical infrastructure of a systems virtualization environment. They are composed of real physical hardware resources like CPUs, memory, storage, and network capabilities, and are the physical platforms on which the virtual computing power, storage, and network required for the VNFs are provisioned.
NFV Management and Orchestration – This is the component of the framework that is used to create, launch, and maintain the VNFs, and provides coordination between the NVFI and the VNFs. This is the interface from which the administrator can manage the whole NFV environment.


How NFV fits into the overall network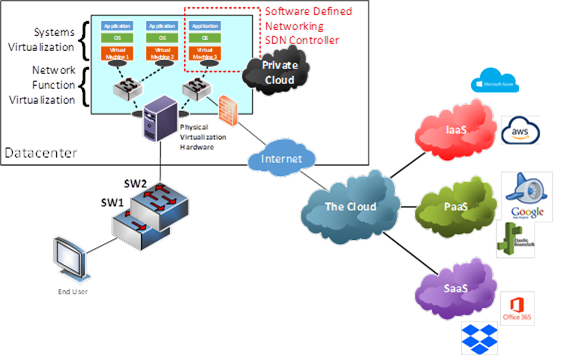 You can see in the above diagram that network function virtualization exists within the datacenter and includes interconnecting VMs, providing security features for connection to the internet, and providing other features to network services found within the datacenter.
Refer to our previous articles for more details about systems virtualization, software-defined networking (SDN), and the cloud.

Conclusion
NFV offers clear benefits for hosted VoIP services, including better reliability, availability, and cost efficiency, as well enhanced customizability.


---
You may also like:
How virtualization revolutionizes VoIP deployment