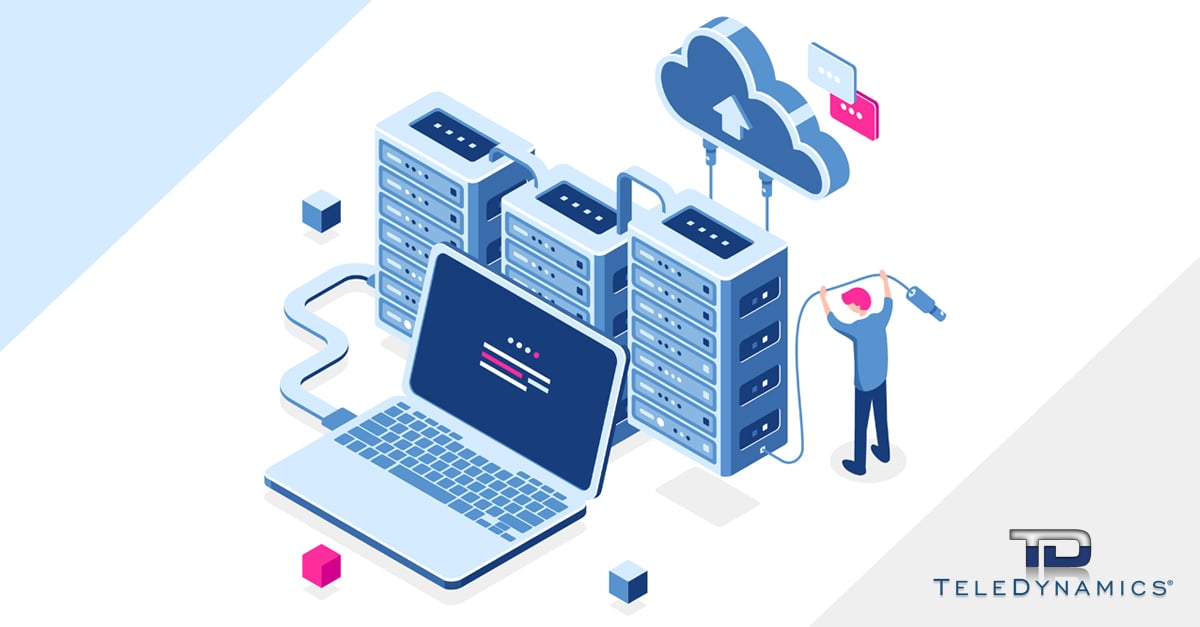 The cloud is used to offer services directly to the end user, as well as to provide a platform on which vendors can develop their online applications (including VoIP) for their customers. In a previous article, we covered SaaS, PaaS and IaaS as the three most prominent cloud-based models that are used to offer services to clients. In this article, we take a more in-depth look at the various cloud deployment models that are available (including private, public and hybrid) and how they are useful for businesses of different sizes. The article concludes with the factors to consider when choosing which deployment model to use when offering VoIP and other cloud services to your customers.


Cloud service model vs. cloud deployment model
The service models used for the cloud, as explained in our recent article, define the relationship between the cloud provider and the client. They also describe the kinds of services that can be offered for each model, as well as the kinds of end users that can use these services.
A cloud deployment model, on the other hand, deals more with the actual physical components of the cloud, where they are located, and the method by which users gain access to them. Additional aspects include security, accessibility, and service sharing.


Cloud deployment models
There are three fundamental cloud deployment models used in the industry: the private cloud, the public cloud, and the hybrid cloud. There are some additional types as well, which are used to fulfill specific needs. These deployment models are described in further detail below.
Private cloud
A private cloud is a cloud infrastructure that is operated solely for a single organization. Such a cloud can either be managed internally – that is, as part of the physical datacenter on the premises of the organization – or can be hosted off-site by a third party.
Most private clouds are provided by third parties on a subscription basis and are kept off-site. This has the benefit of not requiring any administration, maintenance, or upgrade costs for the customer. Because all services are delivered over the network, this requires that network connectivity to the cloud provider, either over the internet or over an independent WAN connection, be sufficient enough for these services to function correctly. In addition, the security and confidentiality of the private cloud is completely entrusted to the cloud provider, something that not all businesses, such as banks for example, may be comfortable with.
If the private cloud is built on-site, then the enterprise running it must invest in the physical hardware, as well as rack space, power requirements, and cooling systems needed to support such hardware. A self-run cloud of this sort may cancel out some of the economic benefits that make cloud computing such an attractive concept, unless of course the enterprise is large enough to make an investment like this worthwhile. Even though maintenance, administration, and the periodic upgrading of such infrastructure is quite costly, the enterprise has complete control over the security of the content and services provided.
An example of an off-site hosted private cloud would be where an enterprise subscribes to a private cloud provider, on which a virtual VoIP server is running. The enterprise's phones register with this cloud server to operate, as shown below.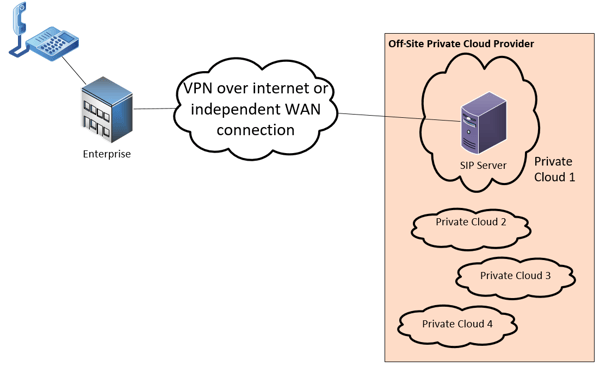 The private cloud provider in the diagram above has multiple instances of private clouds for different customers. The capacity of each cloud (including factors like computing power and storage space) depends on the terms of each customer's subscription.
Public cloud
A cloud is considered a public cloud whenever the services are delivered over a network that is open for public use. Similarly, the services are provided to multiple clients that share the same cloud infrastructure. Technically, there may be no difference between public and private cloud architecture; it is primarily the security considerations that are substantially different. Private clouds ensure that the infrastructure subscribed to is used solely by a single customer, logically separating the infrastructure from other users. The public cloud deployment model functions with the principle that both the access network and the cloud infrastructure are shared. Even so, some public cloud service providers offer direct-connect services that guarantee a higher level of security, but since the infrastructure is shared, it is still considered a public cloud.
An example of a public cloud would be a SIP server service provided to multiple users over the internet, as shown below.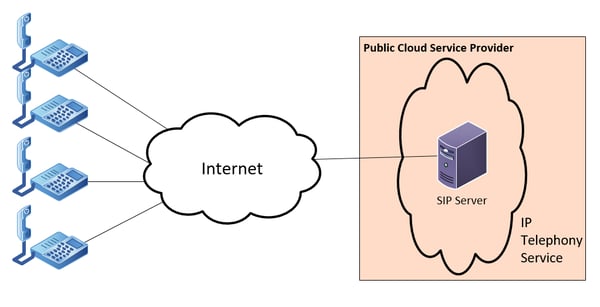 Hybrid cloud
A hybrid cloud is composed of both public and private cloud environments (which may or may not be from the same service provider) that remain distinct entities but are bound together, offering the benefits of both deployment models.
There are various use cases for hybrid clouds, such as an organization that stores sensitive client information on a private cloud, which in turn interconnects with business applications that exist on a public cloud.


Characteristics of each deployment model
Below is a list of key characteristics of each type of cloud deployment model.
Private
Generally more costly, even if subscription-based

More secure, reliable, and scalable

Designed for large enterprises and medium-sized businesses

More control over cloud infrastructure
Public
Very cost-effective and low operational cost

Easy to implement

Reasonable levels of security
Hybrid
More complex to implement

Arguably the most costly alternative

The most versatile and flexible choice

Additional deployment models
Some other noteworthy cloud deployment models include:
Community clouds – a shared infrastructure between several organizations from a specific community. Examples include government and public services clouds, healthcare services clouds, or university/academic clouds.
Distributed cloud – a cloud model that allows for multiple computing platforms to be assembled from a distributed set of machines in different locations, which are connected to a single network or hub service.
Big data cloud – a cloud infrastructure specifically tailored to transfer large amounts of data to the cloud as well as providing security once the information is stored. Such a cloud is a specialized infrastructure specifically designed to serve big data requirements.


Cloud deployment models for VoIP – which one best suits your customers?
Whether you are already offering cloud VoIP services to your customers or are planning to do so as a way to grow your business, here are some considerations for determining which deployment model is right for each type of customer. There are several factors to take into account, including the size of the business, how much they are willing to invest, and what services they need. Some advantages and disadvantages of each model are outlined below.
Private cloud – This is the most expensive choice for VoIP, since it requires the end user to invest in on-site equipment or dedicated off-site equipment. It is also somewhat involved to provide secure access to deployed VoIP services from remote locations. But it is also the safest and most protected solution for voice conversations and allows the most flexibility in VoIP deployment. If the business is large enough, and security is a top priority, this would arguably be the best choice.
Public cloud – This is extremely convenient; it is easily accessible from anywhere and is the most useful for remote and mobile VoIP users. As an installer, you could either resell a cloud service to your customers on a commission basis or set up your own on-site or hybrid platform to offer your own hosted services. While this means that the customer will have less flexibility in the customization and specialization of services, at the same time they won't need to invest as much time and money into the deployment and maintenance of VoIP infrastructure. This is perfect for very small to medium-sized businesses.
Hybrid cloud – This is a specialized scenario for VoIP. The in-house portion of the cloud that provides the most security can be implemented such that internal conversations are taken care of in this "safer domain" while mobile and remote users use the less flexible public cloud service to interconnect to the corporate voice network. Additional benefits include the interconnection of voice services with partners, customers, and other entities that the business works closely with to the public cloud domain, while maintaining the private cloud voice infrastructure within the enterprise network.


Conclusion
When examining cloud services, it is wise to consider which type of deployment model would guarantee the necessary level of security and the most financially efficient solution for your customers. The three most common models are private cloud, public cloud, and a hybrid of the two.


---
You may also like:
The three most prominent cloud services models for VoIP
TeleDynamics teams up with netsapiens
Cloud and UC: Is your telephone system on board?