Product Review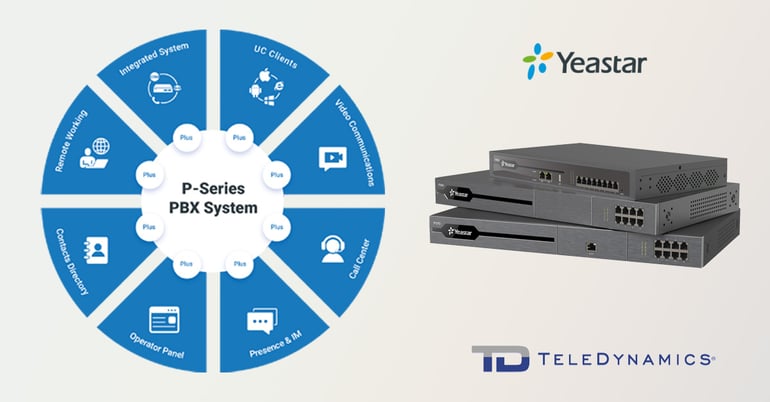 With Yeastar's new P-Series PBX System, SMEs can experience value and possibilities that go beyond a traditional telephony system. In this article we take a deeper look at this offering from Yeastar, which was featured in the company's 2021 kickoff virtual event on 28 January 2021.
Communication is vital for the survival of any business; being able to effectively communicate with your workforce, customers, partners and suppliers is of utmost importance. Because communication takes so many more forms than simply speaking on the phone, Yeastar's P-Series PBX System delivers a robust and extensive range of functionality.

Watch the video

Primary functionality of the P-Series PBX System
Yeastar's new offering delivers what SMEs need, where and when they need it. Key functionality includes:
Linkus Unified Communications (UC) client – The P-Series PBX System allows users to access communications services delivered by the server using the Linkus Unified Communications client, which can be installed on a laptop, desktop, tablet, or smartphone. This permits you to bring your internal extension with you wherever you may be. By installing it on multiple devices, you can use the same extension from any device you choose.


Integrated videoconferencing solution – This enables video telephony so you can enjoy face-to-face communication via a simple phone call. This feature is integrated into a multimedia environment for interactive virtual conferences, allowing businesses to benefit from a more engaging meeting experience, including collaboration features such as screen sharing and messaging.



Browser-based audio and video calling – The Linkus Web Client is a fully browser-based (WebRTC) UC application that allows workers to make and receive calls, as well as easily access all key phone system features, directly through the web browser without the need for a soft phone.


Call center – With built-in call center capabilities, the P-Series PBX System provides businesses with an easy-to-use, turnkey call center solution that enables their customers to connect with them easily and effectively. Fully functional features include call queuing, call distribution, configuring acceptable performance thresholds, and call reporting.


Presence and instant messaging – The presence feature supplies rich information about user availability, enabling greater flexibility in presence status indicators. Similarly, instant messaging features complement other communications channels for a more fully interactive experience.


Operator panel – This virtual panel is used by corporate operators and receptionists to more effectively manage incoming calls based on the real-time presence status of employees. Using effortless drag and drop functionality, operators can move calls to particular extensions, hunt groups or queues, or forward calls to the appropriate call center if necessary.


Contact directory – Making contact information available to all users is an effective way to save time. Hunting for phone numbers and dialing them can add up to a lot of wasted time, not to mention the frustration it can cause. Both company-wide and individual contact directories are available to all users. Caller IDs are also matched, delivering valuable information about incoming calls. The great thing is, the directories are accessible to all connected devices, including smartphones, desktops, and laptops.


Remote working – Over the past year, working remotely has become the norm. Communication is key in such situations, and the numerous channels of communication offered by the P-Series PBX System are ideal for such scenarios.


Integration with other systems – One of the most important advantages of today's VoIP systems is the ability to integrate with third-party systems. Yeastar's P-Series PBX System supports multiple third-party systems, including SIP endpoints, collaboration tools, customer resource management systems, help desk systems, and others. Integration is quite simple and does not require an IT guru to accomplish.


Remote Access Service – Easily manage your onsite phone system remotely as if you're in the office. The Remote Access Service provides you with a custom PBX domain name, so you can log into the P-Series administrator/user portal from anywhere, just like any website. All the PBX remote web connections are HTTPS secured via private and secure tunnel, and doubled-checked with user credentials and sophisticated system firewall rules.

Key features
All models in the P-Series PBX System offer various types of connections, including multiple analog FXS and FXO ports, ISDN BRI, and GSM 3G and 4G connectivity capabilities. SIP trunks are also configurable. Additional features shared by all appliances include:
G711 (a-law/μ-law), G722, G726, G729A, GSM, Speex, ADPCM, iLBC audio codecs supported
263, H.263P, H.264, MPEG4, VP8 video codecs supported
Two GigabitEthernet ports
Support for external USB hard drive
Rack mountable

Choose the appliance and plan to suit your needs
Depending on your business size and needs, you can choose from three different appliances. The features unique to each appliance are detailed below:
P550
Up to 50 users
Maximum of 25 concurrent calls
50 call center agents
Up to 50,000 company contacts
P560
Up to 200 users
Maximum of 60 concurrent calls
200 call center agents
1 ISDN PRI port (E1/T1)
Internal HD
Up to 200,000 company contacts
P570
Up to 500 users
Maximum of 120 concurrent calls
500 call center agents
2 ISDN PRI ports (E1/T1)
Internal HD
Up to 500,000 company contacts
Along with the base appliance purchased, you get a whole series of features that are usually enough for most SMEs. However, if you choose to, you can purchase a subscription-based plan to add additional features to your devices. The Enterprise plan adds features such as:
Switchboard-type queue panel for call center applications
Real-time call center metrics
A Yeastar-supplied domain name for remote employees to easily access the PBX services
Remote and secure PBX web portal access
The Ultimate plan adds further useful features such as:
Direct calling from web portal using WebRTC
High-definition audio and video
Videoconferencing screen sharing
Live team chat

Online kickoff event
For more details about the P-series IP PBX and other Yeastar products and trends of 2021, check out the on-demand replay of the Yeastar 2021 kickoff virtual event for North America channel partners.
Conclusion
Today's companies need advanced communications technologies that allow workers and customers to communicate securely and easily in a variety of ways, from any location. Yeastar's P-Series PBX System is up to the task.


---
You may also like:
Yeastar IP PBX integration with Microsoft Teams
How (and why) to integrate your VoIP system with web and mobile apps