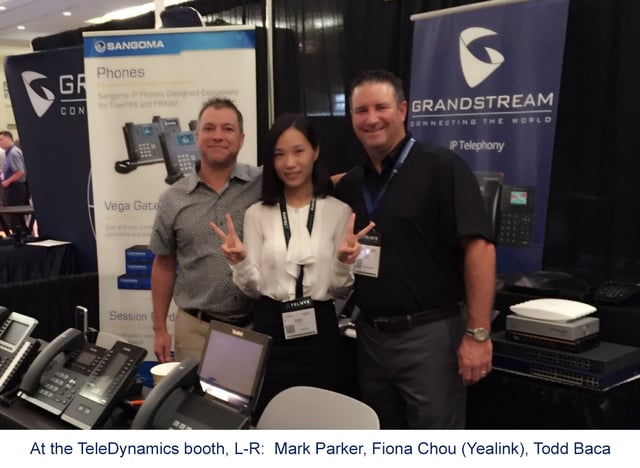 AstriCon, the longest-running event devoted to the Asterisk open-source communications framework, celebrated its 14th year in Orlando last week. Todd Baca and Mark Parker were there at the TeleDynamics booth speaking with Asterisk experts and telephone systems professionals.
According to the Asterisk website, more than a million communications systems in over 170 countries are based on Asterisk, and "almost the entire Fortune 1000 list of customers" use Asterisk. So, if you are in the telecommunications business, you need to know about Asterisk!
The sky is the limit
One of the great things about Asterisk is that because it is open platform, it is fully customizable and "the sky is the limit," says Todd. "Some ITSPs are running 20,000 users on it and others are running 500." The ability to fully customize solutions according to customer needs is a big advantage of Asterisk. Mark notes that "every person I talked with was happy with the Asterisk platform."
We connected with manufacturers and customers at the show, and made some great new relationships, as well. One recurring theme we noticed as we spoke with resellers and installers is that many of them were purchasing their phones from an online site and reselling them. Once we let them know we could provision and drop-ship to their customers, they signed on as dealers.
Automated provisioning and drop-shipping
TeleDynamics makes the sales process simple with automated endpoint provisioning and same-day drop-shipping. Our provisioning service guarantees an out-of-the-box experience: Your customer simply plugs in the equipment and makes a call! It takes out the hassle and saves a lot of time.
As for drop-shipping, leave the details to us. We offer same-day shipping on all orders placed by 5 p.m. Central U.S. time. We can even include your literature in the box so it looks like the equipment is coming from your own warehouse.
Click here to become a TeleDynamics dealer.
Next Stops
This week, we are in Las Vegas at WISPAPALOOZA to talk about the latest in networking. Come by and see us at booth 244.
Later this month (22-25 October), we'll be at Broadsoft in Phoenix to interact with industry leaders in cloud PBX and unified communications (UC). We look forward to serving you at booth 19.
---
You may also like:
Putting the fun back into SIP phone provisioning
Proprietary vs. open-source VoIP phone systems
Five cool tricks you can do with your SIP phone system