...Especially if they have lousy internet service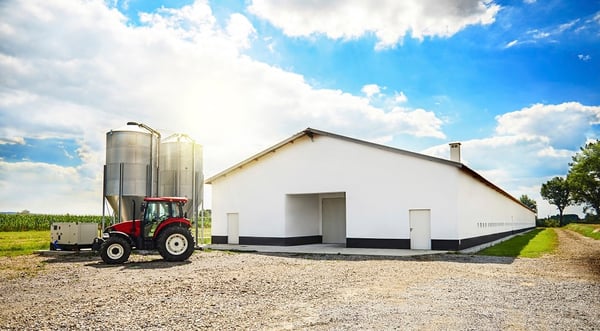 Because of its name, most people think of SD-WAN as being relevant only for companies with multiple sites. But SD-WAN can do wonders for many types of companies – even a single-site business located in a remote area with an unreliable internet connection. If you work with a company that fits this description, SD-WAN can resolve a lot of their VoIP issues.
Three different SD-WAN scenarios
SD-WAN (software-defined WAN) is a technology that intelligently manages a wide-area network connection. The technology can live on a physical appliance or a virtual machine. SD-WAN can be used to intelligently manage internet traffic in different ways, as the three scenarios below illustrate.
Scenario 1 – Interconnect multiple locations (such as branch offices) so they function as if they were in the same physical location.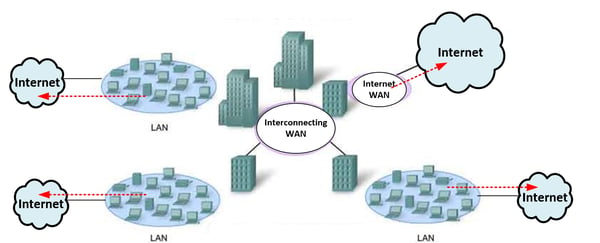 In this scenario, resources that usually reside at the corporate headquarters (such as file server, internal email, access to local databases and IP telephony) can be accessed safely and securely from all remote sites.
In this case, the WAN is a private connection between company sites. This is usually implemented by purchasing some WAN technology (leased lines, MPLS, Metro Ethernet, etc.) to connect those sites. This does not connect the sites directly to the internet, since each location has its own internet connection. Because these links between sites are often priced based on the bandwidth that you are provided, the bandwidth in general is low to save on cost. An SD-WAN solution in this scenario manages inter-location (or inter-branch) traffic, which usually includes telephony and therefore requires some sort of prioritization/QoS.
Scenario 2 – Route internet traffic from multiple locations centrally from a single pipe.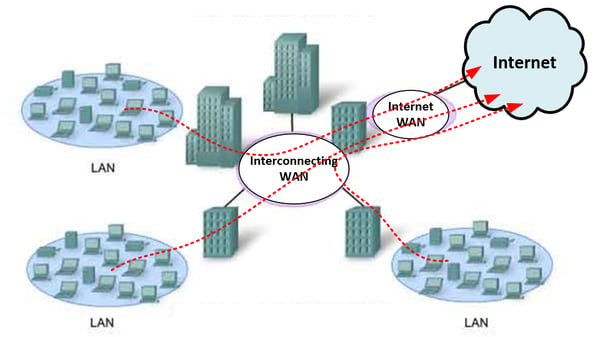 This deployment is shown in the diagram above. We go into this scenario in more detail in our separate article about software-defined WANs.
Scenario 3 – Single (or multiple) internet connections from a single location.

SD-WAN was designed to manage multiple connections, with one of its primary advantages being that it allows multiple low-cost yet low-reliability technologies (xDSL, cable, cellular WAN) to replace traditionally costly but high-reliability technologies such as MPLS, fiber, or Metro Ethernet. So, SD-WAN can only do so much if you only have one LAN with a single internet connection. And, of course, if you only have one way to access the internet and it goes down entirely, there is not much you can do. But SD-WAN can at least significantly improve voice quality while the connection is operational. There are three main ways it accomplishes this.

Three methods SD-WAN uses to improve voice quality over the internet
(1) Dynamic packet and application prioritization – SD-WAN continuously analyzes the data flowing across the network and prioritizes it based on defined rules, ensuring that high-priority traffic like voice and real-time applications go through first. It can dynamically adjust how the packets are routed based on considerations like bandwidth usage and type of traffic.
(2) Dynamic traffic routing – If one internet telephony service provider is dropping packets or down entirely, it automatically switches to another one. SD-WAN monitors latency, packet loss and jitter, and switches paths in real time to always route traffic through the best one. How fast this failover occurs depends on the solution. Some of them can detect an event and switch over in a few seconds, which would interrupt a voice session or real-time application. However, others can offer sub-second failover, which would maintain these sessions.
(3) Forward error correction – This works wonders even if you only have one ITSP and therefore you don't have multiple connections to the internet. Traffic on the network is encoded in a redundant way by using what is called error-correcting code. This mechanism can recover packet errors to a certain extent, making the VoIP packet streams more resilient in an inherently unstable network environment such as an unreliable WAN link to the internet. As a result, corrupted data packets don't have to be resent, and corrupted voice packets are reconstructed, maintaining the required voice quality.


CONCLUSION
While most SD-WAN deployments are used for controlling WANs as its name implies, it can also benefit a single LAN that has an unreliable internet connection. If you work with customers in remote areas without a lot of ITSP choices, SD-WAN could be a great way to upgrade their VoIP experience by improving the quality of voice and real-time apps.
---
You may also like:
Give superpowers to your WAN through software management
EdgeMarc SBCs that scale with growing businesses
Five reasons you should add an SBC to your IP network