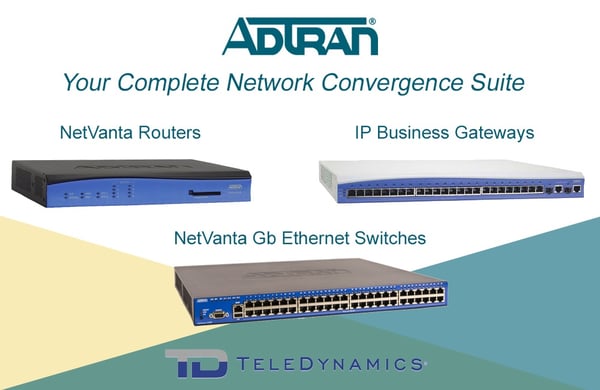 This week we focus on ADTRAN, a global provider of telecommunications networking equipment and internetworking products that has stood the test of time in a volatile and dynamic market by maintaining a solid level of market innovation and reliability. In this article we review ADTRAN's network switches, routers and media gateways.


Company profile
ADTRAN was founded in 1986 at a time when the divestiture of AT&T created opportunities in the United States for the manufacture and supply of network equipment for both the resulting regional telephone companies and the new independent ones. Innovative from the start, ADTRAN took advantage of this development to gain a strong foothold in the market. This permitted ADTRAN to further adapt its telephony technology and expand its offerings with products for enterprise-wide networks such as network Ethernet switches, routers, and voice gateways.
Over the years, ADTRAN has been recognized for its achievements, including being a NASDAQ-100 index stock between 1996 and 1998, achieving a rank of #85 on BusinessWeek's 100 "Hot Growth Companies" in 2006 and acquiring Nokia Siemens Networks' fixed line Broadband Access Business in 2012. Today, the company employs over 2,000 people around the world.
One of the company's mainstays is its line of network equipment that enables the integration of voice and data on converged networks. These devices include switches, routers, and voice gateways.

Network switches
ADTRAN supplies a wide range of network switches that are specifically designed to support advanced converged voice and data networks. These switches have anywhere from 12 to 48 copper RJ-45 Ethernet ports, and most offer an additional two to four small form-factor pluggable (SFP) transceiver ports that can terminate fiber optic cables. The majority of the models deliver an impressive array of features that include:
Gigabit Ethernet speeds – on both the SFP as well as the copper RJ-45 ports
Managed capabilities – all switches are managed and can be configured via a web-based graphical user interface or a command line interface
1Q VLANs – switches can be segmented into logical subnets on a per-port basis and segmentation is compatible with switches of other vendors supporting the same standard
802.3ad link aggregation – to increase bandwidth, throughput, and reliability on inter-switch links
Quality of service (QoS) mechanisms – on both layer 2 and layer 3 for prioritization of voice and other specialized traffic
Basic layer 3 functionality – basic inter-VLAN and inter-subnet routing can be configured on most switches
Advanced layer 3 functionality – some switches have advanced layer 3 capabilities such as VPNs, dynamic routing protocols, and firewall functionality
Standardized power over Ethernet (PoE) – for use with IP phones, access points, and other 802.3af (PoE)- and 802.3at (PoE+)-compatible devices
Stacking capabilities – up to eight switches of the same model can be stacked to form a single logical switch, modularly increasing the capacity, redundancy, and robustness of the network

Network routers
Even though the switches offered by ADTRAN include layer 3 features (layer 3 is the network layer in the OSI model), there are many times when a pure layer 3 appliance must be employed in order to enable the full range of this functionality. Routers are inherently layer 3 devices and as such are ideal for these types of specialized operations.
ADTRAN manufactures a series of routers ranging from a simple desktop version to a medium-sized enterprise edge device. Looking through the available features, you quickly realize how versatile the whole range of devices really is – it's like looking at the Swiss Army Knife equivalent of network routing technologies. This range of products can fulfill most small- to medium-sized business needs.
Routers manufactured by the company can terminate various WAN technologies such as Frame Relay, T1/E1, xDSL, ISDN BRI, analog modem, serial, as well as Ethernet WAN links.
Additional features of the line of routers include:
Dynamic bandwidth allocation – routers have multiple WAN and LAN interfaces that can dynamically adjust bandwidth and data flow based on predefined traffic policies
USB ports – can be used with a 3G/4G dongle for backup links via mobile networks
Security features – include URL filtering, IPSec compliant VPNs and encryption technologies such as SSL
Quality of service (QoS) – delivers prioritization for voice and other time-sensitive, real-time traffic
Advanced firewall features – stateful inspection, denial of service (DoS) protection and defense against attacks like TCP SYN flooding, IP spoofing, and ICMP redirect are all included
Wi-Fi controller – some routers have the capabilities of a centralized management system for multiple NetVanta wireless access points
Additional enhanced and advanced features:

AAA USING RADIUS and TACACS+
1x port authentication
WAN redundancy
Enterprise session border control
Voice quality monitoring
As with its line of switches, ADTRAN's series of routers deliver a complete and well-rounded suite of features to fulfill even the most demanding requirements of small- to medium-sized businesses.
Now, if you're looking for something on an enterprise scale, read on.

Voice and enterprise business gateways
For connecting an enterprise voice network with the PSTN, ADTRAN offers its specialized line of voice gateways.
Adhering to its tradition of incorporating a wide range of operational capabilities for its devices, ADTRAN produces a feature-rich series of voice gateways. Some of these go beyond the strict definition of voice gateways by offering additional innovative features, making them more of a converged IP gateway appliance. These additional features include integrated WAN capabilities, dynamic bandwidth allocation, advance routing, and security features.
Features of devices delivering voice gateway functionality include:
Termination of up to four T1 lines with 23 voice channels each
Up to 24 analog POTS interfaces
DSX-1 interfaces for connection to traditional PBXs
Support of industry-standard voice codecs
Voice quality monitoring
Supports SIP and MGCP protocols for VoIP applications
Calling features supported include caller ID, call hold, forward, transfer, and call waiting, to name a few
Remote survivability features allow the devices to offer basic SIP server functionality for local SIP endpoints in the event of a WAN failure to the central telephony site
Supplementary capabilities provided by converged IP gateway appliances (in addition to the above) include:
Seamless voice and data integration over VoIP-based network architectures
Data WAN connectivity capabilities including Ethernet, frame relay, and ADSL technologies
Dynamic bandwidth allocation
Integrated full-featured IP router for data and internet access support
Stateful inspection firewall capabilities
Support for 802.1Q VLANs
Network address translation (NAT) capabilities
Integrated switch with PoE ports to support IP phones directly

The innovation of ADTRAN devices
Each ADTRAN device seems to be more than the sum of its parts. For example, the feature set of ADTRAN's line of switches is not limited to layer 2 (data link) switching, but goes beyond that with characteristics overlapping those traditionally provided by routers, and in some cases by voice gateways. Similarly, ADTRAN's routers are not limited to routing but include firewall and other security features, and even Wi-Fi controller capabilities. Likewise, the voice gateways are not confined by the traditional feature set of such devices, but go beyond that with additional operational capabilities.
The feature overlap between different types of equipment ensures that there are no gaps in the capabilities of the range, in addition to delivering "more bang for the buck" by enabling businesses to purchase fewer devices to perform a greater number of functions.


CONCLUSION
ADTRAN has stood the test of time in over three decades of innovation. With an impressively complete feature set across all of its devices, it manufactures a range of products designed to fulfill the needs of any converged enterprise voice and data network.
---
You may also like:
What network convergence can do for your company
How VoIP can boost your business productivity
Grow your business and boost customer satisfaction with VoIP phone system integrations