Product Review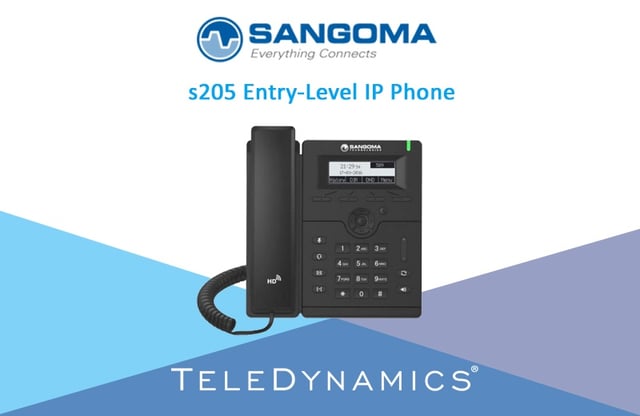 Sangoma has raised the bar for entry-level IP phones with the s205. Now, the robust feature sets ordinarily reserved for executive-level phones are available on this entry-level endpoint, giving access to productivity-enhancing functionality to all the employees in your organization, while controlling costs at the same time.
The Sangoma s205 is an attractive choice for SMBs as well as large-scale enterprises. Its low cost, flexible deployment, and the multitude of options available to both telecom professionals and end users alike make it an ideal choice for businesses of any size.
Keep in mind that as an entry level phone, this device will probably be the most numerous in your network. With the Sangoma s205, you no longer have to settle for feature-poor devices for the majority of your employees due to the cost incurred from the sheer number of phones. Instead, you can have the best of both worlds with the s205.


Key features of the s205
Among the most important features are the dual 10/100 Mbps Ethernet ports. These allow each workstation to have both a phone and computer on the desk while using only one network connection. This is important because the number of switch ports necessary for the network infrastructure is directly proportional to the cost of the network itself.
The Sangoma s205 will probably be the most numerous phone in your network. Allowing the connection of both telephone and desktop computer via a single network connection will substantially cut the cost of the network infrastructure.
Additionally, like its siblings, the s205 boasts the following features:
Designed for FreePBX and PBXact

Includes support for PBX Endpoint Manager

Zero-touch provisioning

Hot desking

Built-in VPN security features

Full-duplex speakerphone

5-way conferencing

Basic and advanced IP PBX features

Support for modern codecs including iLBC, G.722 and G.729A/B, among others

Designed for FreePBX and PBXact
It is rare to find an IP phone manufacturer who will develop phones for use with a PBX system they don't produce. Nevertheless, Sangoma has done just that. The Sangoma S-series phones have been designed to work seamlessly with both Sangoma's PBXact line of PBXs and also with the widely deployed and open FreePBX.


EndPoint Manager
When using the Sangoma s205, EndPoint Manager software in the FreeBPX or the PBXact is automatically enabled for personal endpoint administration. Each user is supplied with a web-based interface through which they can configure and control their own IP telephone. The level of configurability for each user can be defined by the system administrator. Users can view their call history, view contacts, set their presence status, and personalize their soft keys including call forwarding, follow me, call waiting, and do not disturb. This increases the productivity of employees by giving them additional communication tools, all while freeing the IT department from the menial task of changing user configurations on IP phones.


Zero-touch provisioning and hot desking
Sangoma provides real zero-touch provisioning with both their own PBXact systems as well as with FreePBX. No additional configurations are necessary; you just plug the phone in and you're ready to go.
Hot desking is especially useful for employees without a permanent work desk. Users can log in to any phone with their extension and password, and all the settings of that extension will appear on that phone. This is ideal for contact center agents and other roaming workers.


Built-in VPN
Security is a major concern in today's business world. Eavesdropping on telephone conversations is an issue that must be addressed by any telephony installation. When used in conjunction with the PBXact series of IP PBXs, the s205 provides the utmost in VoIP security.
All Sangoma phones are pre-provisioned with a VPN client to automatically connect to the corporate PBXact phone system using an encrypted tunnel. The PBXact phone system comes with its own built-in VPN server to facilitate the integration. Secure VPN connections are especially beneficial for remote users whose telephones are deployed off-site and connect to the corporate network via the public internet.
An especially practical aspect of this setup is that not only are the voice channels encrypted and protected from potential attackers, but any computer connected to the data port of the IP phone also gains the benefit of the VPN connection. This way, the computer connects to the corporate network as if it were physically located onsite, enjoying the same network services as those users that are connected locally. This can be useful for small companies that do not have the skills or budget to maintain a separate VPN server for data applications.


The Sangoma S-series lineup
The spec table below shows how the s205 entry-level IP phone stacks up against its siblings.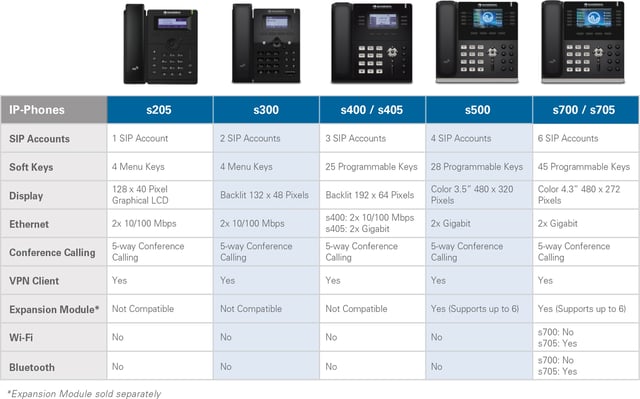 CONCLUSION
The Sangoma s205 raises the bar for entry-level IP phones by equipping it with features normally only available on higher-level telephony devices.
This, along with its ease of deployment, ease of use, personal endpoint administration and enhanced security features, makes the Sangoma s205 a high-performance and cost-effective choice for any telephony network.
---
You may also like.
IP PBX must-haves for small businesses
How to hack-proof your VoIP network
On-premise VoIP is now affordable for micro- and SMBs thanks to Epygi