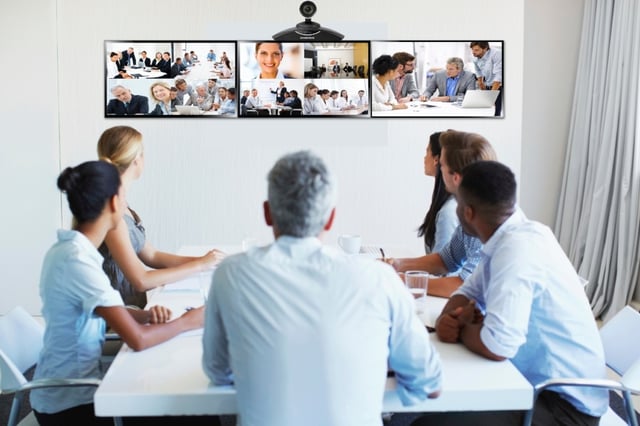 By Phil Bowers, Senior Marketing Manager, Grandstream Networks
For many businesses, videoconferencing has traditionally been seen as being a pipe dream – something they would love to be able to utilize but cannot because of a variety of factors. But not anymore: the videoconferencing marketplace is currently going through a major transformation.
A technology that has been around since the 1960s, videoconferencing systems have historically been extremely expensive, complicated to install, complex to manage and offered no flexibility. These traditional systems came with costs in the tens of thousands of dollars for hardware, required entire IT teams to setup and manage, were too complex for the average user and locked businesses into whatever platform was offered by the manufacturer of their hardware. So not only were these systems expensive and complicated, but they did not offer businesses the ability to potentially switch their platform going forward or access numerous platforms on the same device. All of these factors made video conferencing unattainable for most small- to medium-sized businesses, which is 80% of the market here in the United States.
Businesses are used to embracing technology to achieve better results. The interesting thing about videoconferencing to me is that it has always had as much potential to help SMBs as large enterprises, if not more so. Videoconferencing allows businesses to increase productivity by improving the efficacy of their meetings through face-to-face, non-verbal communication, while giving off a high-level perception about the business itself. It also saves time and potentially money. Rather than having to travel to a meeting, videoconferencing allows businesses to hold high-level meetings right in their office and save on travel costs. Because SMBs have less resources than large enterprises, one could easily make the case that SMBs need videoconferencing even more than their larger counterparts.
Brave new world for videoconferencing
The welcome news for SMBs is, the videoconferencing marketplace has evolved to become much more accessible. Just like any technology (for example, HDTVs in the 2000s), the videoconferencing marketplace needed more players to improve the technology, make it easier to use and drive down the price. That is exactly what is occurring in the videoconferencing marketplace in 2016. Today's hardware manufacturers and platform providers have raised the bar of innovation and are beginning to offer full business videoconferencing systems that cost the same as some laptops while still offering high-end video features like full HD video resolutions, screen-sharing, support for multiple HD monitors, support for multiple platforms, and more.
Speaking of support for multiple platforms, another major advantage of newer videoconferencing systems is flexibility. In the past, a business would have to spend tens of thousands of dollars on a system that offered them no flexibility. Most of these older systems would only support one videoconferencing platform: the platform offered by the manufacturer of their hardware. There was no option to change the platform they use in the future without buying all new hardware, and no option to potentially utilize multiple platforms on one piece of hardware. If a business wanted to switch their platform, historically they had to buy all new hardware. If they wanted to add support for a platform their largest client used, they would have to use the same hardware as their clients. This lack of flexibility further increased the idea that videoconferencing was simply unrealistic for most businesses. This is also something that is changing.
Many new room-based videoconferencing platforms, including our GVC3200 series, are built to be open-source devices that can support most any major videoconferencing platforms. Many of these systems support SIP and therefore are interoperable with the hundreds of SIP video conferencing platforms on the market. Most of these newer systems also support H.323 – an older videoconferencing codec, to allow them to expand or even replace older hardware without having to switch platforms. Many videoconferencing cloud platforms, and even some hardware-based systems, also support integration with Skype®, Skype for Business, Google+ Hangouts®, GoToMeeting® and other popular apps/services. All of this flexibility now allows SMBs to use any platform they want, now and in the future; use multiple different platforms on one system; and integrate and interact with popular smart phone, computer and tablet applications. Videoconferencing has not only become cheaper and easier to use, but it allows companies to interact with nearly anyone, on any device.
CONCLUSION
The market is now full of videoconferencing options that are suitable for a wide array of business, budgets and users. Not only are these new videoconferencing systems more affordable and easier to use than ever before, but they are also more comprehensive and offer more high-end features – all without a high-end price tag. Furthermore, videoconferencing easily allows businesses to save a ton of money on travel costs. Instead of spending $2,000 on a 3-day trip to send an employee to visit a client, spend about the same to purchase a videoconferencing system that you will have for years to come and can use for any meeting, on almost any platform, with anyone in the world.
Here at Grandstream, we are proud to be driving the videoconferencing marketplace forward to a place it has never been before: one that offers attainable and realistic solutions to SMBs and businesses of all sizes.
Browse the TeleDynamics website for Grandstream products.
Peruse our other articles about videoconferencing.
---
You may also like:
Videoconferencing systems: Grandstream vs. Yealink
Video phones: Grandstream vs. Yealink
How VoIP can boost your business productivity